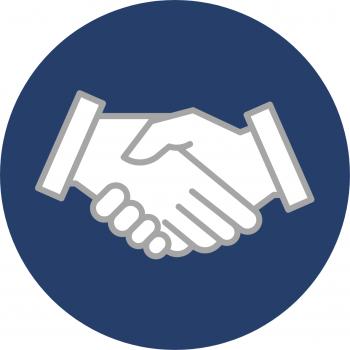 Partnerships are Key
The federation believes that partners are the key to successfully restoring and building our oyster populations in North Carolina. We achieve long-lasting results by finding common ground among diverse groups of people, forming unlikely alliances and recruiting nontraditional partners. Since 2003, a diverse group of stakeholders involved in growing, harvesting, studying, educating, managing and eating oysters have voluntarily and productively worked together to protect and restore North Carolina's oyster habitats and fisheries. Together, this group outlined strategic goals to accomplish the wide breadth of work associated with oyster protection and restoration. To learn about these goals, or to participate in this work, visit the Oyster Blueprint.
Unified Leadership, Common Goals
When it comes to oysters, the federation has led a volunteer based, coastwide Oyster Steering Committee since 2003. This committee brings together diverse stakeholders to develop a set of common goals and actions to be realized in building back our state's oyster resources. These priority goals and actions are the basis of the strategic: North Carolina Oyster Blueprint, currently in its fourth edition. Committee members help to prioritize and implement the agreed upon actions. By working together, projects are based in science, strategically implemented and strive to engage a diverse group of partners. To learn more about the 2020 update to the NC Oyster Blueprint, visit our sister website, ncoysters.org here.
National Significance
Several of the priority actions in the Oyster Blueprint are recognized for complimenting and supporting the National Oceanic and Atmospheric Administration's Shellfish Initiative. To that end, in 2018, the state of North Carolina joined this national initiate as the 6th state in the country, and first in the southeast. The Shellfish Initiative recognizes the importance of partnering with shellfish farmers and shellfish restoration organizations with the goal to increase populations of bivalve shellfish in our nation's coastal waters—including oysters, clams, and mussels—through both sustainable commercial production and restoration activities.
We invite you to learn more about the oyster steering committee, strategic oyster blueprint document or the state's engagement with the national shellfish initiative.
To receive quarterly updates on progress being made to advance the Blueprint Goals and Actions, sign up for our newsletter: On the Half Shell.
Contact Erin Fleckenstein, erinf@nccoast.org , with any questions about the Oyster Steering Committee or to get involved in this coastwide effort.
How You Can Help