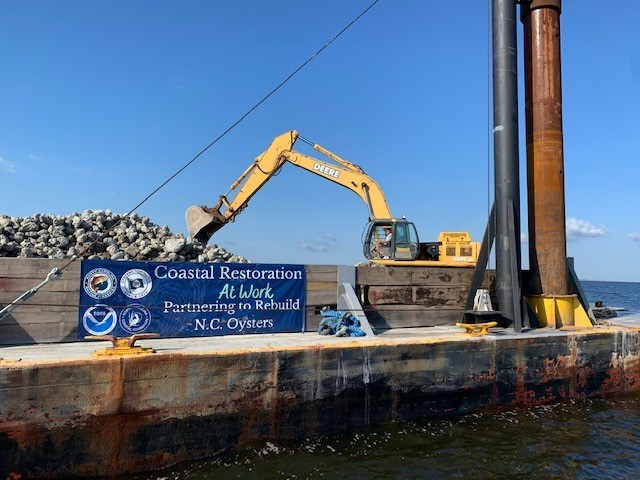 Cedar Island Sanctuary Overview:
It is located in the Pamlico Sound near Cedar Island National Wildlife Refuge.
It creates over 15 acres of protected oyster reef.
It will be built with limestone marl, purchased from a North Carolina quarry and crushed concrete, recycled from bridge demolition projects in the state.
Once complete, the reef will support at least 15 million oysters and filter up to 750 million gallons of water daily (equal to 1,000 Olympic size swimming pools EVERY DAY!)
Support Commercial Harvest:
The sanctuary serves as a nursery to help repopulate nearby harvestable cultch reefs.
As part of this project, N.C. Division of Marine Fisheries will annually plant 40 acres of harvestable cultch reefs throughout the state.
Cultch reefs provide a place for spat — baby oysters — to land and grow. They are open to harvest once oysters reach legal harvest size at 3 inches (typically within 2-3 years of planting).
The cultch reefs and oyster sanctuary work together to create an interconnected network of oyster reefs in the sound.
Oyster Sanctuaries in Pamlico Sound
Did you know? 
One acre of oyster reef supports nearly one million oysters in Pamlico Sound.
Oyster sanctuaries make up approximately 6% of all oyster reefs in Pamlico Sound but contribute nearly 40% of the oyster population. They produce baby oysters that "seed" harvestable reefs and serve as an insurance policy for the Sound's oyster population in the face of man-made or natural disasters.
There are currently 15 Oyster sanctuaries in Pamlico Sound as part of the Senator Jean Preston Oyster Sanctuary Network. They cover approximately 260 acres of the Sound (less than 0.1% of the sound).
Oyster sanctuaries are closed to commercial harvest but open to hook and line fishing.