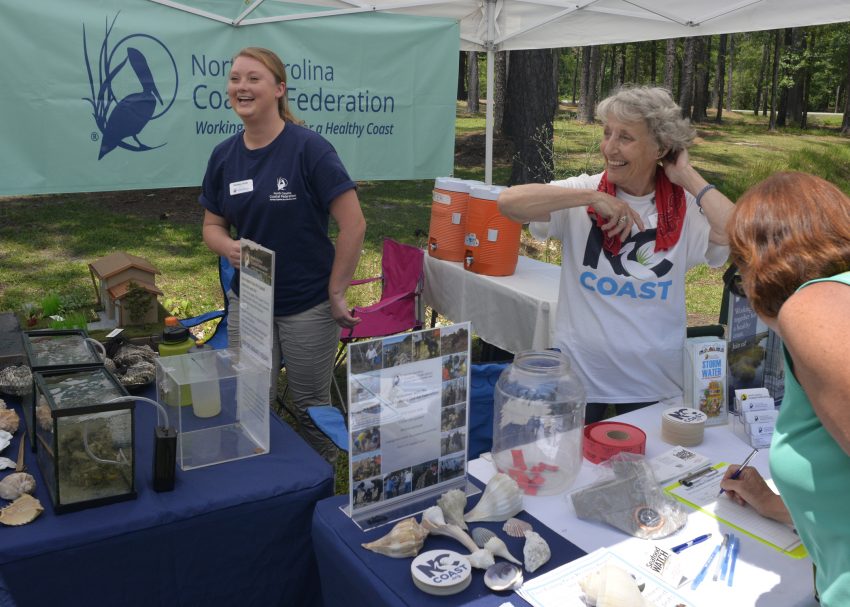 About the Coastal Ambassadors
The Southeast Coastal Ambassadors are a special group of volunteers that are actively engaged and educated in the North Carolina Coastal Federation's work and projects. Ambassadors serve as representatives of the Federation at festivals, programs, and other outreach events. Ambassadors have the flexibility to participate in events of their choosing whether it be our education programs, outreach events, or restoration efforts. Benefits of being an ambassador include monthly meetings, special field trips, and recognition through T-shirts and name tags.
At the end of each month, the Federation hosts an evening program meeting at the Fred and Alice Stanback Coastal Education Center. The program is designed to be fun and interactive, allowing volunteers to socialize with one another while learning more about the work of the federation and the coastal environment.
Ambassadors are required to attend at least four trainings per year and represent the Coastal Federation at a minimum of four events.
Develop a personal elevator speech to engage people on the work of the federation.
Greet people and hand out Federation publications at events and programs.
Direct people to Federation staff for questions you are unsure of.
Collect emails from people interested in learning more about the federation and volunteer opportunities.
Coordinate with the coastal education coordinator on event details, scheduled shifts, and any setup/breakdown of equipment and materials.
Check monthly e-mails to sign up for shifts you are interested in and able to work for upcoming events.
Once program participants attend the orientation, three meetings and volunteer at three events, they will receive a coastal ambassador T-shirt and nametag
Register for an upcoming meeting
Fun Field Trip: Barrier Island Exploration
May 15th, 2023
9:30 AM – 12:30 PM
To learn more about the Coastal Ambassador program contact Bonnie Mitchell, coastal education coordinator, at bonniem@nccoast.org or 910-509-2838 ext. 204.