The North Carolina coast is spectacular. When you purchase a Coastal Federation specialty NC license plate, you help keep our coast healthy and beautiful. Simply select this plate when you complete your NC vehicle registration renewal, or any time you order a new NC license plate.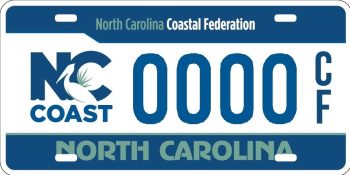 How to get my Specialty NC License Plate
You can order a specialty NC license plate that supports a healthy coast when you renew your NC vehicle registration, when you purchase a new vehicle, or anytime that you would like a new plate.
How Your Specialty NC License Plate Makes a Difference
Your plate will help protect and restore oysters, wetlands, living shorelines, and water quality – from Calabash to Corolla! Last year, funding from the Coastal Federation's Specialty NC license plate: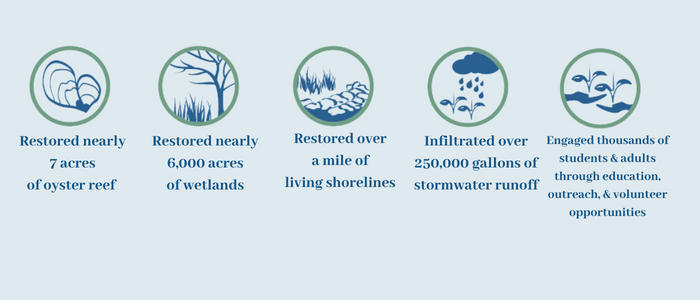 2023 Goals
We need 4,000 people to purchase our Coastal Federation Specialty License Plate in 2023 to support our restoration projects, including new oyster reefs in Pamlico Sound and the Lower Cape Fear River, over a mile of living shorelines up and down the coast, and water quality improvements including wetland restoration and stormwater infiltration projects. The NC Division of Motor Vehicles sends us an update quarterly- we are making great progress toward our goal! Purchase your plate today to help protect and restore our coast!
Frequently Asked Questions
How does purchasing a NC Specialty License Plate help the Federation?
The Federation will receive $20 per plate as a contribution, which will be used to support restoration, protection, and education projects.
In addition to providing more than $80,000 a year for Federation projects, our license plates provide about $40,000 annually to the State of North Carolina for important travel and tourism investments, including highway beautification, handicapped accessibility, and visitor centers.
Can you put the Federation plate on all vehicles?
Specialized plates may be purchased for automobiles, trailers, and trucks with weights up to 26,000 pounds. Unfortunately, because of plate size, they cannot be purchased for motorcycles.
Can I personalize my plate?
Yes, you can, but it is not required. There will be four spaces available for personalization. There is an additional $30 charge for personalization. You may request your personalized plate at any time. If you wish to do so with this application, please remit a check for $60 and list your first three choices on the application.
How much does a Specialty License Plate cost?
Standard NC license plate renewals cost around $40 for the annual license fee (price varies from county to county. Specialty plates cost an additional $30 ($20 goes to the Federation and $10 supports state projects, including highway beautification, handicapped accessibility, and visitors centers.) You can opt to personalize the plate for an additional $30 (Specialty plates have four spaces available – some of our favorites are TIDE, WAVE, FISH, and NCCF).
Can I change my mind?
We hope you'll always want to support the coast, but should you change your mind, you may go back to a regular license plate at any time.
Can I give directly to the Federation instead of purchasing a plate?
Yes! You can click here to join the Federation and give directly to support our beautiful coast. As a member of the Federation, you will also enjoy these membership benefits.
Will I receive updates from the Federation once I get my plate?
No, unfortunately, the Federation does not receive any information from the DMV about the generous individuals who support the coast through a specialty plate. Please click here to let us know who you are and receive a complimentary 6-month membership, or click here to sign up for our monthly e-newsletter to keep up with coastal happenings, events, and volunteer opportunities.
If I have the old design, do I have to get a new one?
No. You can keep the plate with the old design. However, if you order a new plate, you will receive the new design.
If I already have a Federation license plate, how do I update it to the new design?
The new design can be requested at any license plate agency or by mail. The plates are mailed from Raleigh. If it is time for you to renew your plate, you can ask for the same text or number you currently have on the new background at your renewal. If you choose to get the new plate at any other time, you will have to pay replacement plate fees.
Can I get a reminder about this specialty place when my NC registration is due?
Yes! Use this form to schedule a friendly email to yourself on the date of your choice reminding you to consider getting a plate that supports the coast! Click Here.
More Questions?
Call the Division of Motor Vehicles at 919-715-7000 to learn more about your license plate order. Call the Federation at 252-393-8185 to learn more about the plate program.