Welcome to our Distance Learning Lab! With help from our wonderful partners, we have compiled educational resources which allow you to dive deeper into the world of coastal sciences and solutions. Due to the Coronavirus, many of us are staying home to prevent the virus from spreading. If you're looking for ways to continue learning, start by clicking the links below. Scroll down to find resources on Touch Tank Tuesdays, Clean Water, Coastal Investigations & Exploration, Oysters, Estuaries & Living Shorelines, and Marine Debris.
Our Partners and Contributors: Hammocks Beach State Park, Jennette's Pier, Lady Swan Tours, North Carolina Coastal Reserve, Albemarle Pamlico National Estuaries Partnership, North Carolina Sea Grant, Duke University Marine Lab, UNCW Marine Quest, NOAA Marine Debris Program, Clean Water Education Partnership and University of Nebraska-Lincoln
Follow along with a suggested learning guide. These worksheets highlight grade appropriate videos and review questions.
K-2nd Guide | 3rd-5th Guide | 6th-8th Guide | 9th-Adult Guide | Guide Key
Keep up and stay connected!
Keep up with current events by reading the Coastal Review Online. CRO is a daily news service that covers North Carolina's Coast. Look for a link to Google Classroom on the left side of the screen.
Stay connected through our #CoastalDistancing page and social media pages, linked below! Or click the subscribe button to join our monthly newsletter and stay up to date with all of the coastal issues we're tackling.
---
---
Touch Tank Tuesdays
---
Since the pandemic prevented our Wrightsville Beach office from hosting its popular Touch Tank Tuesday Program, the show continued virtually through YouTube Videos and Facebook Live. Thank you so much to our members, the Landfall Foundation, and the RBC Blue Water Project for their support of our southeast education programs!
Touch Tank Tuesday Resources:
---
---
There are many ways to help keep our waterways clean and healthy. Check out resources below to learn about water quality and simple ways to reduce water pollution.
Clean Water Resources:
---
Coastal Investigations and Exploration:
---
Join our friends up and down the coast to learn more about beachcombing, marine science, and coastal wildlife!
Coastal Investigations & Exploration Resources:
---
Oysters
---
Did you know that oysters are important for food, filtration and fish habitat? Learn about oysters below: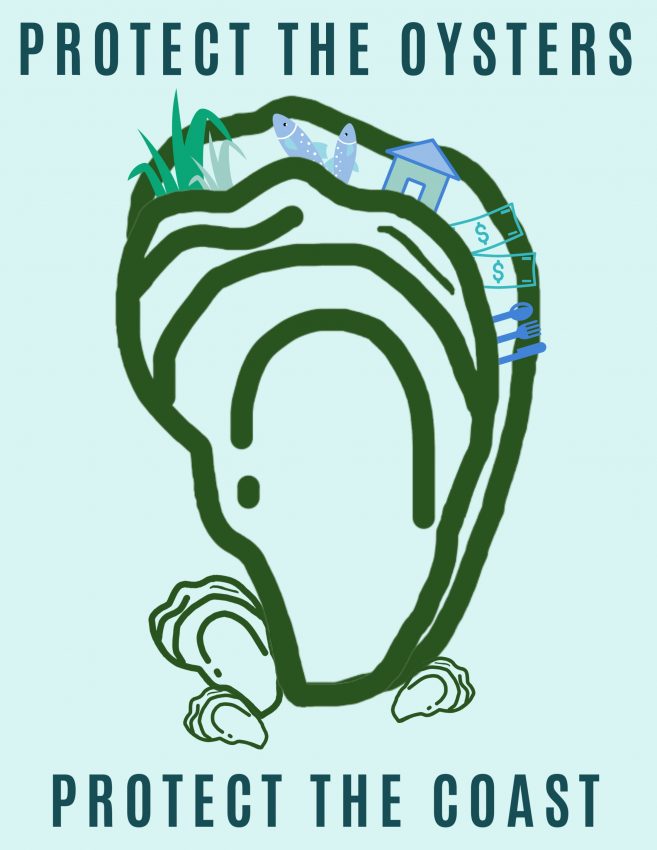 Oyster Resources:
---
Estuaries and Living Shorelines
---
Estuaries are places where rivers meet the sea. Coastal North Carolina has approximately 12,000 miles of estuarine shoreline! Learn about estuaries and how staff at the Coastal Federation work with others to protect animals and habitats in the estuary by building living shorelines.
Estuary and Living Shoreline Resources:
---
Marine Debris
---
Did you know that marine debris is litter that ends up in our coastal waters? Learn about marine debris and ways you can help keep the coast debris free! #debrisfreeNC
Marine Debris Resources:
Questions about the Distance Learning Lab? Please E-mail Rachel Bisesi at rachelb@nccoast.org
Illustrations by: Integration and Application Network, University of Maryland Center for Environmental Science (ian.umces.edu/imagelibrary)