Our native eastern oyster (Crassostrea virginica) is one of the most important species in our estuaries. Oysters benefit North Carolina's coastal ecology and economy. These benefits can be summarized and referred to as the three "Fs", for short: food, filter, and fish habitat. They filter water, provide food for humans and create reefs that build homes for more fish. These environmental benefits, in turn, support jobs and provide economic opportunities for coastal communities.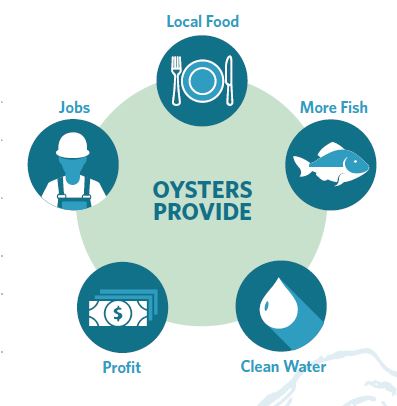 You can support the Federation's efforts to restore oyster reefs up and down the coast!
Oyster Benefits
Eastern oysters provide these benefits free of charge.
Food – Oysters support a viable commercial and recreational fishery that is an important part of North Carolina's cultural heritage and economy. Oyster reefs support the production of more crabs and finfish valued at over $62 million annually.
Filter – As filter feeders, oysters remove harmful pollutants, sediment, and excess algae from the water. An adult is capable of filtering up to 50 gallons of water a day. As oysters filter, they also provide an important link in the estuarine food web by transferring nutrients from the surface (plankton) to the bottom (benthos).
Fish Habitat – Oyster reefs provide essential habitats for a diverse collection of aquatic animals, including many important commercial and recreational fish species. One healthy oyster reef can be home to more than 300 different adult and juvenile organisms including southern flounder, shrimp, clams, and blue crabs.
Oysters in Trouble
Oyster populations, worldwide, are at record lows. Despite some recovery in recent years, in North Carolina, it is estimated that oysters are at about 15-20% of historic harvest levels. Oyster harvest is currently the best measure of the oyster population in our state.
Oysters are at historic lows because of:
Poor Water Quality
Disease and Predation
Habitat Loss
Natural Disasters
Low Recruitment
Increased Harvest Pressure
Bringing Oysters Back
We're taking action to build back North Carolina's oyster resources. Learn more about how we're working and how you can engage with us to ensure North Carolina boasts thriving oysters that support the coastal environment and economy.
HOW we're building N.C. Oyster resources:
Oysters in 2022
In 2021, the Federation worked with its partners to update the fourth edition of the Oyster Restoration and Protection Plan for North Carolina which now guides work on oysters until 2026.
In 2022, we led the Oyster Steering Committee and engage workgroups to implement actions in the Oyster Blueprint. This work is being assisted with over $2 million dollars in appropriations to N.C. Division of Marine Fisheries, as well as federal, state, and private grants. This will allow us to construct at least ten acres of new oyster habitat; grow shellfish farming to a $100 million statewide industry by 2030 with a goal of $7-8.6 million in farmed oyster sales in 2022. We will collect at least 5,000 bushels of recycled oyster shells, expand the recycling program coastwide, and advance key oyster communication and education efforts that include the N.C. Oyster Trail, shell recycling, and an interactive oyster display at the Roanoke Island Aquarium.
How You Can Help
Our Current and Recent Oyster Projects