Oyster habitats thrive and support vibrant fisheries, good water quality and stable estuarine shorelines.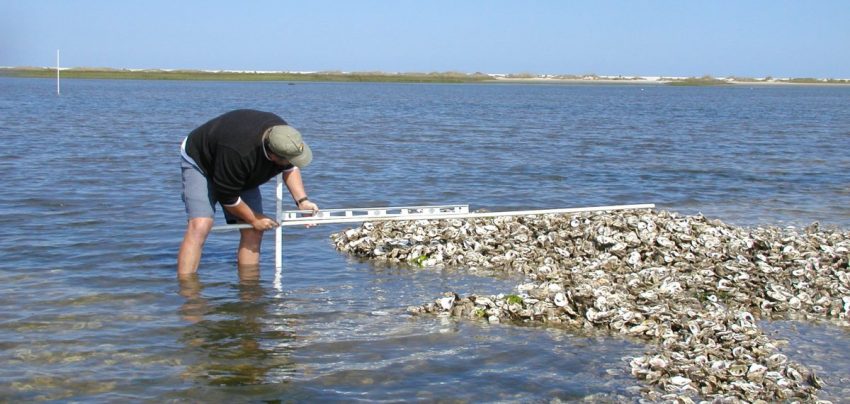 Oysters are a vital keystone species in our estuaries, providing habitat for other species and filtering water for improved water quality. They also serve as an important food source and part of our maritime culture. However, oyster populations are on the decline in North Carolina. Some estimates indicate the population is at 10 percent of historic levels due to disease, poor water quality, overfishing and natural disaster.
Since 2003, a cohesive, statewide effort spearheaded by the North Carolina Coastal Federation has blended the latest science, cutting edge restoration techniques, watershed protection efforts and active resource management to build off of the North Carolina Division of Marine Fisheries's work to support healthy oyster populations. This work paid big dividends in 2015 as the North Carolina General Assembly embraced and funded major new initiatives to improve oyster management. In 2016, the General Assembly included $1.4 million in the state budget for building oyster sanctuaries in the Pamlico Sound, creating rotational harvest oyster reefs throughout the North Carolina coast and accelerating shellfish industry growth.
With the implementation of the 50 Million Oyster Initiative, this work will continue to grow. By 2020, the federation and its partners will restore 50 million oysters in North Carolina waters. Constructing 50 acres of oyster sanctuary in Pamlico Sound will be a major part of the initiative, but every oyster shell put in the water during living shoreline work along the coast will also contribute. These 50 million oysters will filter and clean 2.5 trillion gallons of water per day, benefiting fisheries and the tourism industry.
The federation's goal is to have the North Carolina coast regarded as the "Napa Valley" of oysters. We are working closely with and helping to coordinate the efforts of all stakeholders to build a statewide network of oyster sanctuaries, enhance shellfish management areas, improve and protect water quality and implement other priority actions. We will also engage and educate the public to build political support for oyster restoration. In 2016, the federation and stakeholders developed NCoysters.org, a comprehensive source for all information related to oyster habitat restoration, education/outreach, planning and research in North Carolina.
Check out progress made on the North Carolina Oyster Blueprint for Action in the 2016 State of the Oyster Report.