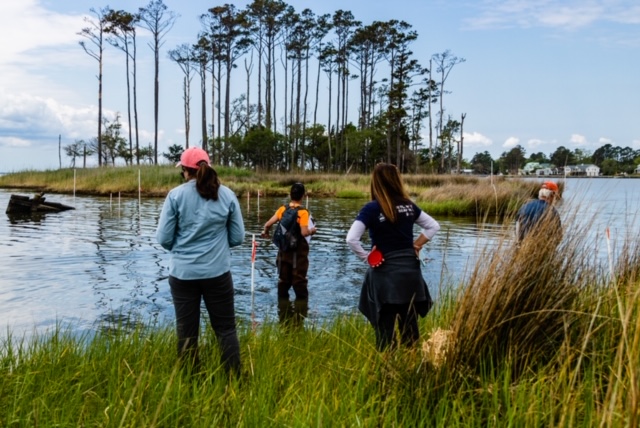 The North Carolina Coastal Federation is focused on providing waterfront property owners with better, more environmentally beneficial alternatives for dealing with problem estuarine shoreline erosion.
Living shorelines, a series of techniques that reduce the impact of waves through the use of more natural approaches such as restoring salt marsh and oysters, offer an effective and environmentally friendly solution to shoreline erosion. However, outdated laws and rules, lack of consumer demand and too few specialized contractors have prevented living shorelines from being widely used. We're changing that.
The federation and Restore America's Estuaries released a report in 2015 entitled "Living Shorelines: From Barriers to Opportunities." This is the first national assessment of institutional barriers preventing broader use of living shorelines. The report provides clear recommendations and strategies. Todd Miller, executive director of the federation, chaired the group that developed the report.
Living Shorelines Academy
Also in partnership with Restore America's Estuaries and with grant support from U.S. Environmental Protection Agency, the federation has developed a national Living Shorelines Academy that consists of an interactive web portal, regional training workshops and a national meeting.
The Academy advances the policy, science, and practice of living shorelines to fulfill key national priorities identified in EPA's strategic plan. This initiative is designed to provide targeted outreach and training to homeowners, contractors, design professional and regulators advance the appropriate use of living shorelines and it will enhance collaboration among all shoreline stakeholders.