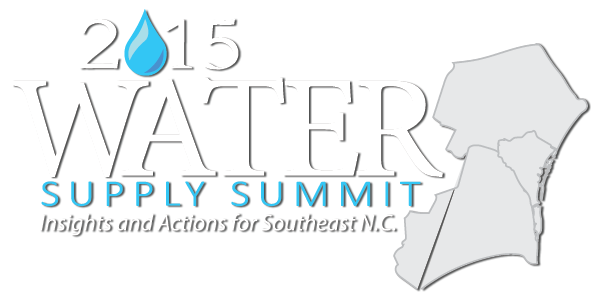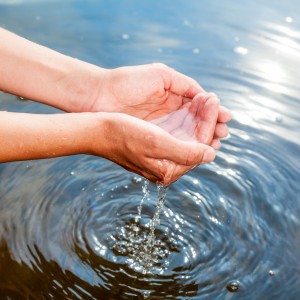 Freshwater is essential to our lives and economy. We depend upon it for drinking and bathing, as well as to run our industries and agriculture. According to New Hanover County's planning department, the County's population is expected to add approximately 100,000 people in the next 25 years. Growth without reliable water supplies will be difficult. The increased demand for freshwater in New Hanover, Pender, Brunswick and surrounding counties brings to the forefront the need to manage the use of this precious resource wisely.
On October 28, 2015, Wilmington Regional Association of REALTORS®, UNCW Masters of Public Administration Program, and the North Carolina Coastal Federation held a comprehensive one-day summit that addressed the challenges and solutions for maintaining our water supplies over the next few decades. It identified what prudent management is necessary to prepare an adequate supply of clean water for our communities.
What are the studies and modeling showing us?
A recent United States Geological Survey (USGS) study of New Hanover County revealed concerns about increasing salt water intrusion and lower water levels in our important groundwater aquifers.
The USGS has identified southeastern coastal North Carolina as an area of concern for sustainable water resources and without proper long range planning it will face critical water shortages.
Our surface waters are connected to our groundwater aquifers therefore good stewardship of our surface waters directly depends on proper water supply management.
Low flow readings in the Cape Fear River has identified critical and emerging issues that need to be addressed to ensure a sustainable and adequate water supply capacity for our region.
New Hanover County's new comprehensive planning process provides a way to plan for water needs to ensure economic growth while protecting water resources.
Elected officials
Local, state and federal government agencies
Businesses and industries
City and county officials
Chamber of Commerce members
Scientists
University educators and students
Real estate professionals
Issues Affecting Water Supply and Sustainability
MODERATOR: Frank Styers, Chief Operations Officer, Cape Fear Public Utility Authority
Options for Water Supply Sustainability and Resilience
Gary McSmith, Engineering, Manager Planning and Design, Cape Fear Public Utility Authority
Aquifer Storage Recovery Alternatives
Mike Richardson, Water Resource Manager, Cape Fear Public Utility Authority
Facing the Challenges Ahead: United States Geological Survey
MODERATOR: Dr. Alex Manda, Associate Professor of Water Resources, East Carolina University
Hydrogeology and water-quality conditions in the surficial, Castle Hayne, and Peedee Aquifers: 2012-2013
Kristen McSwain, Kristen McSwain, hydrologist with the U.S. Geological Survey South Atlantic Water Science Center in Raleigh, North Carolina
USGS National Water Census Coastal Carolinas Water Availability Study
Chad Wagner, Associate Director for Investigations with the U.S. Geological Survey, South Atlantic Water Science Center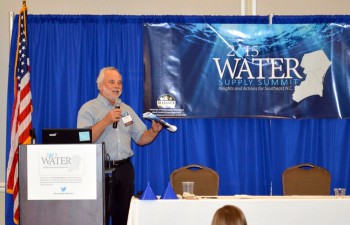 Strategic Plan and the Future: What Now?
MODERATOR: Mike Giles, Coastal Advocate, N. C. Coastal Federation
Jim Flechtner, executive director, Cape Fear Public Utility Authority
Chairman Jonathan Barfield, NHC Commission
Vice Chair Beth Dawson, New Hanover County Commission
Dr. Richard Spruill, Associate Professor, East Carolina University
Dr. Mark Imperial, Associate Professor, Director Master of Public Administration, UNCW
For More Information
Mike Giles, North Carolina Coastal Federation
910.509.2838
mikeg@nccoast.org
The Three Star Alliance:
Three Star Alliance, a partnership of three organizations in the southeastern North Carolina, focused on addressing important issues and topics facing our community