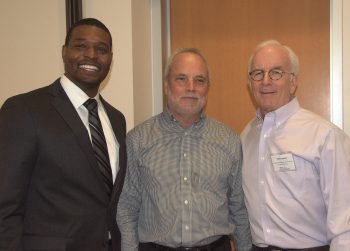 A two-day summit held in Raleigh last week brought together appointed and elected officials, business leaders, scientists, academics, economic developers, tourism leaders and shellfish growers from North Carolina, Virginia and Maryland to discuss and plan for North Carolina's opportunities for economic development through oyster aquaculture and coastal environmental restoration.
The summit, titled Sound Economic Development: Creating a Rising Tide for the North Carolina Coast, made apparent the passionate and bipartisan state support for these efforts, as well as the need for collaboration on regional economic development strategies that leverage North Carolina's coastal assets.
The summit kicked off with a series of speakers talking about their support — past and future — for oysters in North Carolina.
Michael Regan, secretary of the N.C. Department of Environmental Quality, welcomed the crowd and confirmed the department's and Gov. Roy Cooper's endorsement of efforts to restore oysters and bolster the state's shellfish aquaculture industry. Regan said that he has long believed environmental restoration and economic prosperity do not need to be mutually exclusive.
"That's the great thing about oysters and coastal restoration — there's a little bit of something here for everyone," Regan said.
Sen. Bill Cook (R–Beaufort) also offered opening remarks, encouraging North Carolina's ability to eventually outpace Virginia in the oyster industry. He said he is often called the "oyster man" in the state legislature for his continued support of oysters
Tom Looney, who is a board member for the federation and EDPNC, as well as other groups, kept the summit running by introducing speakers and summarizing main points from various panels. Looney spoke on his own experiences early on in the summit, noting that North Carolina can become the "Napa Valley" of oysters (a term coined by author Rowan Jacobsen, who attended the summit) and the "Silicon Valley" of aquaculture (a term coined by Looney).
Key conclusions from the summit:
North Carolina has a team of passionate and dedicated people working to advance this initiative including the State of North Carolina, universities, environmental organizations, and private sector businesses;
Securing end to end comprehensive support will be important to advance these efforts;
Regional economic development strategies are critical;
Oyster aquaculture is a proven economic driver in need of support;
North Carolina has all the assets in place to lead in this arena.
Using momentum from the summit as well as supporting the ongoing work, North Carolina should take these next steps to move forward:
Develop and implement a shellfish mariculture strategic plan;
Use existing coastal assets to build proactive regional plans for increasing economic development opportunities based on habitat restoration and aquaculture industries. These regional and coastwide plans need to start at the city or county level and include an implementation strategy;
Leverage state, regional and local resources such as Department of Commerce, Travel and Tourism, B-Link and others to market and promote these opportunities and products that come from these growing industries (such as aquaculture oysters);
Build coastal resource projects as part of our coastal infrastructure — oysters, living shorelines and stormwater mitigation are all part of the infrastructure in coastal communities that are needed to keep a healthy and productive coast.
Become more competitive on the federal level in bringing more federal conservation dollars to North Carolina in proportion with our resources and in-state investments;
Develop and provide workforce training opportunities in the trades needed to promote and grow coastal environmental trades, including an education pipeline that grows and retains expertise in the state.
Engage with other leaders, stakeholders and communities to raise awareness about these opportunities.
Below are summaries of the presentations and panels:
Day 1:
Setting the Stage for Economic Opportunities Along Our Coast: Importance of Regional Economic Development Strategies
Chris Chung
, Chief Executive Officer, Economic Development Partnership of North Carolina
Chung spoke about how important it is for regions to development economic strategies that work with the assets that they have. He said believes the state's coastal counties are on the right track with pursuing coastal restoration and aquaculture, as North Carolina does have the assets and resources it needs to build its oyster industry. Attracting large business is not always the right path forward for every county, and these coastal counties need to look at what infrastructure they need to create a viable economic strategy for the assets they have. EDPNC's main goal is to sell North Carolina, and Chung said it is willing to help grow the oyster industry.
Status and Trends with the Coastal Economy and Environment: Current Economic Conditions, Trends and Economic Development Challenges
Jason Gray
,
Senior Fellow Research and Policy, The Rural Center
Gray's presentation focused on middle income occupations that could be plugged into the marine aquaculture economy. Some of North Carolina's coastal counties are still struggling post-Great Recession, and technology induced job loss is continuing to happen. Agriculture and manufacturing will be two of the hardest hit sectors by this job loss — by 2040, an estimated 112,230 jobs will be lost with $2.8 billion in wages lost (this does not factor in new kinds of jobs). Growing the mariculture industry is a good way to fill the gap when these jobs are lost to technological innovations and for eastern North Carolina, the economic importance of the mariculture industry is huge. 
A Strategic Economic and Environmental Vision for the North Carolina Coast: A Plan to Leverage North Carolina Coastal Assets While Improving the Environment
Tom Looney
, Board of Directors, Economic Development Partnership of North Carolina
Looney said oysters are the "ultimate clean technology." They benefit jobs, tourism, habitat, clean water, living shorelines, and they provide financial return, maintain North Carolina's culture/community spirit and protect the state brand. To grow the industry will require three phases: 1) collect facts and identify proof points, 2) establish support and ownership and 3) establish community support. Regulation, research, education, investment and marketing/distribution will also be key in making North Carolina known for its oysters.
Virginia Success Story: A Case Study for Restoring Oyster Habitats and Expanding the Oyster Industry

Moderated by
Tom Looney
,
Board of Directors, Economic Development Partnership of North Carolina
Panelists:
Transition from Land to Sea Farming –

Tommy Leggett

, Owner, Chessie Seafood and Aquafarms

The Oyster Science Blueprint –

Mark W. Luckenbach

,

Professor of Marine Science; Associate Dean of Research and Advisory Services, Virginia Institute of Marine Science

Getting Regulations Right –

Jim Wesson

, Chief Shellfish Replenishment Officer, Virginia Marine Resources Commission
Virginia is the top oyster producer on the East Coast. Leggett, Luckenbach and Wesson spoke on why Virginia has had the success in oyster aquaculture that it has and what problems still remain. They said that aquaculture is the future for oysters and that wild harvest will never be able to get back to historic levels. That being said, there needs to be more work done to develop hatcheries to combat decline seed supply, and the leasing system could use improvement, as a few bad leases have led to poor perception. Some waterfront property owners also do not want to see aquaculture in front of their homes. Overall, they agreed that the bottom line keys to the state's success were a good lease system, supportive state agencies, research into triploid oyster development/disease resistance, timing with the collapse of the oyster industry in the Gulf of Mexico and marketing.
Eliminating the Barriers to Entry and Building a Shellfish Aquaculture Industry

Outlined by
Tom Looney
, Board of Directors, Economic Development Partnership of North Carolina

Panelists:
Will Best

, JLUS Project Manager, N.C. Department of Commerce

Dave Cerino

, Aquaculture Coordinator, Carteret Community College                            

Jay Styron

, President, N.C. Shellfish Growers Association

Chuck Weirich

, Marine Aquaculture Specialist, North Carolina Sea Grant

Niels Lindquist

, Joint Professor, UNC Institute of Marine Sciences

Steve Murphey

, Habitat and Enhancement Section Chief, N.C. Division of Marine Fisheries

Ami Wilbur

, Director, Shellfish Research Hatchery & Associate Professor, University of North Carolina Wilmington
After hearing about Virginia's successes and struggles, a group from North Carolina talked about how to make it easier to get the industry going in the state, as well as what problems still need to be overcome. Some of the key agreements and takeaways from this panel include: a need for hatcheries in North Carolina, a need for more industry-specific training for those looking into shellfish aquaculture, a need for more market research and branding and a need for a better lease program and a group that is responsible for creating a comprehensive shellfish aquaculture plan and for overseeing mariculture issues as they arise.
The Economic Value of Building and Enhancing Oyster Habitat

Moderated by
Erin Fleckenstein
, Coastal Scientist, North Carolina Coastal Federation
Panelists:
Garry Wright

, Biologist Supervisor, Habitat and Enhancement Section, N.C. Division of Marine Fisheries

Simon Rich III

, Partner and General Manager, Stevens Towing Company

Dave Eggleston

, Director, N.C. State University Center for Marine Science and Technology
Outside of oyster aquaculture, just the act of restoring oyster habitat has huge economic benefits for the North Carolina coast. This kind of restoration provides jobs during the work, and it also helps out tourism, as oyster restoration helps clean water and provide home for recreationally important fish. Panelists agreed that public-private partnerships are important, citing a 2009 project that involved the federation, state agencies, universities and companies included Stevens Towing to build more than 60 acres of oyster sanctuary. Funding will be critical in continuing this kind of work.
A Comprehensive Environmentally Based Strategic Blueprint for North Carolina's Coastal Economy

Outlined by
Todd Miller
, Executive Director, North Carolina Coastal Federation
This plan can be viewed at nccoast.org/strategicplan. Created in partnership with many stakeholders, it will guide economic growth on the North Carolina coast for the next five years. Miller said taking advantage of funding from the farm bill will be important moving forward. Despite having the eighth largest agricultural economy, North Carolina ranked 49 out of 50 in farm bill funding.
Panelists:
Kris Noble

, Assistant County Manager and Director of Planning & Economic Development, Hyde County

Noble explained how Hyde County, the second poorest in the state, relies on clean water to grow its traditional agricultural and commercial fishing based economy. Protecting its natural resources through watershed restoration and supporting aquaculture efforts through a revolving loan program will be critical in growing its traditional industries
Todd BenDor

, Associate Professor, Director of Ph.D. Program, UNC-Chapel Hill Department of City and Regional Planning

BenDor explained how ecological restoration creates jobs and economic output. Restoration supports about 30 jobs per million invested (compared to 5.5 for oil and gas), and these jobs span a wide range of blue collar and white collar positions. To continue to grow restoration as an economic tool, BenDor said it will be important to maintain five major drivers: regulator, public procurement, regional initiatives, internal public agency policies and private investments.
Jane Harrison

, Coastal Economics Specialist, North Carolina Sea Grant  

Harrison explained the blue economy — "a sustainable ocean and coastal economy, which emerges when economic activity is in balance with long-term ocean capacity." The ocean economy is driven by tourism/recreation, ship and boat building, transportation, seafood, marine-related construction and minerals. She said access is an important part of protecting places — if people can get to these places that have been protected, they'll have a better appreciation, and getting them there helps local tourism economies. Remediation, restoration and revitalization are the three keys to success.
Pete Peterson

, Alumni Distinguished Professor of Marine Sciences, Biology and Ecology, UNC Institute of Marine Sciences

Peterson discussed research that shows how oyster reefs are the best type of habitat for ecological benefits and for surviving pollution. Historically, oyster reefs grew higher off the bottom than they usually do today or are built to today. Growing higher from the bottom made the flow rate faster, which improved the transport of food and reduced disease.
Photos from March 22's Legislative Oyster Reception:
Day 2:
Rowan Jacobsen, author of The Essential Oyster provided opening remarks for the day.
Jacobsen talked about how oyster bars are starting to become very high-end, much unlike the he traditional oyster bars. He also talked about how variety is key — people want to see the difference between the oysters they're trying. North Carolina oysters are becoming more common in restaurants, and he noted how Coastal Provisions in the Outer Banks carries around six on a typical night. As far as marketing oysters, other states invented oyster trails, and it's also important to think about the economic value of festivals. He said some of the biggest festivals on the East Coast can bring in up to 50,000 people. North Carolina has the habitat and the diversity of oysters to market many different kinds, including "heirloom" oysters that are unique to the area. He said these heirloom products are reasons not to forget about the importance of wild oyster populations. Wild populations have much more variance than ones ordered from hatcheries, which are all part of the same genetic stock. 
Economic Development Depends on Clean and Productive Coastal Water Quality
Moderated by Ted Wilgis
, Coastal Education Coordinator, North Carolina Coastal Federation
Panelists:
Shannon Jenkins

, Shellfish Sanitation and Recreational Water Quality Section Chief, Shellfish Sanitation, N.C. Division of Marine Fisheries

Jenkins spoke about the recent closure of 2,400 acres of shellfishing waters due to particularly wet conditions in 2014-2016, mentioning that 66 percent of Brunswick County is closed to shellfish harvest, including the recent 200 additional acres of closure to the Lockwoods Folly river. This decrease in shellfishing waters causes concern due to potential public health and economic impacts. However, he said there are some success stories, especially North River in Carteret County. He said in 2006, Shellfish Sanitation was able to open up waters again and haven't had to close any since, which he said is an even more impressive fact.
Feletia Lee, Environmental Coordinator, Blockade Runner Beach Resort 

Lee spoke about the economic impact of clean water from a tourism and business perspective. Blockade Runner, she said, depends on clean water for their programming. This includes one of the largest stand up paddleboard races in the country, the Carolina Cup, which is the resort's biggest event, which she predicted brings in more than $420,000 a year. Though Carolina Cup is the biggest, it is only one of 13 races that depend on the health of the Atlantic Ocean and Banks Channel, especially as all of these events are held in the resort's off-season. "Good water, to me, is job security," Lee said.
Joey Daniels

, Oyster Farm Manager, Wanchese Fish Company

Daniels began his portion of the panel by talking about how all of the nearby inlets are closed to shellfishing and the water is not as clear as it once was, citing a story about how Native Americans could once spear enough fish to fill up their boat in 30 minutes. "I've been spearfishing my whole life in Dare County and the stars sort of have to align before the water's clear enough for me to go. I just thought that it shows you how much change we've seen since we've been here." He touched on the detriment of poor water quality, as well as low-salinity waters, on local shellfishermen.
Pete Peterson

, Alumni Distinguished Professor of Marine Sciences, Biology and Ecology, UNC Institute of Marine Sciences

Peterson said he had one takeaway message: "Infiltrate. Don't pass the problem to whoever's downhill from you." This message would prove to be a recurring theme throughout the day. Peterson said the Coastal Habitat Protection Plan needs to be continued and supported because this unique plan, he said, put us ahead of some national processes that analyze ecosystem-based management. He said the fact that it looks at the ecosystem as a whole, as well as brings a variety of stakeholders to the table, make it valuable.
Maryland Success Story – A Case Study Examining the Maryland P3 Partnership and the Business of Stormwater Retrofits

Moderated by
Mike Randall
, Acting Supervisor, Stormwater Permitting Unit, N.C. Division of Energy, Mineral and Land Resources
During a panel about a public-private partnership in Maryland's Prince George's County, North Carolina stormwater stakeholders said North Carolina needs to invest more money and resources into these types of programs if we want to see the success that Prince George's County has seen.
David Washington

,

Director of Program Operations, Clean Water Partnership       

Washington said that the county received a mandate in 2014 that required them to build retrofits that will treat 15,000 impervious acres by 2025. Because county was unable to achieve this goal on its own, it formed a P3 with Corvias Solutions, called the Clean Water Partnership. "So one of the things that sort of drove the county…was that if they do the P3, there could be some economic benefit – and the economic benefit would be to small, local businesses," Washington said. One requirement in the P3 was that 35 percent of employed businesses must be small, local businesses. But the P3 has exceeded that, as that number is at 76 percent.
Respondent Panel:
Annette Lucas

, Stormwater Program, N.C. Division of Energy, Mineral and Land Resources

Lucas said the state has been working toward approaching stormwater with a more "volume-reduction" mindset than it has in the past. A diversity of stakeholder groups spent 18 months working on a new generation of stormwater rules that make it easier to permit volume-reduction methods that infiltrate stormwater. "And now people can do flood control…within the same footprint of an infiltration system," Lucas said. She said in order to address stormwater similarly to how Prince George's County has, the state would need a regulatory push and more resources.
Hunter Freeman,

Senior Project Engineer, PE, LEED AP, WithersRavenel

Freeman touched on the new stormwater rules and talked about the benefit of taking the approach of mimicking the hydrologic conditions of a baseline year. He noted Prince George's County's ability to get so much done in small time-frames, saying that North Carolina hasn't retrofitted 2,000 acres in 10 years, while this is only a two-year target in the Maryland county. "I think we're in the initial stage of the public-private partnerships where consultants, researchers, universities, regulators, nonprofits are all now coming together," he said. "And I think what we need to focus on is additional investment in that framework to get it to the level that Maryland's been seeing and others for continued implementations."
Developing Economical Solutions that Safeguard Water Quality

Moderated by
Lauren Kolodij
,
Deputy Director, North Carolina Coastal Federation
Panelists:
Burrows Smith

, Managing Partner and Developer, River Bluffs Development Group

Smith talked about how all 315 acres of River Bluffs Living is low-impact. When developing River Bluffs, Smith said he was uncomfortable with the idea of cutting down trees and digging ponds, knowing that there was nothing below the ponds to soak up the stormwater once the root systems were gone. He noted that not all developers see the value of the landscape and instead will bulldoze entire sites. "They just bulldoze them flat, 40-50 acres," Smith said. "They build the houses and plant little scrawny trees. And it's just such a waste." 
Larry Sneeden, Senior Civil Engineer, AECOM

Low-impact development techniques are often so simple that people might not even notice that they're doing their jobs. Many of the methods that can be used to infiltrate stormwater before it can pollute waterways are relatively simple, Sneeden said. During his presentation, Sneeden showed examples of an Oak Island swale, an underground stormwater pipe system in Wrightsville Beach and depressions that move water into rain gardens, to name a few retrofits. These techniques are all effective yet simple and low-cost, especially the 12 simple swales in Oak Island. "A day's work to get in there and do that, and we're getting almost 100% capture," Sneeden said
Hunter Freeman,

Senior Project Engineer, PE, LEED AP, WithersRavenel

Freeman praised the park in River Bluffs that doubles as an infiltration basin. "I think that that action of making a stormwater device an amenity and adding value to it through that  has been such a huge leap in how we've designed and permit new projects and also how we're looking at retrofits." Before, he said, stormwater would be piped out into holes and fenced off, providing zero value to the landscape. But the shift to LID has been pivotal, and has also made engineers think more about how to make these systems sustainable in the long-term.
Protecting and Expanding Coastal North Carolina's Largest Industry – Tourism

Moderated by
Bill Crowell
, Director, Albemarle Pamlico National Estuary Partnership
Panelists:
Wit Tuttell

, Executive Director, Visit North Carolina

Wit Tuttell said statewide tourism is a $22 billion industry, with about $3.89 billion going to the coast. Almost 40,000 jobs depend on coastal tourism, and tourism from out-of-state visitors is especially important as their spending is higher than in-state visitors. He said beauty, beaches, people and mountains are central themes to leisure travel in North Carolina. "When people say they come to North Carolina for beauty, they're talking about the health of the state. We're selling beauty," he said. Tuttell also said he was in favor of creating an oyster trail, because it is a new product to sell North Carolina to tourists. He said in addition to trails, festivals and events are good ways to draw people in as well.
Brian Roth

, Mayor, Plymouth

Plymouth is a town of 4,000 residents, and Roth focused on the local charms that make it a unique place on the coast. He said the town has some of the largest black bears in the world. "Plymouth has become a nature-based tourism mecca," Roth said, because it has so many natural resources that support commercial fishing, paddling, power boating and jetskiing. Because of this, he said protecting the water is critical.
Lee Nettles

, Executive Director, Outer Banks Visitors Bureau

Nettles said that Dare County has a $1.05 billion tourism economy, and that one of three residents is employed in a tourism job. Nettles also talked about the occupancy tax that is reinvested into the community. He said that Dare County is able to "walk the walk" and "talk the talk" by putting money behind preserving nature.
Carol Lohr

, Executive Director, Crystal Coast Tourism Authority

Lohr talked about the things that are most important to visitors, including beaches and the opportunities for boating, fishing and clamming. Lohr also touched on the attraction of the Carteret Catch program and local seafood. She also noted that trails, such as an oyster trail, are great ideas but also said festivals and events are great for tourism too, especially ones that focus on local attractions such as the North Carolina Seafood Festival.
Wrap Up and Concluding Discussion – Investing in Coastal Habitat Preservation, Restoration and Shellfish Aquaculture for Long-term Economic Prosperity of North Carolina's Coastal Communities

Moderated by
Tom Looney
, Board of Directors, Economic Development Partnership of North Carolina
Panelists:
Burrows Smith

, Managing Partner and Developer, River Bluffs Development Group

Will Best

, JLUS Project Manager, N.C. Department of Commerce

Susan White

, Executive Director, North Carolina Sea Grant

Todd Miller

, Executive Director, North Carolina Coastal Federation

Mary Penney Kelly, Senior Adviser: Policy and Analysis, N.C. Department of Environmental Quality
The wrap-up panel talked about the importance of regional economic strategies and developing an aquaculture plan. Miller said the efforts to boost the economy through coastal restoration requires people who can think about it everyday. He also stressed the importance of communication and incorporating solid science into an aquaculture plan. White agreed and also said that it will be important to bring in stakeholders from the community and academia. The group talked about the oyster steering committee, and Best said the group is very strategic in their planning. Kelly talked about the importance of identifying coastal resources and restoration projects as a type of infrastructure, because they are more likely to get funding and support.