Resilient Coasts for Future Roasts
Last week, on May 9th & 10th we hosted the 2023 N.C. Oyster Summit at the Marbles Kids Museum in Raleigh, and the turnout and engagement from everyone in attendance blew us away. The summit brought together hundreds of stakeholders to showcase progress made in implementing the NC Oyster Blueprint. The Blueprint has guided our oyster work and partnerships focusing on restoration, protection, and growing the state's oyster resources for the past 20 years. Oyster farmers and growers joined those who use oysters to build living shorelines, researchers, restaurateurs, and so many others at the successful event.
The summit provided an opportunity to reflect on how far we've come and the major successes we've already accomplished, which is certainly something to celebrate especially for living shorelines, oyster aquaculture and oyster sanctuary efforts. Living shorelines have received bi-partisan support from our legislators and now private property owner interest is growing on the implementation side of things. Oysters grown on farms are now the number one source of oysters harvested in the state (as of 2017). Farmed oyster production has doubled in the last five years. Oyster sanctuaries have also received support from legislators matched with federal grant funding, and science is showing that they are a proven technique that offers benefits to the Pamlico Sound oyster population over the course of many years.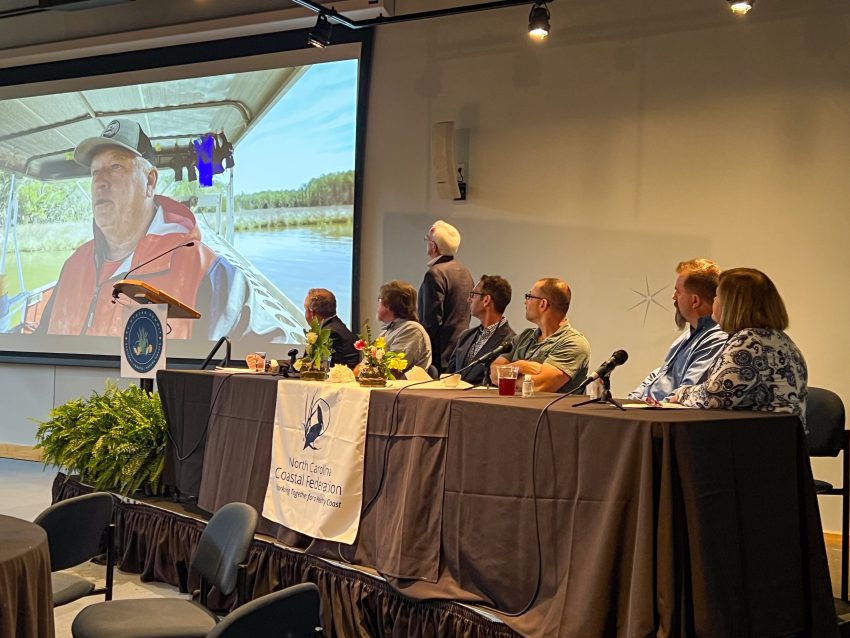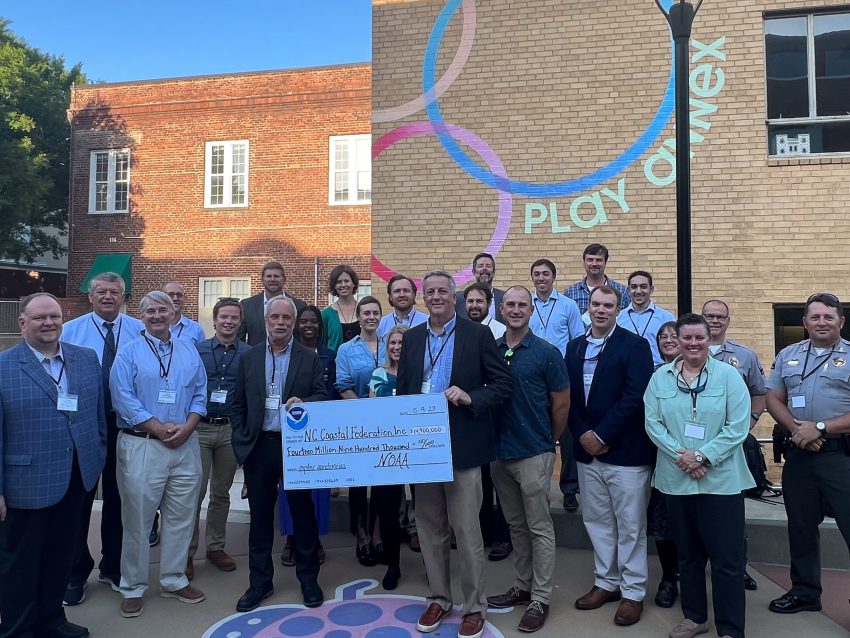 But despite the success we've had we can't let off the gas pedal yet. There is still a lot of work to do. For example, North Carolina water quality in most shellfishing areas is declining, and while there has been some success in places like North River, we still need to ramp up efforts to protect and restore shellfish waters. Ten priority watersheds have been identified that are in need of protection and restoration if they are to continue to support clean water to support shellfish and it will take partnerships and concerted efforts to be successful.
One summit panel focused on the need for increased statewide oyster shell recycling to ensure as much shell as possible is making its way back into the sound to build new oyster habitats. Moving forward we need to bring together all of our partners and create a strategic pathway and coordinated effort to scale up shell recycling across the state. Part of that includes exploring coordinated communications, incentive programs, and increasing the convenience for people to recycle.
In an effort to help ramp up oyster protection and restoration work, during the summit, the National Oceanic and Atmospheric Administration formally presented the Coastal Federation with a $14.9 million grant to construct oyster sanctuaries in Pamlico Sound, provide scholarships for grad students at NC Central University and NC State University and increase education and awareness about the important role oysters serve.
We'd like to thank everyone who joined us for the summit, legislative reception, and oyster shucking contest all of which were a great success.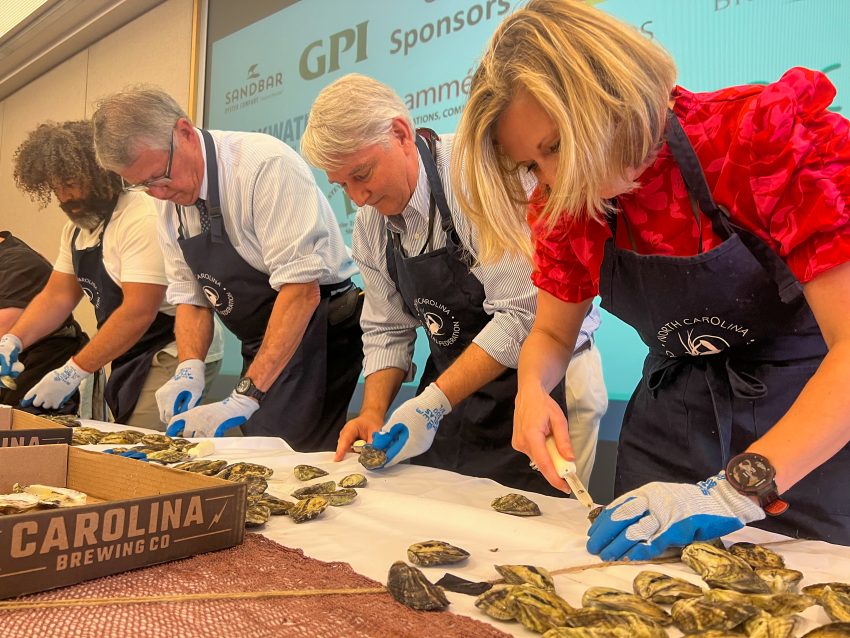 Saving our Salt Marshes
This week the South Atlantic Salt Marsh Initiative (SASMI) unveiled a regional plan outlining the best ways to preserve 1 million acres of salt marshes – an area nearly the size of the Grand Canyon National Park – stretching from North Carolina to east central Florida.
The regional plan which has been two years in the making, lays out key strategies, objectives, and actions ranging from elevating coasts to conserving land near marshes so the tidal wetlands can move as sea levels rise. The marshes are threatened by rising seas, polluted runoff, and unsustainable development.
The voluntary plan calls for close collaboration between SASMI partners, local communities, and governments to identify and implement the strategies best suited for each location. It includes recommendations for securing funding, improving development planning processes, and educating and engaging communities in the co-creation of salt marsh conservation projects.
As SASMI releases its regional Salt Marsh Plan to focus on the South Atlantic region, each state within the region (North Carolina, South Carolina, Georgia, and northern Florida) is simultaneously creating a state-specific plan in partnership with SASMI and the Pew Charitable Trusts.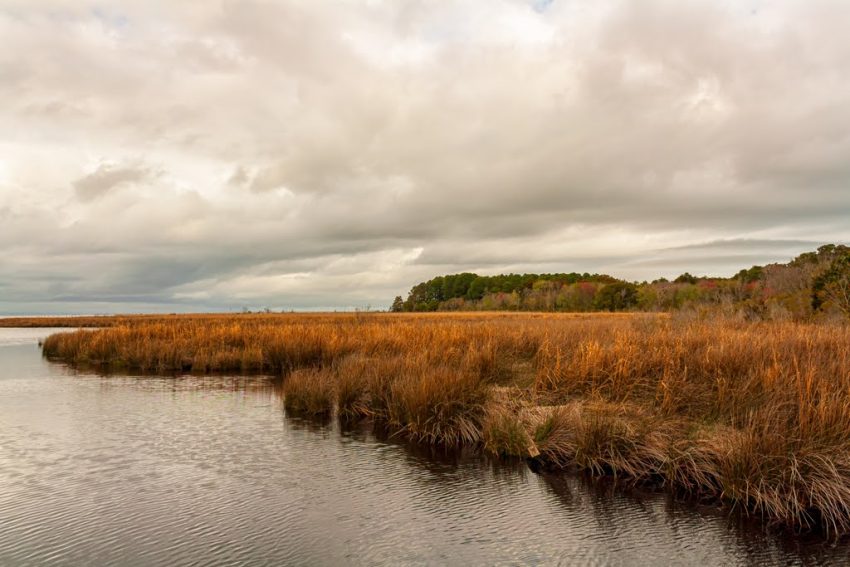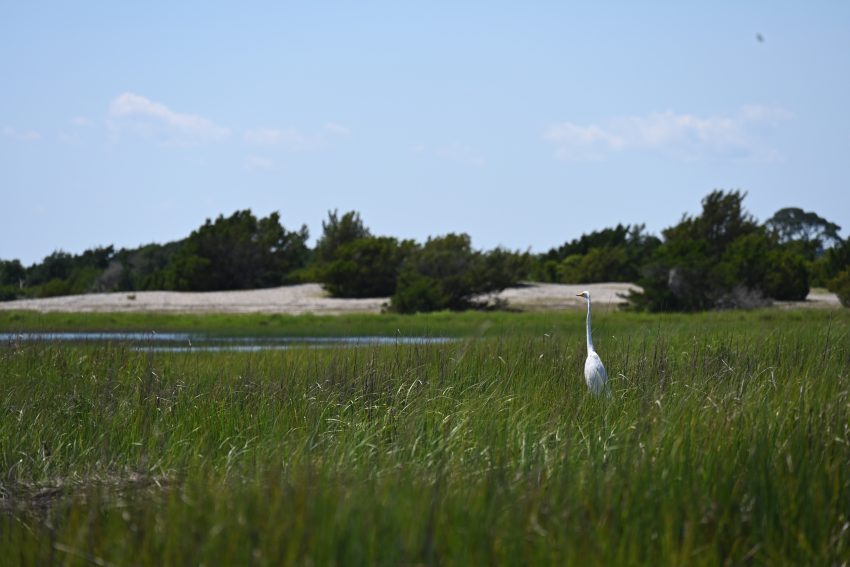 The Coastal Federation is leading the initiative for the North Carolina Salt Marsh Conservation Action Plan. This plan will provide a detailed geospatial analysis of the current and future projections of salt marsh gain or loss, a reference guide of potential priority strategies for marsh restoration and migration facilitation, and a local stakeholder-informed plan to begin implementation of specific actions.
"No wetlands means no seafood," said Todd Miller, executive director of the North Carolina Coastal Federation. "Now we have a strategy to perpetuate the many benefits of our salt marshes even as the sea level rises and there are more intense storms caused by global warming. We must work quickly if our marshes are to adapt and survive these climate changes."
The North Carolina plan will be released later this fall. You can read the full SASMI plan below.
Restoring Tidal Marsh at Carolina Beach State Park
This month, work continued at Carolina Beach State Park where the Federation, NC State Parks, and Backwater Environmental are restoring 13.5 acres of tidal marsh. The first phase of the project involved removing the invasive species, Phragmites from the area. Now that that has been completed, we're inviting volunteers to join us in early June to help plant thousands of native grasses to restore the marsh.
The plantings will take place on June 26th & 27th. Our staff is excited to be able to bring the community in on this important project. The native grasses we'll be planting provide important fish and wildlife habitat, decrease the impacts of flooding and help improve water quality. 

We hope you'll join us for this volunteer opportunity, you can sign up below!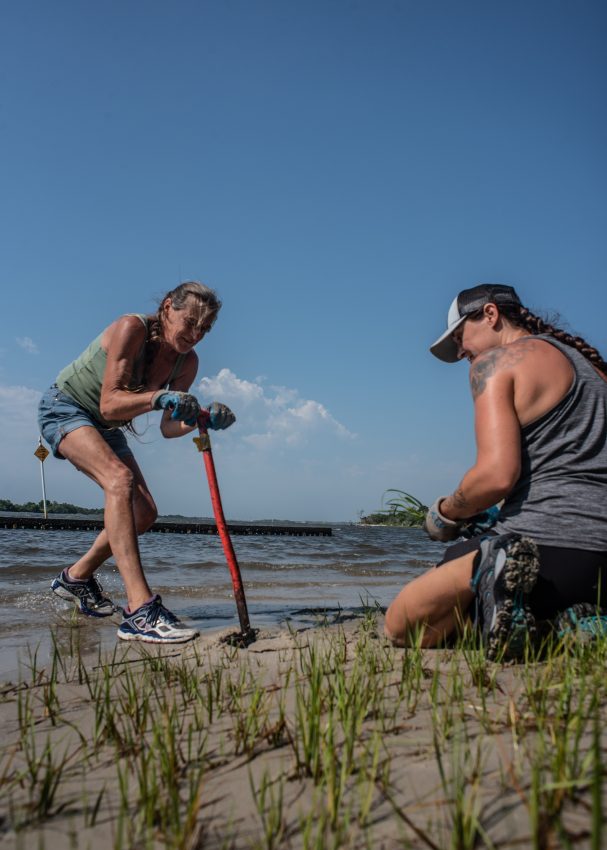 Pelican Awards and a Taste of the Coast Celebration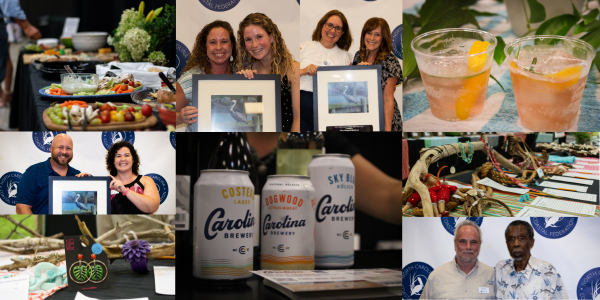 Two great events on one special day at the coast! This year the Coastal Federation is excited to announce that our annual Pelican Awards and A Taste of the Coast Celebration will be two separate events held on Saturday, August 5th in Morehead City.
We hope you'll join us at 5:00 pm at Jocelyn Hall on the beautiful Carteret Community College campus, where we'll honor and recognize our 2023 Pelican Award Winners who are instrumental in helping us further our work.
This event is free but registration is required.
On August 5th we will also be hosting A Taste of the Coast Celebration at 7:00 pm at the Crystal Coast Civic Center. This evening celebration will feature a silent and live auction as well as local oysters, beer, wine, and seafood pairings; proceeds support the Federation's work protecting and restoring the coast.
Early bird tickets are available right now, so don't wait!