Resilient Coasts for Future Roasts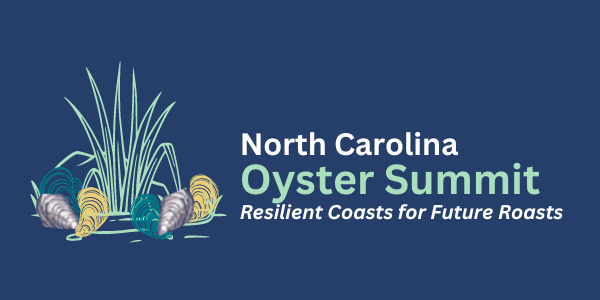 It's not too late to register and join us at N.C. Oyster Summit: Resilient Coasts, Future Roasts in Raleigh on May 9 & 10th. This summit will bring together oyster researchers, managers, harvesters, restauranteurs, state legislators, educators, and hopefully oyster lovers like you. 
This two-day workshop will not only be a venue for important conversations and presentations surrounding oysters in North Carolina, but it will also feature a legislative reception on Tuesday evening that will feature a chance to sample fresh NC oysters. In addition, a Legislative Shucking Competition will be held, where several coastal legislators will be pitted against the National Oyster Shucking Champion, Jay Gallant, of New Orleans to see who can shuck the most oysters.
During the summit, we'll be highlighting recent oyster accomplishments and the partnerships that help us to continue to reach our goals. We'll also be taking a deep dive into the work that still needs to be done, which is laid out in the NC Oyster Blueprint.
Oysters Uncovered: The Kayak Edition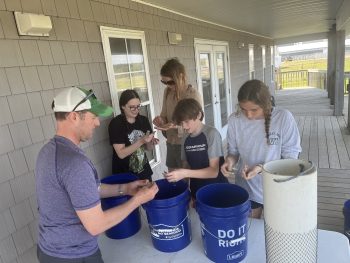 Our Northeast office has brought back a popular event that celebrates NC Oysters. Oysters Uncovered is a fun event that educates the community about oysters and how important they are in so many different ways for our coastal ecosystems. This time though we've not only partnered again with Blue Water Grill and Raw Bar we've also joined forces with Outer Banks Kayak Adventures!
This farm-to-fork experience will take you out on the water for an adventure on the beautiful shores of Broad Creek where you will tour the Coastal Federation's demonstration oyster lease and a living shoreline.
As part of this excursion, you will explore the pristine coastal marsh and unique inhabitants on sit-a-top kayaks, after that, you'll head over to Blue Water Grill and Raw Bar to enjoy a half dozen of NC Oysters
Protecting a Highway
Work is currently underway along Highway 24 between Swansboro and Cedar Point to build a living shoreline that will not only protect this busy highway from an eroding shoreline but will also restore the surrounding salt marsh and oyster habitat.
Instead of using traditional shoreline stabilization methods, NCDOT recognized the benefit of living shorelines as an alternative through the Federation's numerous successful projects. The agency's commitment to more resilient erosion control options led them to partner with the Federation and give living shorelines a try.
Since 2020, the Federation's Living Shoreline Program Director, Dr. Lexia Weaver, has worked with NCDOT and their contracted engineer, SWCA Environmental Consultants, to develop a plan for the three sites and to secure funding and permits. The three living shorelines will span 1,700 ft. in total.
The National Fish and Wildlife Foundation awarded a $1.7 million grant to the Federation to fund part of the project. The NC General Assembly through Session Law 2019-251 supports additional project costs matched with NCDOT Bridge Maintenance Funding.
Work on the third section of the living shoreline will take place this fall.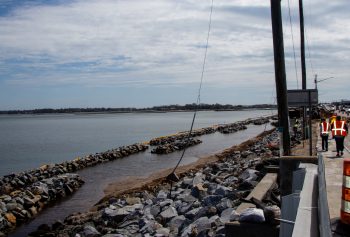 Investing in Our Planet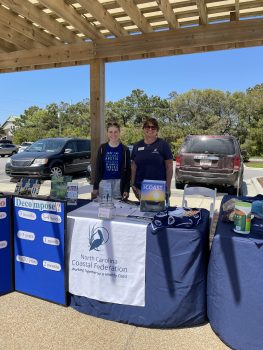 Earth Day 2023 is upon us and this year's theme is Invest in our Planet, and what better way to make that investment than by joining us at one of our many events? While the celebrations surrounding Earth Day are already well underway, there are still fun and engaging ways you can join in.
In our Northeast region, we'll be out on Saturday, April 22nd for this year's Earth Fair OBX. The festivities will take place at the Coastal Studies Institute from 11:00 am to 3:00 pm there will be plenty of fun and exciting activities for the whole family. There will be food trucks serving up lunch all afternoon long. You'll also be able to tour the Coastal Studies Institute's campus as they celebrate their 10th anniversary with an open house.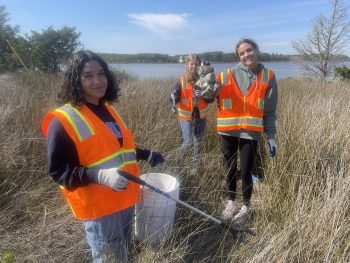 In our Central region, we hope you'll join us for a shoreline cleanup at Gallants Channel as we team up with Carteret County's Litter Free Land and Sea and Friends of the NC Maritime Museum in Beaufort. The cleanup will take place on Earth Day, Saturday, April 22nd, from 9:30-11:30 am sign-up to join us by visiting our website.
There are also several events happening in our Southeast region. The Federation will be participating in Work on Wilmington on Saturday, April 22nd, where there are numerous Earth Day events taking place all around the city. The following week on Friday, April 28th we hope to see you out at Morris Landing for a debris cleanup and living shoreline maintenance event. You can find all of the details and sign-up to join us, here. On April 29th you can catch some of our wonderful Southeast Coastal Ambassadors out at the Southport Nature Fest where they'll have fun activities and crafts to engage visitors in how to protect and restore our coast.
DREAMS Arts and Education Sprucing Up Gardens This Spring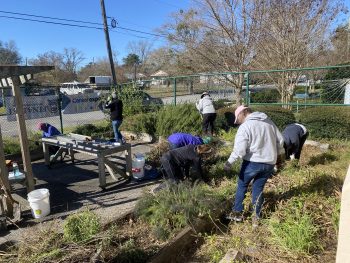 In March we took part in a celebration of Cape Fear Creek Week where Coastal Federation staff partnered with DREAMS Center for Arts Education in Wilmington. We spent the day with volunteers cleaning out the herb and pollinator garden beds ahead of spring planting.
Thanks to all of the hard work of our volunteers the students at DREAMS will now be able to create food using the herbs and vegetables in their garden. We are so grateful to be able to do work like this. This project was made possible thanks to the Landfall Foundation.