A $15 million announcement and a spotlight on the state's oyster resources greeted the about 200 that came together for the 2023 North Carolina Oyster Summit.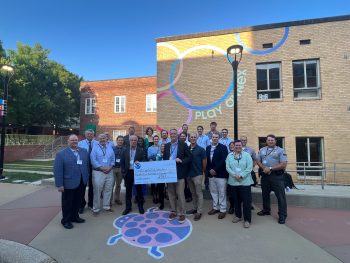 Coordinated by the North Carolina Coastal Federation, the two-day event last week in Marbles Kids Museum brought together educators, elected officials, local, state, and federal representatives, environmental groups, and others invested in the health of the state's oysters. Attendees heard panel discussions, and presentations on past and planned work, watched an oyster shucking contest, and enjoyed oysters from farmers along the coast.
At the start of the summit, Coastal Federation Board Member Tom Looney greeted everyone with praise, "The work you're all doing is having a significant impact on North Carolina in so many different ways."
"I've often said we can be the global leader in oysters, and I believe we're on a path to make that happen."
To kick things off, Howard Schnabolk, team leader for the South Atlantic region of the National Oceanic and Atmospheric Administration Fisheries Restoration Center, announced that the nonprofit organization has been recommended for $14.9 million in funding to reach its 500-acre oyster sanctuary goal in the Pamlico Sound.
Schnabolk said the funding for the oyster sanctuary project is through the Transformational Habitat Restoration and Coastal Resilience Grants program. "The Restoration Center received 170 eligible applications requesting over $1.1 billion in federal funds. Out of those 170 projects, we've recommended 38 for funding, and those proposals are receiving a total of $260 million."
The Biden-Harris Administration first announced the recommendation on April 21. The award is pending final approval.
The proposal submitted by the Federation requested funding to complete the 500-acre Sen. Jean Preston oyster sanctuary, Schnabolk explained. The North Carolina General Assembly voted in 2015 to establish the network of oyster reefs named after longtime coastal legislator and retired teacher who died in 2013.
Schnabolk said the proposal, "also adds a great novel aspect of the project plans by working to cultivate a diverse group of scientists," he said, and they're looking forward to seeing how that evolves.
Schnabolk is referring to a collaboration of the Coastal Federation, North Carolina State University's Center for Marine Sciences and Technology, and North Carolina Central University. The program will provide hands-on opportunities for underrepresented graduate and undergraduate students studying marine sciences.
Sen. Norm Sanderson told the crowd that it is rewarding to see so many that support the oyster industry.
"You know, we often hear about win-win situations. This is a win-win-win-win situation, "he said about the funding. "To me. It's a win for the environment. It's a win for the state of North Carolina. It's a win for the consumers and the taxpayers of North Carolina. And it's a win for the folks who make all of this happen, who actually the feet on the ground, that are in waist-high water planting oyster seeds."
North Carolina Department of Environmental Quality Secretary Elizabeth Biser followed Sanderson by saying she was glad to be able to celebrate the leadership of the group when it comes to protecting and growing the state's oyster resources, which are so very important for so many reasons.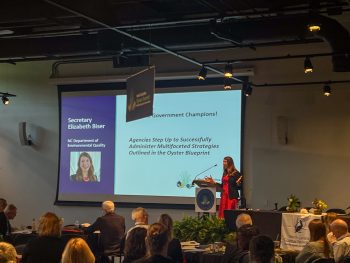 Biser said the agency sees many of the accomplishments of those in attendance.
"I don't have to tell all of you that our state has become a leader among all of the Atlantic and Gulf Coast states for our oyster restoration efforts," she said. This has been done through partnerships, the public and private sectors coming together to invest in the future of oysters in the state, and oysters "improve our water quality, which is part of our core mission here."
She went on to say that "oysters benefit us in so many ways, both economically and ecologically, providing us with a strong seafood industry. A source of food and habitat for fish, improved water quality, and wave attenuation that protects our coastlines from erosion, naturally."
The state DEQ oyster sanctuary program is one of the largest oyster restoration programs in the country.
"It fosters large, healthy oyster populations for the state's waters, and a more abundant oyster population directly translates to improved water quality, healthy ecosystems, and strong commercial harvest," she said.
We're making great progress on all fronts of oyster restoration, protection, and management. And we're excited for the next phase of this work, Biser said. "I tell you what, I love any morning that I get to start out with a $15 million check on oyster restoration."
This is a huge milestone for the oyster sanctuary program 500 acres of sanctuary waters, state appropriations, federal grants, and other funding opportunities have made this work and partnership possible, she said.
A healthy environment and a healthy economy go hand in hand, "and we see that so strongly with the economic benefits of oyster restorations because investing in restoration and protection really pays off and creates jobs, especially for our rural areas," she said, citing a 2016 economic analysis that found every dollar invested in oyster restoration projects provides North Carolina with $4 of benefit, "that's a great rate of return."
There are also substantial ecosystem benefits. Healthy coastal habitats are connected with healthy fisheries and increased coastal resilience and more frequent more intense storm events.
"So now with $15 million coming from the federal government and additional support from the state legislature, North Carolina is poised to continue making great strides in oyster restoration and protection efforts, which will accelerate this work producing resilient coastal habitats provide additional economic development opportunities all along the coast," she said.
She closed by saying that the 500 acres are just the beginning and "we are excited to advance this great work with continued support and investment."