Roast for the Coast Supports Oyster Restoration
It's been several years since we've been able to host a big event in our southeast region, but this year we're excited to announce that we're having a Roast for the Coast in Wilmington. This fun-filled event will take place on March 11th at Waterman's Brewing Company.
We can't wait for you to join us and enjoy some amazing food including local steamed and raw oysters, clam chowder, and corn chowder.
Now the great this is this delicious food isn't the only thing we're serving up, live music, drinks, and a silent auction will get the party started.
The Roast for the Coast is a chance to support our oyster reef-building efforts in the lower cape fear region and our work coastwide to restore native oysters.
Space is limited, get your tickets and start bidding on the silent auction today!
Celebrating a Successful Event on Hatteras Island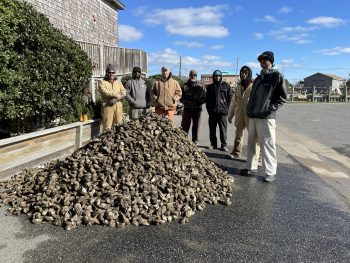 As we continue prepare to host an oyster roast in our southeast region, our northeast region recently held an incredibly successful oyster roast event of their own! After 2 years of having to cancel the Hatteras Island Oyster Roast was able to take place on February 4th and we were blown away by the turnout.
We are so grateful for everyone that showed up on such a cold and windy day, it was a wonderful event that featured wild NC oysters and some amazing food, drinks and live music. The shells from the roast will now go right back into the water and become apart of future restoration efforts.
Thank you so much to all of our sponsors, volunteers, and everyone that donated to our silent auction, we could not have had the event we did without your support!
Living Shoreline Projects Wrap up in Several Coastal Towns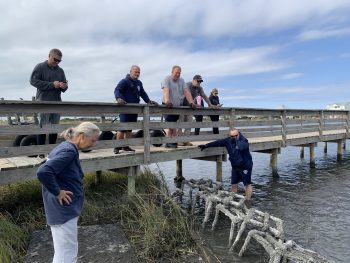 One of the Federation's main goals as an organization is to make living shorelines the 'go-to' method for shoreline stabilization. Not only are they more environmentally friendly than bulkheads but they are also resilient to storms and provide valuable coastal habitat for a number of species. We are proud that several projects in our southeast region have now been completed.
The Federation partnered with the Town of Surf City to install a 215-foot living shoreline at Soundside Park that was designed and fabricated by the Sandbar Oyster Company. This living shoreline is made from interlocking frames, together called the Oyster Catcher Substrate TM system, providing a tidal reef structure to optimize oyster growth. In June 2022, ten Coastal Federation volunteers and town staff assisted with the installation. The Oyster Catcher Substrate TM system's modular frames were strategically placed by hand to form the living shoreline shape.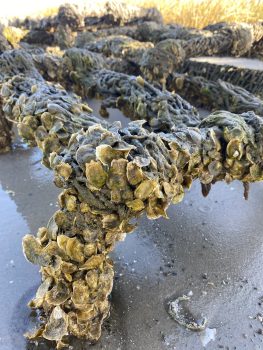 Similarly, we also worked with the Town of North Topsail Beach to install a 175-foot living shoreline at Richard Peters Park that was also designed and fabricated by the Sandbar Oyster Company. In October 2022, six Coastal Federation volunteers, the North Topsail Beach Fire Department crew members, town staff, and Sandbar Oyster Co. staff assisted with the installation. The Oyster Catcher Substrate TM system's modular frames were strategically placed by hand to form the living shoreline shape. To anchor the structure in place, crews used a jetted water pump to scour holes for the frame legs. The final structure has an open framework, allowing for essential water flow and more surface area for spat to attach.
Over time, these biodegradable plant-based fabrics will fade away, leaving behind a robust oyster reef. Both of these shorelines provide an excellent demonstration of living shorelines and how they work since both parks are highly trafficked by visitors, residents, anglers, and vacationers.
Learn more about other living shoreline projects below!
First Graders learn all about Rain Gardens
Recently Coastal Education Coordinator Bonnie Mitchell had the opportunity to partner with the Cape Fear Garden Club's Environmental Conservation Committee and the Youth Gardners. Together they presented a special Smart Yard-themed program to a great group of first-grade students at Bradley Creek Elementary School.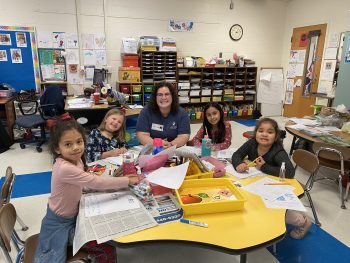 We had so much fun working with all of these wonderful groups and are looking forward to heading back to the school's rain garden to release butterflies!
This program is supported by the Landfall Foundation. If you're interested in learning more about the programs we shared with these students and many others, click the link below!
Highlighting the Federation's Work
This past month we were proud to see some of the work our team is doing by media outlets around the state.
Here is a look at several of them: