A Review of 2022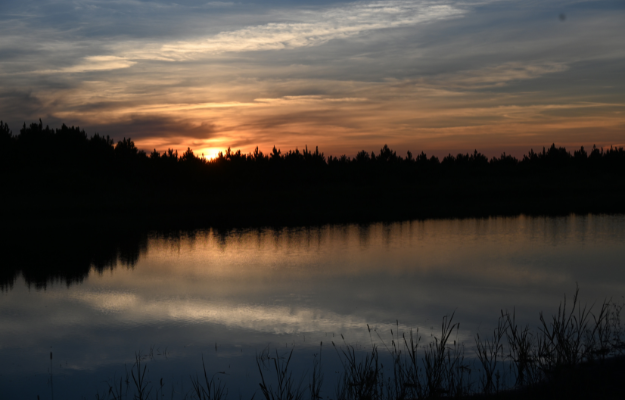 It's hard to believe a new year is already upon us. For the Coastal Federation, this new beginning is an opportunity to build on our successes in 2022 and continue our impactful work to protect and restore our stunning coast. In 2022, the North Carolina Coastal Federation decided the best way to celebrate its 40th anniversary of work was to step up its efforts to protect and restore our coast.
"Doing what we do best—protecting and restoring our wonderful coast—is the best way we could ever celebrate the past four decades of work," said Todd Miller, the Federation's Executive Director, and founder. "We're proud that the Coastal Federation has been able to continue to make lasting strides to improve the health of North Carolina's coastal environment," remarked Miller.
This resulted in significant progress that helped to: keep our coastal waters clean, maintain and expand living shorelines along our estuaries, restore oyster reefs and expand shellfish farms, remove hundreds of tons of marine debris, and improve day-to-day decisions about how our coast is managed. Highlights of these major accomplishments the Federation and its partners achieved include:
Water Quality
Completed restoration at the nearly 6,000-acre North River Wetlands Preserve completing a 20-year restoration effort, one of the largest single wetland recovery projects in the nation.
Restored 365 acres of wetlands in Hyde County.
Installed a rain garden at UNCW that collects 200,000 gallons of runoff per year.
Installed a pervious paver cul-de-sac in Pine Knoll Shores that will infiltrate 14 million gallons of runoff per year.
Installed a stormwater outfall retrofit in Swansboro that treats approximately 13 million gallons of stormwater per year.
Marine Debris
Worked with watermen and women and contractors to remove 652,180 pounds of large-scale marine debris from coastal waters.
Worked with 48 commercial watermen and women to find and remove 1,983 lost crab pots.
Hosted eight volunteer clean-ups that resulted in the removal of 1,200 pounds of small-scale debris.
Worked with N.C. Division of Coastal Management and N.C. Wildlife Resources Commission to remove 21 abandoned and derelict vessels totaling 182,860 pounds.
Living Shorelines
Constructed a total of 1.21 miles of living shoreline at 34 sites.
Worked with the Town of Belhaven, Carteret County, Carolina Beach, Fort Macon, Hammocks Beach, and Jockey's Ridge state parks, Marine Corps air stations Cherry Point and New River, Marine Corps Base Camp Lejeune, N.C. Department of Transportation, Swan Quarter Harbor, and the Town of Morehead City to fund, design, and permit future large-scale living shorelines.
Secured $8.5 million from the General Assembly to build five large-scale living shorelines on nonprofit, state, and local government properties.
Oysters
Collected 2,778 bushels of oyster shells.
Worked with the N.C. Division of Marine Fisheries to build 7 acres of new oyster sanctuary at Cedar Island.
Worked with Natural Resources Conservation Service to offer a new cost-share program for oyster growers.
Partnered with Carteret County to plan a logistics hub for shellfish farmers that don't own waterfront property.
Launched a low-interest loan program for new/existing oyster growers making $1 million available to growers to expand or establish their farms and businesses.
Coastal Management
Worked with Topsail Beach, Surf City, North Topsail Beach, and Wrightsville Beach to develop and adopt ordinances to ban the use of unencapsulated polystyrene in dock construction.
Held a successful Offshore Wind and Wildlife Summit to provide a greater understanding of environmental management issues involved in siting offshore wind energy facilities.
Promoted the use of nature-based stormwater solutions to improve water quality and reduce flooding in the funding priorities passed by the N.C. General Assembly as well as various state agencies.
Join us as a Summer Intern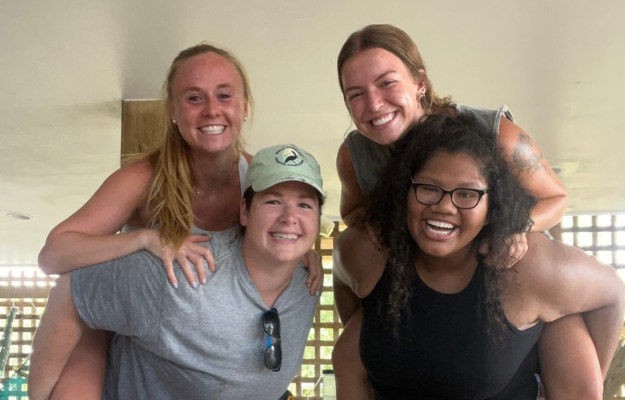 Do you or a college student you know want to spend a summer working to protect and restore North Carolina's coast? Are you interested in learning more about nonprofit work? If you are, we hope you'll apply to be a 2023 Z. Smith Reynolds intern for the southeast region of the North Carolina Coastal Federation!
This is the perfect opportunity for diverse college students who want a chance to try out nonprofit work and have fun doing it. Our Southeast office in Wrightsville Beach is at the heart of a vibrant and lively community, full of exciting ways to get involved in numerous meaningful projects. From gaining hands-on experience working in a non-profit setting to re-building oyster reefs and coastal habitats, the Federation's work in the southeast is never boring!
Our intern will work as part of the southeast regional office team to implement coastal education and engagement activities to support the Federation's community outreach, habitat restoration, and water quality initiatives.
Applications are due Tuesday, February 21st, 2023. To confirm your eligibility and learn more:
A Roast for the Coast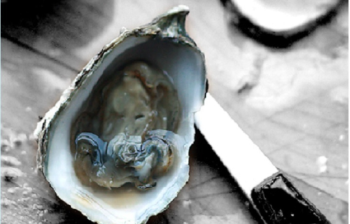 We hope you'll get your tickets and join us on March 11th at Waterman's Brewing Company in Wilmington for our 2023 Roast for the Coast! By celebrating with us at this event you're supporting the Federation's oyster restoration work all while enjoying delicious steamed oysters, clam chowder, corn chowder, tastings of raw locally-farmed oysters, live music, and a silent auction!
Proceeds from this event will support the Federation's local efforts to restore our native oysters, including new oyster reefs in the lower Cape Fear River.
The Roast for the Coast will take place on March 11th from 1:00 to 4:00 pm, space is limited so get your tickets now!
Creating Coastal Stewards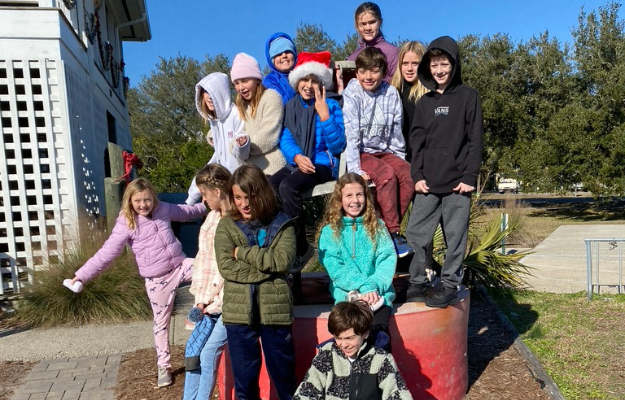 Recently our Southeast Office and Coastal Education Coordinator Bonnie Mitchell hosted a group of 5th-grade students from Wrightsville Beach Elementary School to help kick off the Coastal Federation's "Creating Coastal Stewards" Program which is supported by the Landfall Foundation.
The group got to check out our entire Southeast Office, including the Stanback Coastal Education Center's outdoor classroom. Students and teachers then learned how the Federation's property can capture and absorb stormwater runoff resulting from hurricanes and severe storms.
Students also had the chance to check out our oyster demonstration station where they learned how oysters can also help protect our shorelines from severe storms and hurricanes. We couldn't be more thrilled to hear that this group of students was very eager to adopt an oyster after their presentations and they recycled their oyster shells which will be used to help to protect and restore our NC oysters when they become part of a future restoration project.
The Hunt for Lost Fishing Gear Begins Again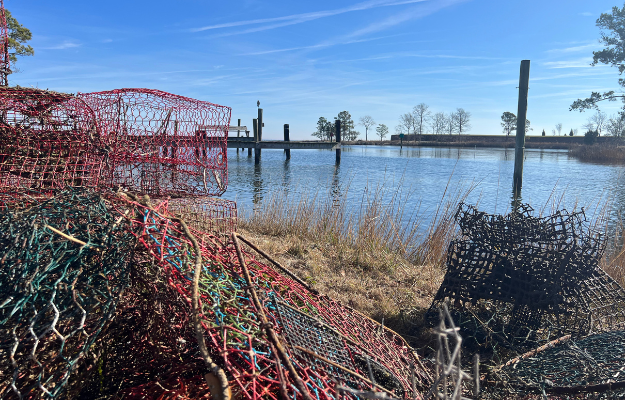 This month marked the start of the 9th annual Lost Fishing Gear Recovery Program for the Coastal Federation. Each January during the annual closure of internal coastal waters to all crab, ell, and fish pots, dozens of commercial fishermen and women join us as we look to find and remove lost fishing gear, mainly crab pots from the waters.
If left unfound these crab pots could potentially pose a danger to not only wildlife but also other boaters out on the water.
The recovery efforts take place along the central and northern coast of the state. Once a crab pot is found, if possible they are returned to its rightful owner, and if not then they are recycled to the best of our ability. This year the project is funded by the N.C. Commercial Fishing Resource Fund Grant Program.
Sara Hallas, Coastal Education Coordinator for the Federation and project leader, said this project is crucial to ensuring we have a coast that's free of marine debris. "This project brings together unique partnerships for a common cause of clean waterways. It's more than a win, win. This grant funding is from commercial fishing license fees, so the money that covers our program comes from commercial fishers and will be going right back to those who work with us to find and remove the lost gear. "You can learn more about the history of the Lost Fishing Gear Recovery Project and the rest of our marine debris efforts below.