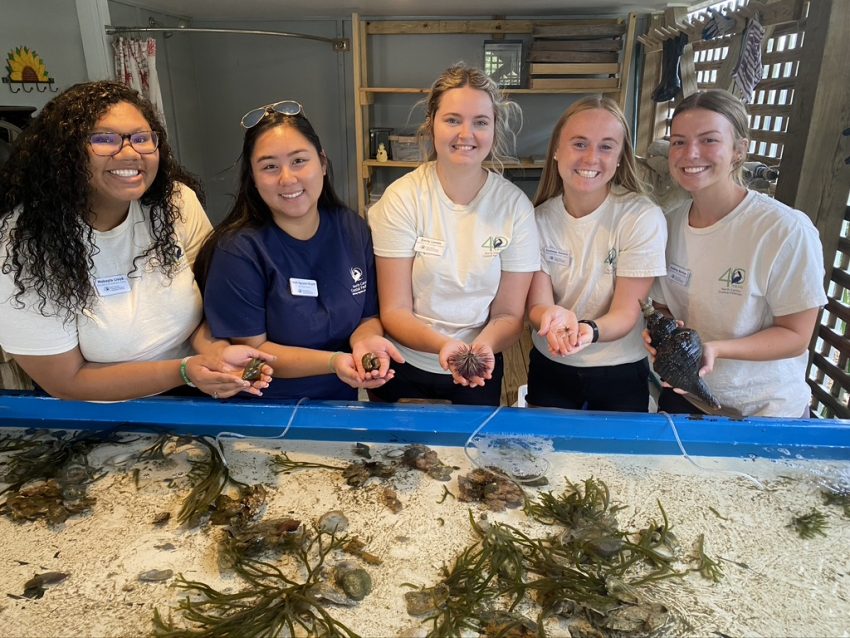 Want to spend your summer at the coast helping educate and engage the community in coastal conservation? Interested in learning more about nonprofit work? Apply to be a Z. Smith Reynolds intern at the southern branch of the North Carolina Coastal Federation! This is the perfect opportunity for college students who want a chance to try out nonprofit work and have fun doing it. Our Southeast office in Wrightsville Beach is at the heart of a vibrant and lively community, full of exciting ways to get involved in meaningful projects. From gaining hands-on experience working in a non-profit setting to re-building oyster reefs and coastal habitats, the Federation's work in the southeast is never boring!
INTERN FUNCTIONS:  The intern will work as part of the southeast regional office team to implement coastal education and engagement activities to support the Federation's community outreach, habitat restoration, and water quality initiatives.
Assist education, advocacy, and restoration program staff with the research, design, planning, implementation, and evaluation of regional projects
Help plan and promote special and reoccurring events, such as volunteer, education, and fundraising events.
Assist with digital marketing strategies and contribute to the Federation's website and social media channels.
Work with staff to develop and implement tools, activities, and events to engage the community at the Coastal Education Center and recruit new members.
Represent the Federation at public events, festivals, and workshops focused on coastal habitat restoration and water quality protection projects.
Assist with volunteer management, which includes corresponding with existing and prospective volunteers, organizing volunteer events and supplies, and participating in volunteer events.
Help develop and implement educational activities and materials focused on coastal habitat restoration.
Gain hands-on training in environmental stewardship by participating in restoration events, such as rain garden installments and oyster reef builds.
Assist with office operations.
Eligible students must be:
A rising sophomore, junior, or senior enrolled full-time in a four-year North Carolina college or university; OR
A rising sophomore, junior, or senior North Carolina resident enrolled full-time in a four-year accredited college outside the state; AND
Pell grant-eligible in the academic year in which they apply for NPIP. As a part of the application process, students will be asked to upload their Student Aid Report verifying their Pell grant eligibility. Students can access this document through their FAFSA login. Click here for further directions. Students ineligible for a Pell grant due to documentation issues or criminal conviction may be eligible and should contact ZSR fellow, Clare Bradshaw, at careb@zsr.org.

Applications are due by Tuesday, February 21, 2023, at 12 pm (noon). After applications are submitted on February 21st, Z. Smith Reynolds staff will review applicants for eligibility and then provide applicant information and resumes for host organizations to review during the month of March. During this period, organizations will review received applications, conduct interviews, and make a final decision. Once an organization has decided on their intern, they will send the student a Program Agreement Form to complete and sign.
Students of color are encouraged to apply. 
In order to be considered for this Education and Outreach internship at our Southeast office, you must check the box beside "NC Coastal Federation – Wrightsville Beach, NC" in the first question of the application.
For more information about this internship position please go to https://www.zsr.org/non-profit-internship and check the Non-Profit Internship Program FAQs. Should you have additional questions, please feel free to reach out to ZSR fellow, Clare Bradshaw, at clareb@zsr.org
For questions about work at our Southeast Office's Coastal Education Center, contact Bonnie Mitchell, Coastal Education Coordinator, at bonniem@nccoast.org.