Wild Oysters and What to Do with All Those Empty Shells
The air is beginning to have that familiar fall chill and with the new season comes the beginning of wild oyster harvest season. As many of you gear up to celebrate Autumn with an oyster roast we want to remind you of the often-forgotten oyster shell. The remnants of those delicious meals can still have a big impact.
The Federation has a recycle for reefs program where we actually take those discarded oyster shells and use them for living shorelines, and oyster reefs where new baby oysters or spat can attach and grow into possibly your next tasty meal or just live out their lives helping to filter the waters they call home.
You can take your oyster shells to several dump sites, in all three of our regions. We have also been able to partner with a number of restaurants along the coast through the Restaurant to Reef program where they donate all of their used oyster shells. Between the shells we get from citizens and the restaurants we are able to create living shorelines, and reefs for new oysters to grow on, which not only improves the quality of the water they call home but also provides critical habitat to a number of other fish and other animals.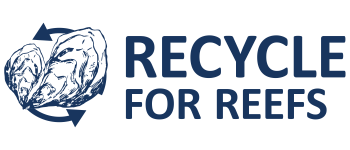 Did you know it's actually illegal in the state of North Carolina to throw those empty oyster shells directly into the trash?
Promoting Shellfish Aquaculture
The Federation was built around 5 main goals; Clean Water Quality, Effective Coastal Management, A coast that's free of Marine Debris, Living Shorelines, and Oysters.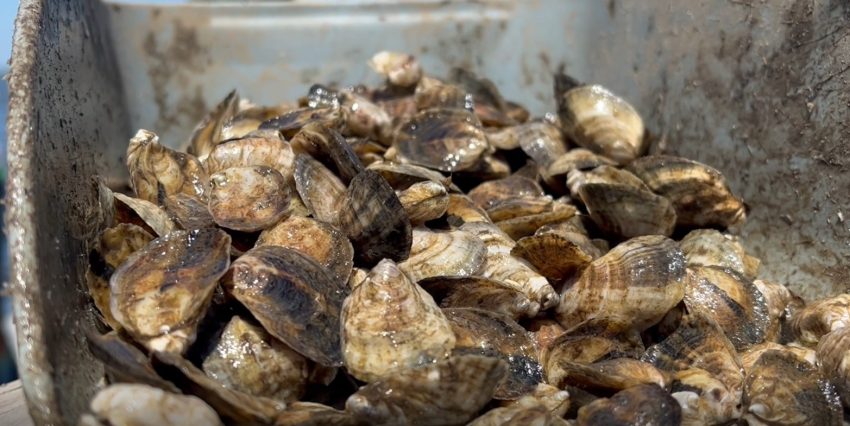 As part of our work to expand North Carolina's oysters to a $100 million-dollar industry by 2030, the Federation has teamed up with Thread Capital, which is a subsidiary of the North Carolina Rural Center, and Array Community Development Corporation to launch a new loan program that's designed to foster shellfish aquaculture in coastal North Carolina. The Shellfish Growers Loan Program will provide loans of up to $50,000 to qualified shellfish growers in all coastal counties in the state.
The Federation's Assistant Director of Policy Ana Zivanovic-Nenadovic worked tirelessly with these two groups to get this program off the ground. "This is an important step in growing the shellfish farming industry in the state. The program will allow the growers to reach their full potential which in turn will strengthen the coastal economy. By scaling up their businesses and putting more oysters in the water the growers will add to the Federation's overall efforts of enhancing and preserving the quality of coastal waters and its natural habitat."
You can read all about this new program and how to apply by visiting, here.
Coastal Federation Earns Platinum Seal of Transparency
We're so proud to announce that the Coastal Federation has earned top marks from the leading national charity rating agencies again this year! GuideStar and Candid awarded the Federation the highest rating, the Platinum Seal of Transparency. Charity Navigator awarded the Federation top marks with its 8th consecutive Four-Star Rating, an accomplishment less than 10% of charities achieve nationwide.
Learn more: Platinum Seal of Transparency and Four-Star Rating.
Leadership Carteret Visits the Federation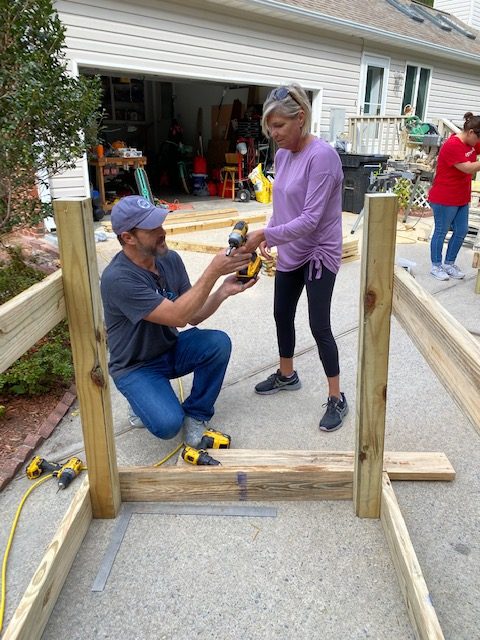 Recently Coastal Educator Rachel Bisesi had the opportunity to give a presentation on oysters and the work the Federation does to support coastal education and stewardship for this year's Leadership Carteret class, which consists of 25 business professionals from around Carteret County. The presentation showcased our partnership with the Boys & Girls Clubs of the Coastal Plains and included a co-presenter, Dre' Nix, who is the Sr. Vice President of Operations and Programs for the Clubs.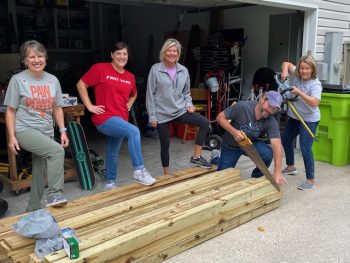 "We're so grateful for the opportunity the Carteret County Chamber gives us every year to meet their Leadership Carteret class. There are so many wonderful and knowledgeable professionals in our community that we are able to connect with through this partnership, and we're honored that they take time to support our restoration efforts by volunteering and visiting our office," explained Bisesi.
We had a great visit with them and are looking forward to working with them again. We are also excited that a group from the Leadership class built two sets of steps that will help people more easily access our oyster shell recycling dumpsters.
Reflecting on Oyster Restoration
All throughout this year, we've been hopping back in time to reflect on some of the accomplishments the Federation and our countless supporters and partners have been able to make over the past 40 years. This month we're taking a short trip back to 2009. That's when the Federation a $5 million-dollar economic stimulus grant which was used to begin construction on oyster reefs. The project was aimed at not only restoring oyster populations but also critical fish habitats and enhancing the water quality in the areas surrounding this new reef.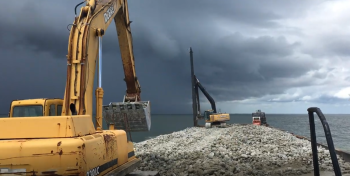 Since then, the Federation has built more than 110 acres of oyster sanctuary and we have a goal of building a total of 500 acres by 2025.