Public invited to Lake Mattamuskeet Meeting
For the first time in more than a year, the public is being asked to attend a meeting about the work taking place to restore Lake Mattamuskeet in Hyde County. The Coastal Federation along with U.S. Fish and Wildlife Service, and the N.C. Wildlife Resources Commission and Hyde County Government will be hosting the public meeting on September 22nd at 7:00 pm at the Hyde County Government Complex in Swan Quarter.
This meeting will provide an opportunity to hear the problems plaguing the lake and surrounding areas as well as the work that has already been done and the work still being planned to restore the state's largest lake.
Speakers for the night will include Alyson Flynn of the Coastal Federation: Alyson will start by introducing herself as the new point staff member with the NC Coastal Federation on this project. She will provide the necessary background to bring everyone up to speed and refocus on the purpose/goals of the watershed restoration plan. The plan was developed in 2018 as a multi-stakeholder effort consisting of the U.S. Fish and Wildlife Service, the N.C. Wildlife Resources Commission, Hyde County, the Coastal Federation, and local stakeholders. The presented background will serve as the context for updating attendees on where we are today in advancing the watershed restoration plan. Finally, Alyson will briefly touch on the next steps before turning the stage over to Geosyntec Consultants.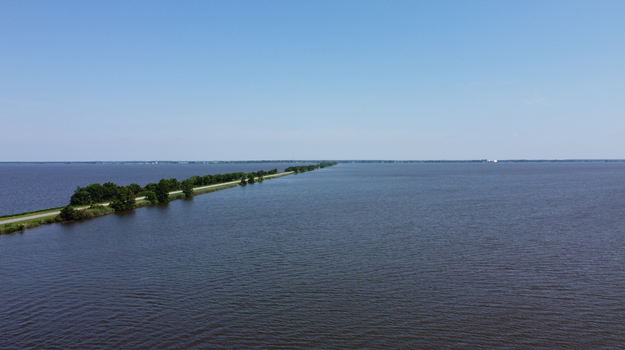 Alessa Braswell, Geosyntec Consultants, LLC: Similarly, Alessa will provide a wide overview of the engineering consulting services from 2021 to date. This includes a collection of bathymetric data to develop a refined digital elevation model (DEM), updating model simulations of varying water quantities and flow, and preparing cost estimates for canal dredging based on the refined DEM.
Tom Roberts, Environmental Finance Center, UNC School of Government: Tom will be presenting on behalf of the EFC with UNC-SOG. His team has worked to explore sustainable funding opportunities that fund the infrastructure necessary to manage water levels in Lake Mattamuskeet. Three funding models will be discussed, including an endowment, trust, and a water fund. In addition to the potential financing structures, Tom will present identified case studies of similar projects in varying states to further illustrate the pros/cons of each.
Wendy Stanton, USFWS: Wendy will be presenting background and an update on the carp removal efforts in Lake Mattamuskeet. In 2021, Mattamuskeet National Wildlife Refuge and the North Carolina Wildlife Resources Commission were awarded $1 million by U.S. Fish and Wildlife Service's Large Invasive Species grant program to remove invasive common carp from Lake Mattamuskeet. It is anticipated that this work will begin later this fall.
Hurricane Florence still leaving its mark on coastal communities
When Hurricane Florence hit North Carolina in 2018 it left so many with massive destruction to their homes and properties. When the heavy downpours stopped and the storm surge subsided millions of pounds of debris were pulled back out into our rivers, sounds, and ocean. That's why in 2019 the Coastal Federation began working with contracted crews and teams of volunteers to clean up the coastlines and waterways.
Now, four years removed from the storm, contracted crews are still working with us to find and remove the remaining debris from this devastating storm thanks to funding from the NC General Assembly and the National Fish and Wildlife Foundation-N.O.A.A. Hurricane Marine Debris Response Fund. To date, more than 2.5 million pounds have been pulled out of the water and picked up from around the coast. That number is an impressive feat but it speaks to a larger problem we face living on the coast. Marine debris can have horrific impacts on ecosystems and the many animals that call North Carolina home. It can affect critical components of the economy like recreational and commercial fishing, tourism, and recreation.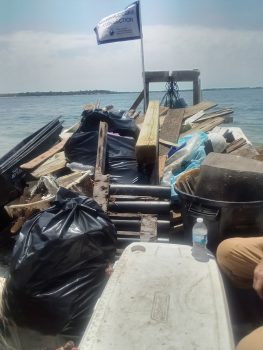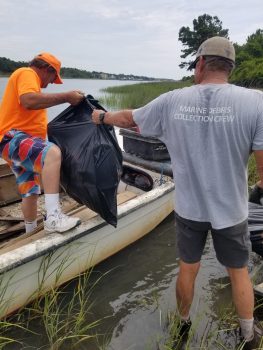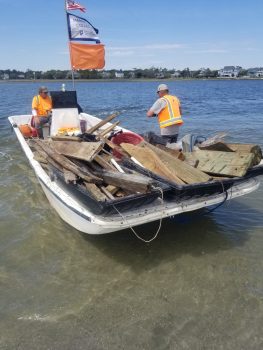 But what can be done? As we head into peak hurricane season that becomes a crucial question to ask ourselves. Thankfully, taking actions like shoring up your property can help reduce the amount of debris generated by your home should another strong storm roll in. If you live on the water, now is also a good time to ensure your docks are in good shape, whether there are boards that could be tightened or other measures that could be taken to improve their strength.
The Federation is also working with coastal communities in the hopes of improving dock building standards, take a look at our resilient docks and piers report. NOAA also has a handy tip sheet for reducing the potential of marine debris from your property. (Spanish Language Version) The NC Action Plan is also working to strategically reduce the amount of marine debris and its impacts in coastal North Carolina through measurable actions, you can read more about their work, here.
We the Water takes off
The courageous crew of We the Water has officially set off on their epic 120-mile journey up the North Carolina coast. They started their trip on September 14th in Sunset Beach and they'll end the first leg in Cedar Point in Carteret County on Saturday, September 17th.
Over the course of 3 years, the Wrightsville Beach Outrigger Canoe Club will paddle the entire length of the North Carolina coast.
WBOCC created the We the Water effort after seeing first-hand, from their canoe, that not all waters along our coast are clean and able to support healthy ecosystems. They're hoping to not only raise funds to support the work of the Coastal Federation but more importantly, connect with the communities they're paddling through about the importance of clean water.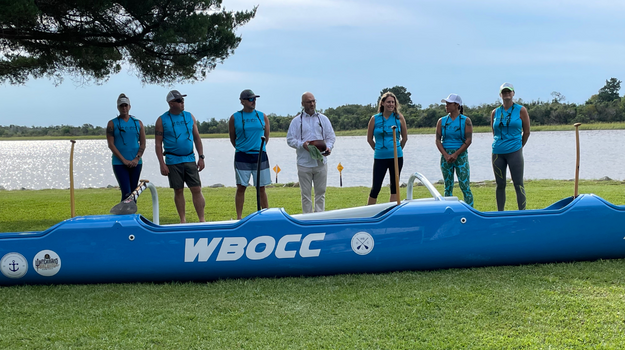 Kerri Allen, Coastal Advocate for the Federation and one of the organizers of this effort says meeting with the public was one of the most important aspects of this paddling endeavor.
"The North Carolina coast is such a unique and special place, no corner of it is the same. It is such an honor to be able to explore our coast through this paddle and to use this initiative to highlight the incredible work taking place. Being able to meet the members of these communities and learn about their struggles and successes – and learn how we can work together to better protect and restore our coast – is what it is all about."
The crew has built-in several stops on their trip where they will be able to meet with the public and talk about why they decided to push their own limit and paddle such a long distance. We hope you'll take a look at their stops and join us at one or all of them, including the Paddle's Up Event at the conclusion of their trip.
#WadeIn to National Estuaries Week
National Estuaries Week will officially kick off this weekend on September 17th and all of our coastal educators and staff are busy gearing up for a week full of events and celebrations of our state's critically important estuaries!
Each year National Estuaries Week showcases the importance of our nation's estuaries to Congress, federal agencies, and state and local governments by highlighting the value they provide. The celebration of National Estuary Day began back in 1988 and has since extended to an entire week, with the help of many organizations including Restore America's Estuaries, the National Estuarine Research Reserve Association, and the National Estuaries Program.
Aside from plenty of events happening all along the coast, you can also learn more about what an estuary is, and the benefit they provide by following us on social media @NCcoastalfed. We'll be diving into all of these topics and more so don't miss it!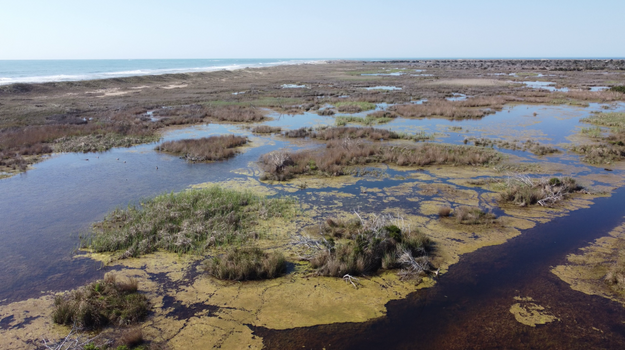 Want to join us at one of the many events our staff will attend? In our Southeast region; The Native Plant Festival is happening on Saturday, Sept. 17th at the New Hanover Arboretum from 10:00 am to 3:00 pm, The St. James Conservancy Environmental Fair takes place on Wednesday, Sept. 21st from 9:00 am -3:30 pm at the St. James Community Center. In our Central region; We the water will be wrapping up their trip up the coast at the Boathouse Creek Walking Trail in Cedar Point at 3:00 pm on Saturday, Sept. 17th, and staff will have a booth set up at the Olde Beaufort Farmer's Market on Sept. 17th from 8:00 am to 1:00 pm.
In our Northeast region; Day at the Docks is happening in Hatteras on Sept. 17th, and the 'Sound' Waterway event will take place in Edenton on Sept. 24th from 10:00 am – 3:30 pm at Edenton's Colonial Waterfront Park
National Estuaries Week runs from September 17th-24th.
Looking Back over the past 40 years
As we continue to celebrate our 40th anniversary we wanted to further reflect on some of the major accomplishments we've been able to make over the years. This month we rewind to 1995 when the Coastal Federation began working alongside multiple groups on the issue of factory hog farming and failing waste management systems after a massive 25-million-gallon hog waste spill happened in Onslow County captured worldwide attention. Then in 1998, the Federation published Facing the Facts about Hogs, an in-depth news publication about the impacts of the Swine Industry on rural communities.  The publication focused on key work by the Alliance for a Responsible Swine Industry, a statewide grassroots organization with members whose homes, communities, and lives have been invaded by industrial hog operations. You can read the publication, here.