Wrightsville Beach Takes A Stand Against Marine Debris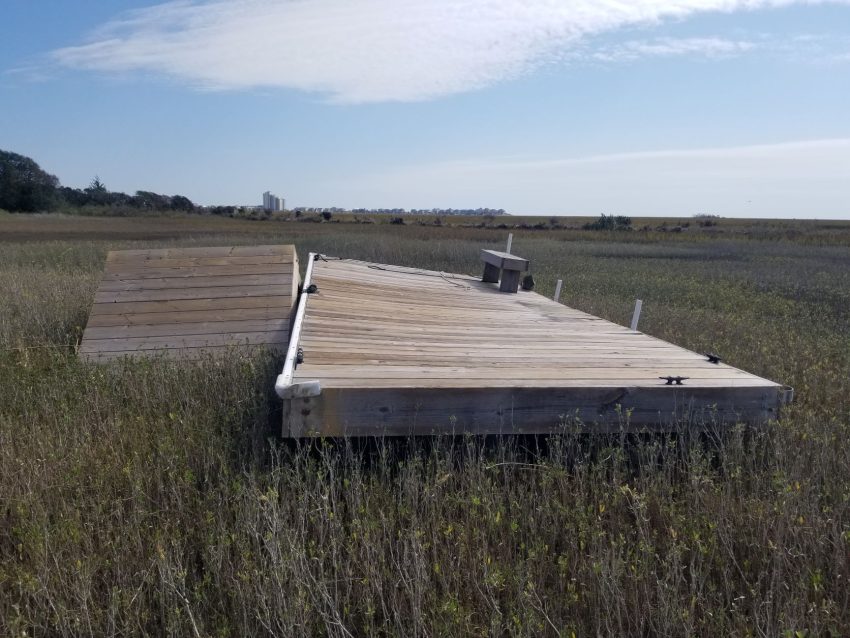 Over the past month, our team has continued to see great strides in the fight against marine debris and more specifically unencapsulated polystyrene or unwrapped floating docks. The foam in these docks can be easily broken apart in severe weather and once that happens, it leaves a trail of debris that is almost impossible to clean up. That's why our Coastal Advocacy team including Kerri Allen has been working tirelessly to have local governments pass ordinances banning this type of dock material. We are so excited to announce that the town of Wrightsville Beach has now joined three other communities in doing just that.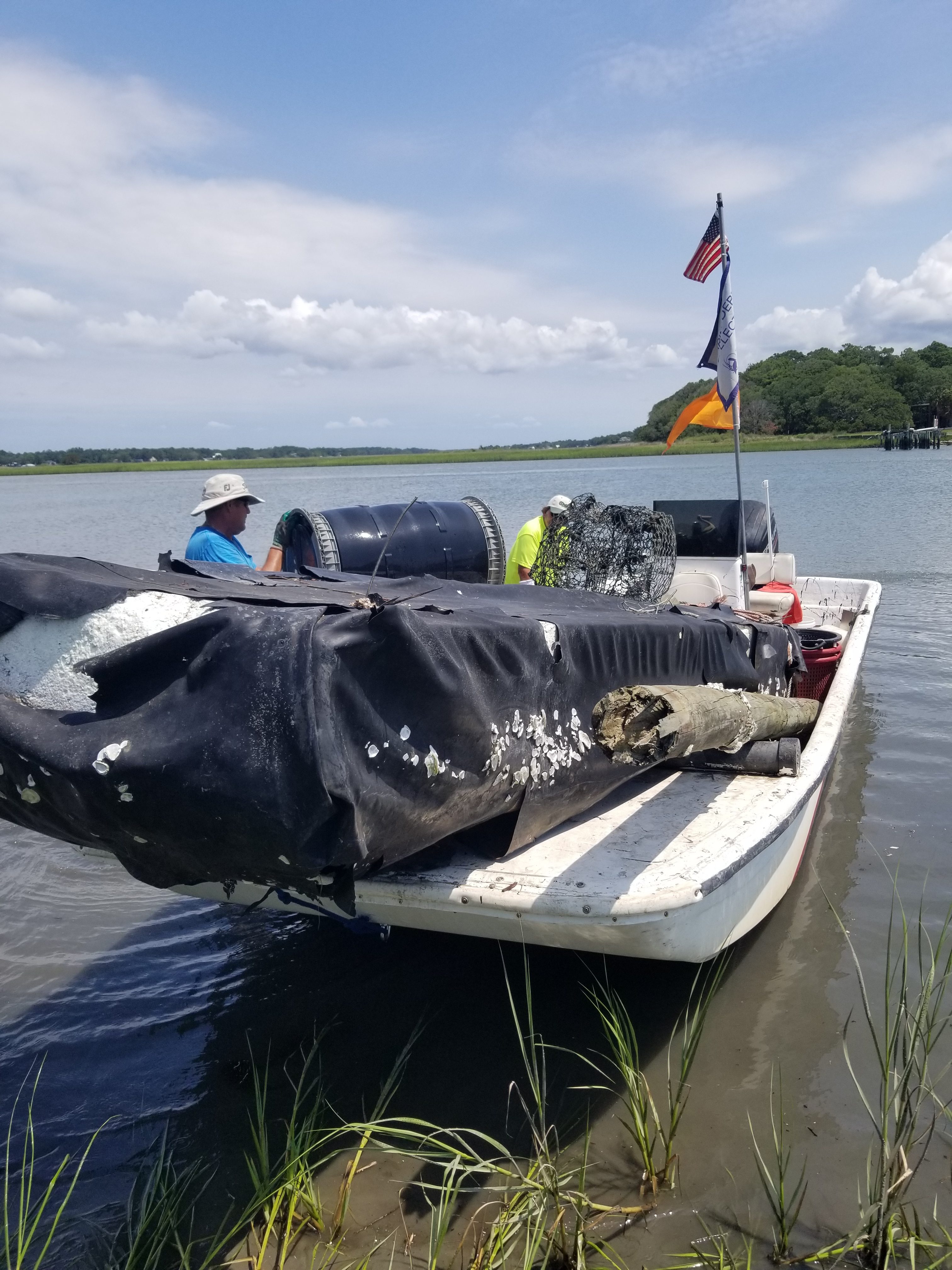 "Everyone who has spent time along our coast has seen what happens when the foam inside floating docks break apart – the tiny beads just cover the entire marsh and look like snow. There's no way to remove them, and they stay in our environment and birds and fish and turtles and dolphins forever. That's why it's so exciting to see our local Towns on Topsail Island and now Wrightsville Beach adopting this ordinance. It might seem like a technicality, but the impacts will help keep our coast clean and beautiful for decades to come," said Allen.
This victory will not only mean property owners will have to use more sturdy materials on their docks and piers but it also means that hopefully less of this toxic and damaging material won't be impacting our valuable coastal ecosystems. Wrightsville Beach now joins, Topsail Beach, North Topsail Beach, and Surf City on the growing list of communities fighting against this debris.
You can learn more in our Resilient Docks and Piers Report. You can also read more about the efforts of marine debris removal crews on the Coastal Review, who say they saw some of the worst debris piling up after Hurricane Ian came through several weeks ago.
Water Quality Summit Brings Stakeholders Together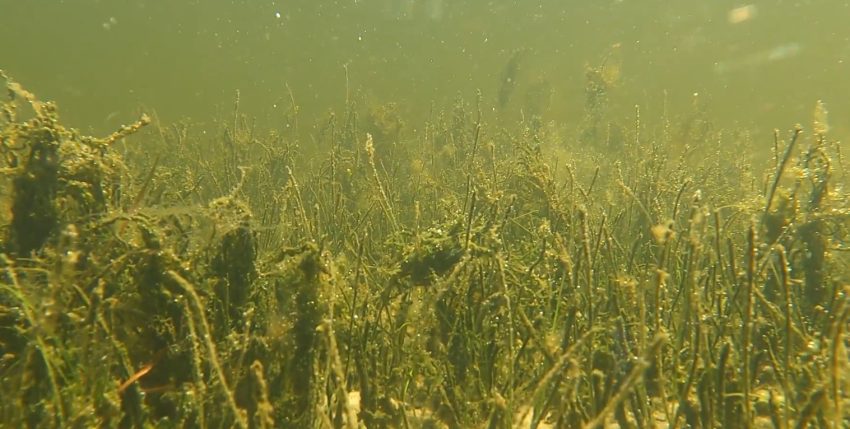 In October the Coastal Federation along with the Department of Environmental Quality and the PEW Charitable Trusts hosted the NC Coastal Water Quality Summit in New Bern. The day-long event brought together more than 100 experts and stakeholders to discuss real solutions for improving the quality of the state's coastal surface waters.
The conversation focused on how these waters need to be clean and clear in order to help submerged aquatic vegetation (SAV) or seagrasses survive. Seagrasses play a vital role in providing habitat and food for a wide variety of marine life including many of the species we enjoy eating. These grasses also help to knock down wave energy during storms providing protection for our coast.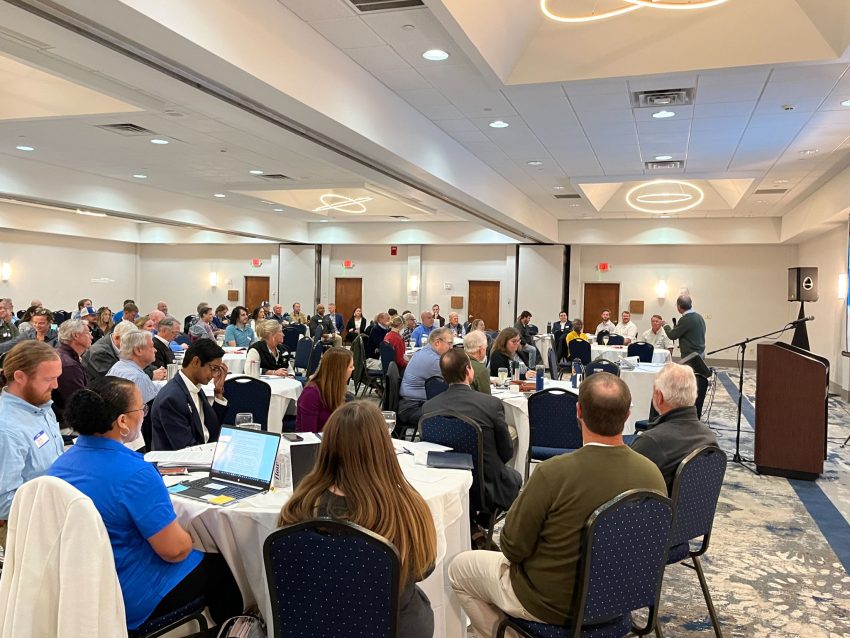 "These SAVs are environmental engineers once they are growing and healthy they control the environment they grow in, they trap sediments, they stabilize the bottom and they protect our shoreline by attenuating currents and waves so once they are gone those services are gone," explained summit speaker and expert Dr. Jud Kenworthy.
But one problem is that seagrass needs a lot of light to survive which means that coastal waters have to be clean enough for sunlight to reach the bottom where these plants grow.
The summit announced the formation of a private-public partnership that was a key recommendation from the Coastal Habitat Protection Plan 2021 amendment with the goal of improving water quality. Learn more about their efforts, here.
ECU Students Help Clean-up Roanoke Island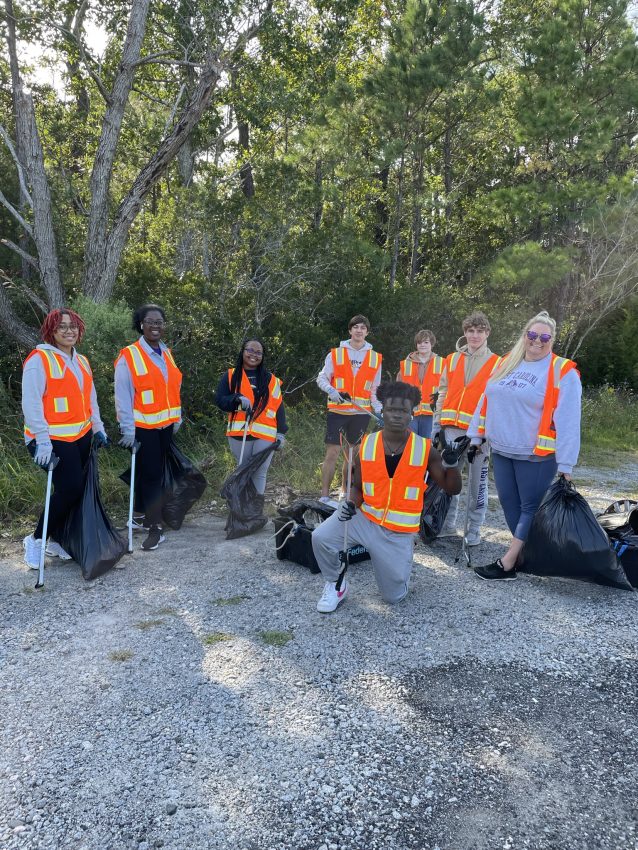 Volunteers are such an integral part of the work we're able to accomplish here at the Federation, and recently a group of 25 students from East Carolina University decided to spend their fall break helping us out!
The students are part of ECU's First-Generation College Group and before they rolled up their sleeves to get to work picking up trash and debris they spent some time with our Education Coordinator Sara Hallas who shared one of our education programs with the students.
They split into several groups to cover more ground including our adopted Highway 345 and the Washington Baum Bridge Boating Access Area and were able to collect and remove 20 bags of trash and debris weighing in at about 300 pounds! We are so grateful for their help and for the chance to share with this great group a little more about the work we do here at the Federation.
The students were featured in this Coastland Times Article.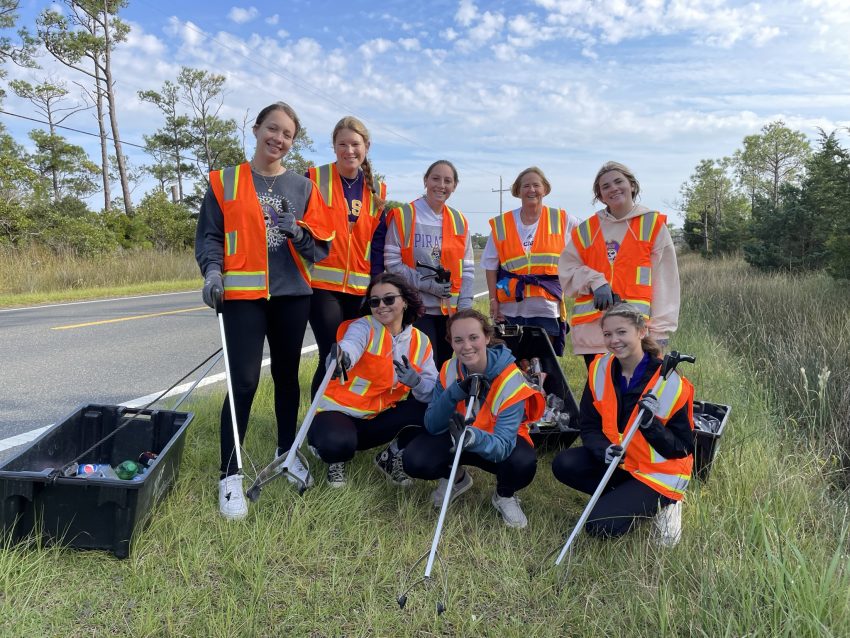 NC Central University visits Hammocks Beach State Park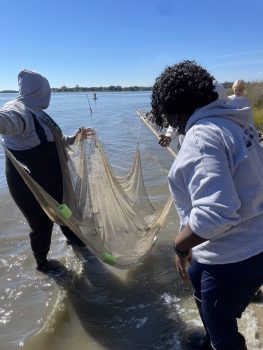 ECU wasn't the only university we had the chance to work with recently. In our Central Region, Education Coordinator Rachel Bisesi hosted a group of students from North Carolina Central University. The group toured Hammocks Beach State Park where they had the chance to learn about some of the stormwater and living shoreline projects we have worked on out at the state park. They also had the opportunity to learn all about the history of Hammocks Beach.
"It's been an honor to work with NC Central University. We met Dr. Gerald through our connection with EnviroKIDS, a youth program that our board member Yasmin Fozard directs. Dr. Gerald serves on the board for the EnviroKIDS and has joined them on trips to the coast for the past several years. Since meeting Dr. Gerald, we've been able to expand our reach to include students in NCCU's Department of Environmental, Earth, and Geospatial Sciences. It's been great working with the next generation of environmental and coastal stewards through this effort, and I look forward to continuing this partnership in the years to come," said Bisesi.
We had such a wonderful time with this group and look forward to hosting more students from the university soon!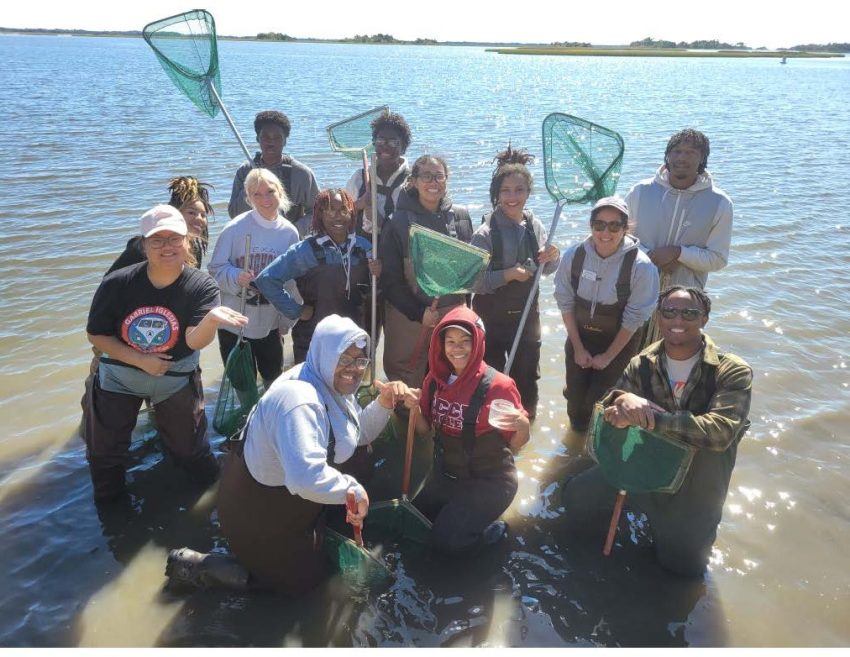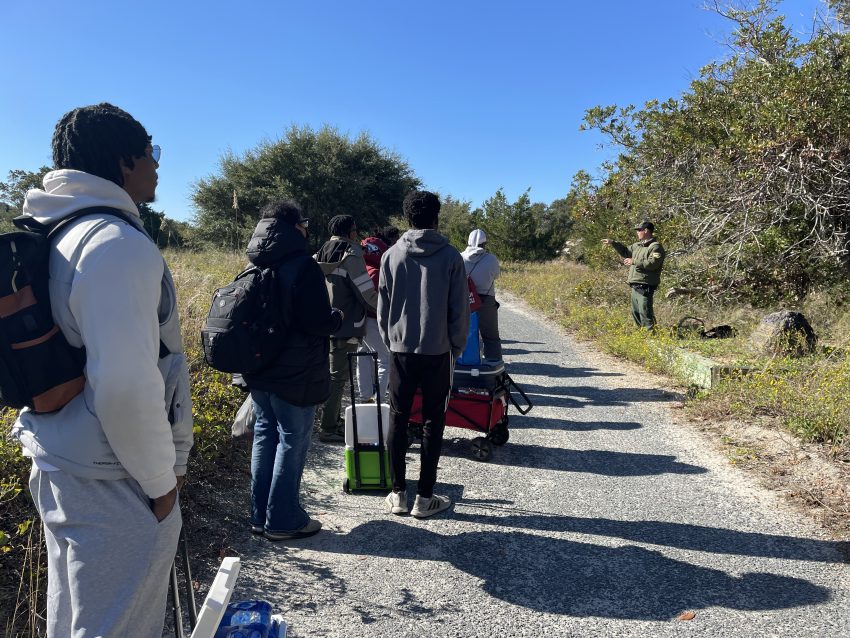 Looking Back at the Creation of The Coastal Review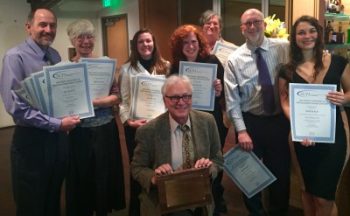 We're continuing our look back at the past four decades of the Federation in celebration of our 40th anniversary. This time we're reflecting on the year 2012. That's the year the Coastal Review was launched. It is a free, daily online news service that highlights the coast's most important issues and news. In 2013, Coastal Review became a member of the North Carolina Press Association, demonstrating its commitment to objective, unbiased reporting on important coastal environmental issues. In 2018, the Coastal Review also reached a milestone, winning 25 awards from the North Carolina Press Association, including 8 first-place awards.
Now, Coastal Review has grown to reach 695,000 readers each year with more than 1.1 million page views this year alone. and the team of distinguished journalists has now taken home 100 awards from the North Carolina Press Association since 2016.