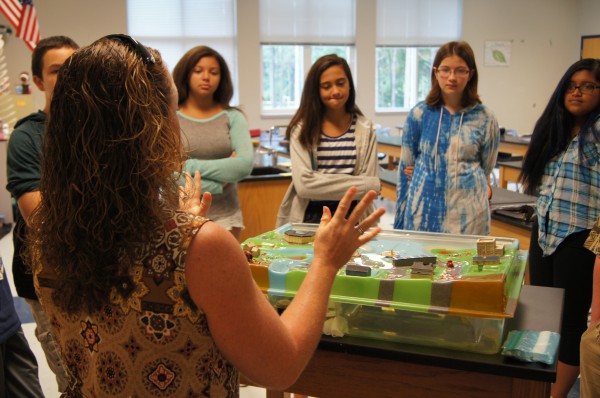 Students Reducing Stormwater Runoff Pollution
The Coastal Federation works with students to help reduce the amount of polluted stormwater runoff entering our coastal waters. By teaming up with schools all along the coast, we have designed, built, planted, and maintained rain gardens on their campuses and in their communities when funding and availability allow. Students learn why stormwater runoff is the number one source of pollution along the coast and to implement solutions to decrease this damage. It also helps students to connect to their "ecological address," which creek's watershed they live in. This helps to build a sense of stewardship and leads to a change in behavior that improves the water quality of the coast.
Stormwater 101
When rain falls on hard surfaces such as parking lots, roads, and rooftops, it's not absorbed into the ground. Instead, this stormwater runoff — along with water from sprinklers and home car washes — collects pollutants such as pet waste, auto fluids, sediment, fertilizers, and pesticides and flows into our creeks, rivers, and sounds. This brew of chemicals, nutrients, and sediment can lead to fish kills, closed swimming and shellfish harvest areas, and buried oyster reefs.
School Yard Rain Gardens: Living Classrooms
Rain gardens are constructed in shallow depressions containing native plants and mulch. They work the way nature does, by capturing stormwater runoff so it can soak into the ground before it becomes polluted runoff. The Federation works with county school systems and individual schools to plan, design, build, and maintain rain gardens in schoolyards. Our educators work with teachers to engage the students in classroom activities focused on the water cycle, plants, soil, and stormwater. Follow this link for resources for rain garden activities, plans and maintenance tips: 
Classrooms to Creeks
Our educators visit schools and conduct hands-on lessons on stormwater using Enviroscape watershed models and interactive activities. The Enviroscape model shows how runoff picks up pollutants as it moves through a watershed.

The Federation has developed classroom lessons for teachers focused on stormwater runoff pollution and solutions.

Based out of the

Fred and Alice Stanback Coastal Education Center

in Wrightsville Beach, the Federation has also developed an interactive education program focused on several stormwater reduction projects at the education center and built around the walking "loop" in town. Schools and organized groups are welcome to come to the center to participate in stormwater education activities. Visit the "

Walk the Loop for Clean Water

"  project website to learn more, or stop by the Wrightsville Beach office, pick up a brochure, and walk the loop to see the progress made in reducing stormwater! Contact Bonnie Mitchell, coastal education coordinator in the Federation's southeast office, for more information.

The Federation hosts volunteer events throughout the year to build and maintain stormwater reduction projects. Sign up to be a

volunteer

to learn about and participate in these stewardship activities.
For More Information
The Federation works with numerous schools on rain garden projects. The classroom and field activities are correlated to the North Carolina Standard Course of Study objectives for high school grades to help teachers integrate the program into their courses. If you are interested in learning more about our educational opportunities for students, please contact one of our educational coordinators: Rachel Bisesi, Sara Jean Hallas, or Bonnie Mitchell. You can also check out our Distance Learning Lab for more educational resources on how to keep our coastal waterways clean.