Celebrating Coastal Stewards and A Night of Fun at the Coast
We hope you're making plans to join us for our upcoming Pelican Awards and Taste of The Coast Celebration – two great events, both taking place on August 5th. These two events are all about celebrating and appreciating our coast and those who have gone above and beyond to protect and restore it. This will be the Coastal Federation's 20th year of honoring exemplary individuals, organizations, and organizations who have made significant contributions to the coast of North Carolina.
In addition to honoring those who have done outstanding work, we are hosting the 2023 Taste of The Coast Celebration as a separate event following the awards. The Taste of The Coast celebrates North Carolina's beautiful coast through wine and food pairings, live music by the duo Relay Relay, a live and silent auction, and fresh NC oysters.
Don't miss out on this awesome evening: register for the Pelican Awards as seating is limited, and secure tickets for the Taste of The Coast today.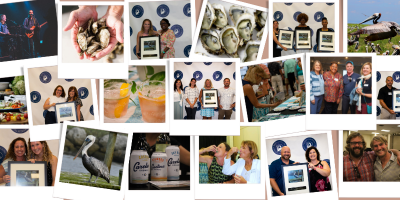 Finishing Touches Complete at the Cedar Island Oyster Sanctuary
Recently contractors put the final pieces of limestone marl into the water off Cedar Island in the Pamlico Sound. The Cedar Island Oyster Sanctuary is 15 acres of protected reef and supports 15 million oysters. All of those oysters can filter up to 750 MILLION gallons of water PER day!!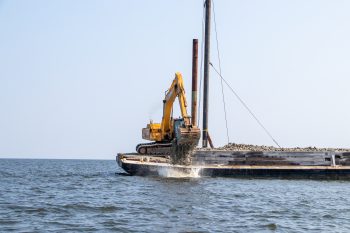 This oyster sanctuary isn't the only one in Pamlico Sound, there are 15, and together they make up the Senator Jean Preston Oyster Sanctuary Network which covers about 260 acres in the Sound.
Coastal Scientist and Oyster Program Manager Erin Fleckenstein says each time one of these sanctuaries is complete it's a big win for oysters and water quality in the Pamlico Sound. "It's very gratifying to see the completion of this phase of our sanctuary goal. Knowing that these reefs are helping to support the Pamlico Sound oyster population as well as other fish and the estuary as a whole," said Fleckenstein.
The completion of the Cedar Island Sanctuary helps us get closer to our goal of building 500 acres of oyster sanctuaries in the Pamlico Sound.
At the end of June, we had the opportunity to take a reporter with Public Radio East out to the sanctuary to see the construction, take a listen to his story by clicking the link below
Cleaning up Jones Island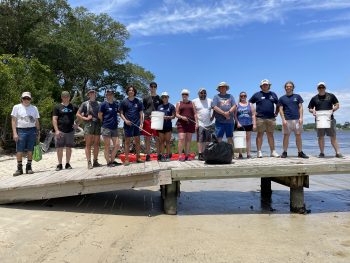 One of the Coastal Federation's primary goals is to both cleanup and prevent marine debris on a small and large scale on the coast and this would be impossible without our wonderful volunteers who give their time to protect and restore the coast. Marine debris, from litter to Abandoned and Derelict Vessels (ADVs), is an issue of local, national, and international importance that impacts the environment as well as human health. As such, marine debris affects human health and welfare, wildlife, habitats, and economies.
By cleaning up existing marine debris and working to prevent future debris from entering our waterways, we support the economy and ecosystems of our coast. An excellent example of volunteers stepping up to the challenge was our Jones Island cleanup in June.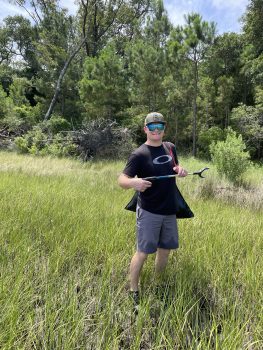 Jones Island is a 24-acre coastal island located in the middle of the White Oak River. The Island acts as a living classroom where locals can come together to learn more about the environment and partake in restoration. The Coastal Federation partners with Hammocks Beach State Park to engage and educate the public on environmental protection while also prioritizing habitat restoration on the island. For our June clean-up, we partnered with Hammocks Beach State Park volunteers, park rangers, and Federation interns to remove litter from the island. Together, these volunteers filled 10 contractor bags of debris!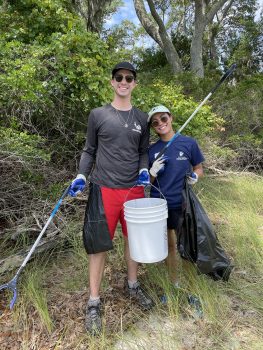 These small-scale initiatives powered by local partnerships help to protect wildlife, people, and even the economy. Wildlife can mistake debris for food or become entangled in trash items, it can pose hazards to humans and boats, and it degrades the natural beauty of the coast. These local volunteering efforts are fundamental to improving the overall health and safety of our coast, each one helping us spread the word and protect and restore the coast.
We hope you can join us at our next volunteer event, you can see all of our upcoming events, here.
Planting a Big Impact
This past month we were again blown away by the support of our community when nearly a hundred volunteers showed up at Carolina Beach State Park to help plant the wetland.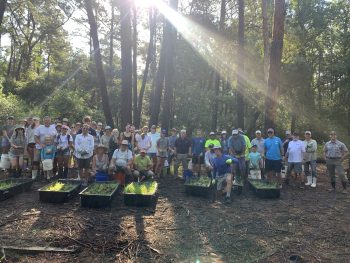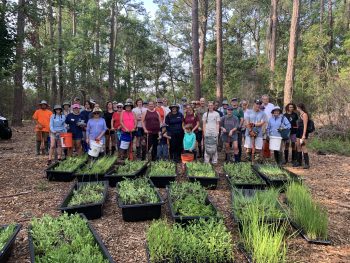 Over two days, these hardworking volunteers went out in hot and very muddy conditions and put 20,000 marsh grass plants in the ground! While it was certainly tough work planting all of those plugs of marsh grass, our staff had a great time meeting so many coastal stewards. It's because of their hard work that we were able to complete the 10-acre wetland restoration project at the park. Now Federation staff will spend the next several months monitoring the site.
To learn more about the entire restoration project at Carolina Beach State Park just head to our website.
Empower Wilmington
The Coastal Federation celebrated National Disability Month with EMPOWER Wilmington of Easterseals. Easterseals leads the way to full equity, inclusion, and access through life-changing disability and community services. Through the Landfall Foundation-supported program Creating Coastal Stewards, the Federation empowered students with disabilities to become stewards of our cost through a hands-on interactive touch tank program hosted at the Stanback Coastal Education Center.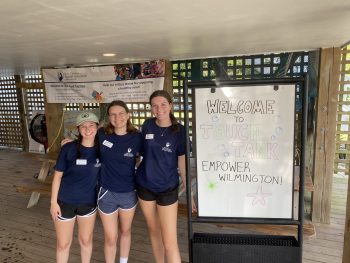 Share and Celebrate the Coast
This month the Coastal Federation launched the summer membership drive! If you sign up to be a member of the Federation between now and September 15th you will be entered to win a fabulous weekend getaway in Beaufort, NC. The winner will get a weekend stay at the Beaufort Hotel, and gift cards to have drinks at Backstreet Pub and dinner at Blue Moon Bistro!
Current (and new!) members can also enter the raffle by referring a friend! Save and Share the Coast this summer for a chance to win the raffle, and support the Federation's mission to protect and restore our beautiful North Carolina coast.
Spotlighting Our Sponsors
We'd like to once again take a moment to thank some of the businesses that support the Coastal Federation and our work to protect and restore the coast. Thank you, AB Goodrich Contracting, Beaufort Biscuits, Dini's Self Storage, Duke Energy, Full Throttle Speedway, Gwen Langley, Kenneth Chestnut, Kitty Hawk Kites, McAdams, and Starling Marine.
Coastal Federation In the News