20 Years of Pelican Awards and Taste of the Coast Celebration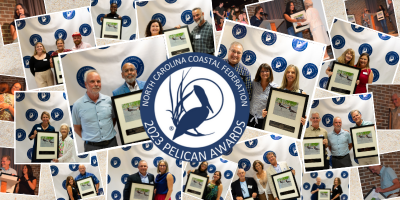 At the beginning of August, we had the privilege of handing out our 20th Pelican Awards Celebration to 18 deserving individuals and organizations. This group of dedicated coastal stewards are both relatively new and long-time friends of the Coastal Federation. Aside from honoring those in our northeast, central, southeast, and several coastwide winners we also handed out a special lifetime achievement award to Kenneth S. Chesnut Sr.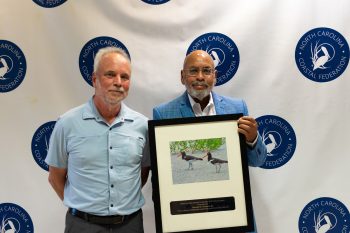 As the Vice President of the Coastal Federation, Kenneth has put his lifetime of skills to work being an indispensable asset throughout our journey of navigating the intricate construction process for our new Center for Coastal Protection and Restoration. With his wealth of knowledge and experience, he has provided invaluable guidance during the architect and general contractor selection process, ensuring that we made informed decisions and secured solid contracts. His meticulous attention to detail has enabled us to act as responsible stewards for the Federation and the coast as we embark on this ambitious endeavor.
You can see all of our 2023 Pelican Award Winners in our latest Our Coast!
August 5th was not just the night we celebrated our coastal stewards with our annual Pelican Awards Ceremony, we also hosted our Taste of the Coast Celebration. It was such a special evening with live music, a silent and live auction, and so many amazing coastal bites and drinks.
We'd like to thank everyone that attended the Taste of the Coast and all of our event sponsors. We loved seeing so many of our Federation family and celebrating the coast with you! If you have feedback about the event, please be sure to fill out our event survey. We look forward to seeing you again soon!
Harmful Effects of the Farm Act
The North Carolina Farm Act 2023 changes the definition of an isolated wetland and aligns the state's definition to that of the federal definition. This new clarification requires a wetland to be attached to a waterbody year round which many isolated wetlands are not. Unfortunately, that means around 2 million acres of isolated wetlands in the state could lose protection as it opens them up for possible development. But that's not the only provision within the Farm Act that could have negative impacts.
Take a deep dive into the Farm Act through this special report series by the Coastal Review.
Career Fair Brings Together Groups in the Name of STEM
This July the Coastal Federation was able to partner with the Coastal Plains Boys & Girls Club to put on the first EVER Coastal STEM career fair. The event brought together more than a dozen businesses, organizations, and schools to help encourage students to pursue careers in Science, Technology, Engineering, and Math.
There were incredible booths highlighting so many different career opportunities for the more than 70 students that participated from the Morehead City, New Bern, Havelock, and Beaufort Boys & Girls clubs.
Coastal Education Coordinator Rachel Bisesi helped to organize this event. "We are so thankful for our partnership with the Boys & Girls Clubs of the Coastal Plains and the support from the Bosch Community Fund which allowed us to coordinate this event," said Bisesi. "Thanks to the Clubs, Bosch, and the many partner organizations that were in attendance, we were able to showcase local STEM careers that students can find in their community. We hope this event helps inspire the next generation of STEM leaders and coastal stewards."
Events like this one embody one of the core values of the Coastal Federation which is working together for a healthy coast. We want to extend a sincere thank you to everyone who came out to this event.
Saying Goodbye to Summer Interns
This summer we had the privilege to bring on board 11 summer interns throughout our 3 offices, and wow did they put in some work!
These interns work closely with many of our staff including our Coastal Education Coordinators like Bonnie Mitchell in our southeast regional office. "From planting wetland plants in the humid, extreme heat to engaging students in a salt marsh exploration, our southeast intern's enthusiasm, fresh perspectives, and willingness to go above and beyond have been truly inspiring."
We hope you'll take a look at this video to see a few of the highlights of their summer work, and we wish our interns a great fall semester. If you'd like to learn more about our internship programs, head to our website.
Volunteers Give Recycled Oyster Shells New Life on Patch Reef
This summer volunteers rolled up their sleeves and jumped in to help the Federation and the Nature Conservancy build several patch reefs on Pea Island in the Outer Banks. Patch reefs are shallow water reefs that are built using recycled oyster shells.
These new reefs will eventually be open to the public for harvest once baby oysters attach to the reef and grow to full size which could be as soon as 1 to 3 years. These reefs are the perfect example of why it's so important to recycle your oyster shells! These shells came directly from our Restaurant to Reef program and our Recycle for Reef program which utilizes your oyster shells to provide new habitats for wild oysters.
Check out this story on the Pea Island patch reef!
Save and Share the Coast with the Summer Membership Drive
Interested in ways you can help protect and restore the coast? Our Summer Membership Drive is the perfect opportunity to support the Federation's work while entering for a chance to win an exciting weekend experience in Beaufort, NC! By becoming a member at any level, you enter to win a weekend for two in Beaufort. Your coastal weekend will include:
Weekend stay for two at the Beaufort Hotel, named #1 "Best Boutique Hotel" in America by USA Today, with breakfast at 34º North
$100 gift card to Blue Moon Bistro
$40 gift card to Backstreet Pub
Expert local advice from friends of the Coastal Federation
Once you have become a member, or if you are already a member, you can refer friends to earn one additional entry per referral. Enter yourself and refer your friends by September 23rd at 5:00 pm.
The Federation in the News
Here is a look at some of the latest news articles and features highlighting some of the work of the Coastal Federation and our staff.