State of the River Panel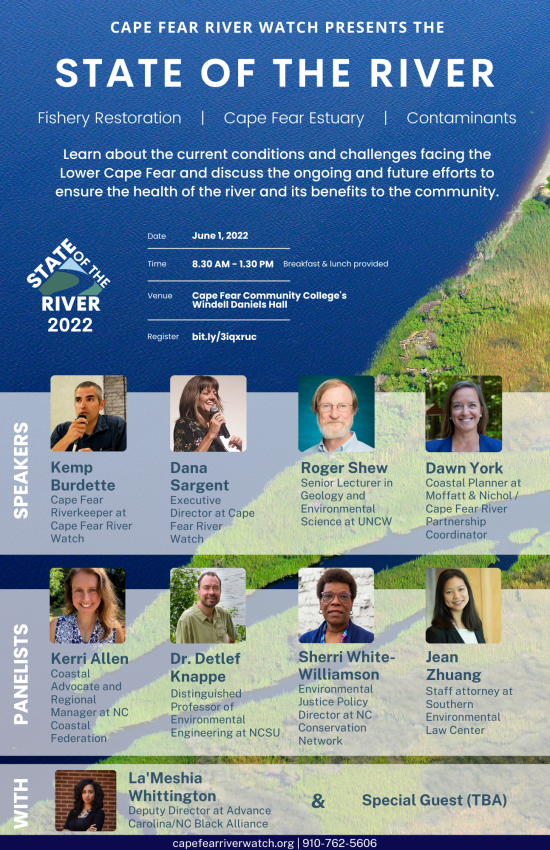 On June first, Cape Fear River Watch will be hosting the first-ever 'State of the River' forum. During the event, our Coastal Scientist Kerri Allen will be speaking. The forum hopes to provide attendees with an opportunity to hear from area experts about the Cape Fear River and the issues facing the Cape Fear River basin.
The event also hopes to bring about discussion on what can be done to improve the river. The event will take place in Cape Fear Community College's Windell Daniels Hall on June first from 8:30 am to 1:30 pm, the forum is free to attend, and breakfast and lunch will be provided but registration is required.
Topsail Beach takes an important step in keeping marine debris out of our waters
Atlantic Hurricane Season is quickly approaching us, and while facing down the treats from a storm is never fun, there are things you can do to prepare. Aside from taking the time to get your emergency supply kit together, now is also the time to evaluate your property, is it storm-ready? For coastal property owners now is the perfect time to take a look at your docks if you have one. Not all dock construction is the same and some are better able to withstand high winds and storm surges.
One town in the state is now stepping up to help ensure that the docks and piers within their area are better equipped to handle storms after they recently voted to ban un-encapsulated polystyrene which is a foam material that is notorious for being susceptible to storm damage and after hurricane Florence this material made for some nasty marine debris. We are so thrilled to see the Town of Topsail Beach take a step like this and we hope they will be just the first of many that will follow suit. You can read more about resilient docks and piers here.
Help Improve Coastal Resiliency
As we all begin to prepare for hurricane season, a group of experts is hoping you can help them identify vulnerabilities along the coast. The state Office of Recovery and Resiliency along with local Councils of Government and the N.C. Rural Center are leading an effort to develop and improve coastal resiliency. It's with that goal in mind that the group is hoping you will provide input about concerns you may have when it comes to severe weather events and an area's ability to withstand those storms, they want to hear about your experience with storms in order to help them find and prioritize resilience projects that can help the different regions around the state.
If you're interested in taking part in their survey check out the links below to complete the questionnaire based on where you live.
NCCU Partners with Coastal Federation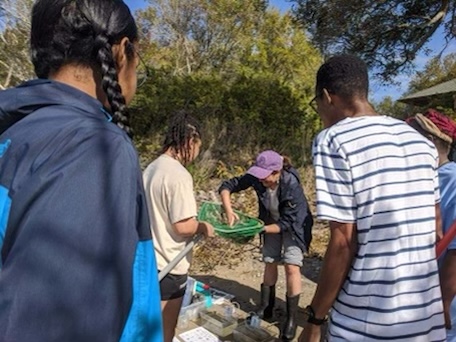 We are proud to share with you this month that the Coastal Federation has partnered with North Carolina Central University and we have been working with several of the school's students from the Environmental, Earth, and Geospatial Sciences departments. This semester these students are taking an Environmental Education Course. Recently the class was able to take a field trip with our Coastal Educator Rachel Bisesi who took them out to Hammocks Beach State Park where they were able to review our coastal curriculum as well as hear from Park Rangers about their education and programming.
In total there were 11 students and their professor on the trip, which took place on a perfect spring day! Funding from the University and West Marine also helped to make this trip a reality.
While we are just at the beginning of this partnership we are looking forward to being able to do more collaboration and hope to continue engaging and working with future environmental professionals in coastal programming.
Touch Tank Tuesday is Back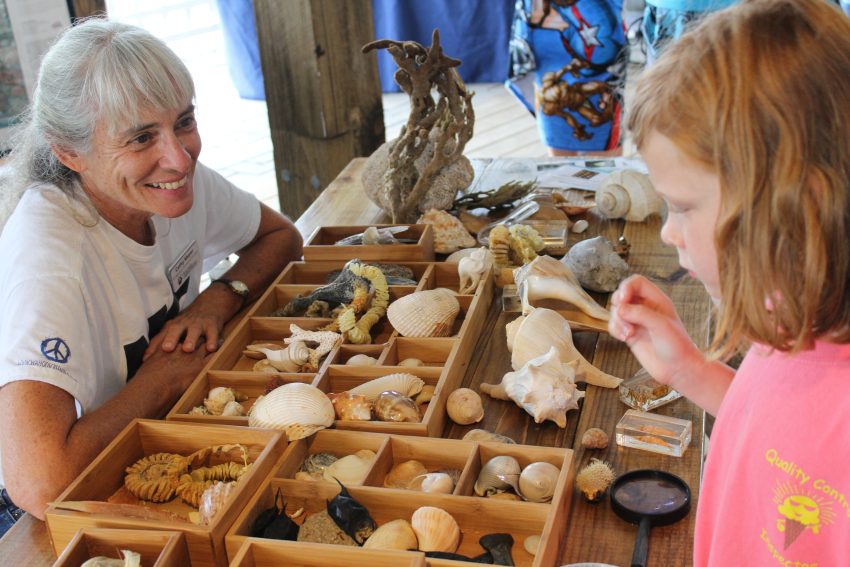 Touch Tank Tuesday at the North Carolina Coastal Federation's Wrightsville Beach office will be returning soon. Touch Tank Tuesday allows visitors of all ages to visit our coastal education center and interact with different plants and animals that are found in the waters surrounding Wrightsville Beach. Marine creatures range from sea urchins and crabs to algae and whelks. During the event, visitors can learn about how they contribute to the coastal environment. Additionally, guests can use microscopes to view coastal organisms and create arts and crafts related to the coast.
We hope to see you there, but pre-registration is required, learn more on our website. The event is free, but your donations are greatly appreciated. Your donation at the event will support the Touch Tanks program and other federation education programs that promote and inspire coastal stewardship through hands-on exploration. Touch Tank Tuesday is open to people of all ages; however, an adult should accompany children under the age of 15.
Living Shorelines gaining attention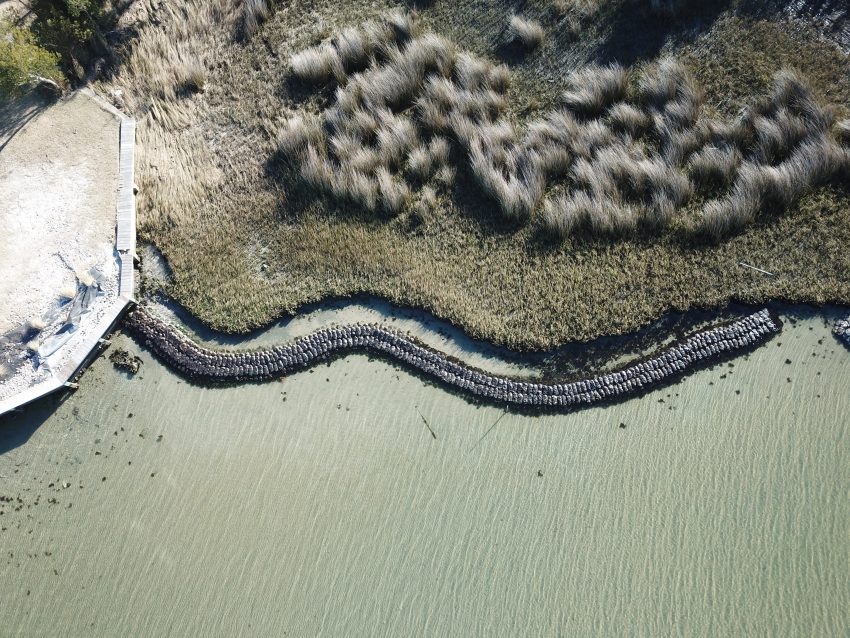 Living shorelines have been in the news a lot recently and we couldn't be more excited about that. With recent reports about rising sea levels and climate change, more and more homeowners along the coast are looking for ways to protect their properties. Living shorelines are not only environmentally friendly, but they are also more cost-effective than installing a bulkhead or seawall and they have proven themselves to be extremely resilient surviving storm after storm.
Living shorelines also help improve water quality by providing homes for thousands of oysters. Did you know that an adult oyster can filter up to 50 gallons of water a day! The oyster growth on these shorelines also provides habitat to 300 different species. Be sure to watch our very own Dr. Lexia Weaver talk about living shorelines in this excellent piece from AccuWeather, or this story that was done by Communications Director Stacia Strong for WRAL.
What it took to restore the North River Wetlands
Our journey through the past four decades continues this month in the year 2000. That's when the Coastal Federation bought 1,981 acres on the North River in Carteret County with a grant from the North Carolina Clean Water Management Trust Fund. Then in 2002, the Coastal Federation purchased the rest of North River Farms so another 1,435 acres were acquired. The former farmland is now the site of the largest wetland restoration project in North Carolina. Now the North River Wetlands Preserve totals 6,000 acres and has helped to greatly reduce runoff from a nearby farm, and improve water quality along the North River. The preserve even has trails that are part of the Mountains-to-Sea Trail.