2021 is ending and as we begin to prepare for the new year ahead, the North Carolina Coastal Federation is also taking this time to reflect on our accomplishments during this year.
This year much like 2020 offered many challenges as the COVID-19 pandemic continues to pose a threat to our communities. Also, much like 2020, this year the pandemic did not slow down our efforts to make a positive difference in our coastal communities.
Our goal every year since we were founded in 1982 has remained the same, to work together with our partners and local communities to keep North Carolina's coastal environment healthy and productive. We make solid progress toward this goal with the help of a multitude of federal, state, and local government partners and private stakeholders that include fishers, farmers, developers, engineers, academics, attorneys, businesses, and non-profit professionals.
The Coastal Federation has five main goals that we focus our efforts on, water quality, living shorelines, marine debris, oysters, and coastal management. In addition to these goals, the Federation also operates a non-profit online professional news service called Coastal Review that enables us to reach and educate more than a million households each year with stories that continue to win awards from the N.C. Press Association.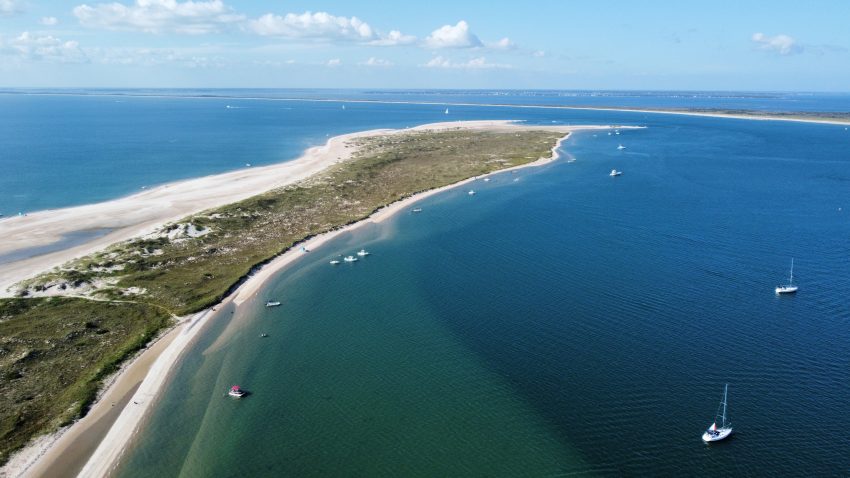 Water Quality: In 2021 we developed and publicly unveiled the statewide Nature-based Stormwater Strategies Action Plan that will help reduce flooding, protect water quality, and improve resiliency.
We also helped prepare cross-cutting water quality recommendations to protect and restore coastal habitats in the recently approved Coastal Habitat Protection Plan (CHPP).
Also, this year, the Atlantic Beach Watershed Restoration and Stormwater Resiliency Plan were finalized and approved by the Town and the State of North Carolina setting a course for reducing polluted runoff and flooding in the town.
In partnership with the U.S. Fish and Wildlife Service, we formed N.C. Coastal Wetlands Restoration Working Group to engage partners in identifying and prioritizing large-scale restoration projects in a subset of coastal counties.
By the numbers; by working with some of our partners we were able to reduce the volume of urban stormwater runoff by 3,179,000 gallons per year. Helping us reach that goal is the Town of Swansboro who worked with us to replace asphalt and compacted turf with permeable paving grids that will capture and soak in 3 million gallons of rain per year.
The town of Beaufort also joined us in improving water quality and reducing stormwater runoff by replacing a strip of asphalt on Orange St. with permeable paving to capture and soak in 100,000 gallons of rain per year.
We also partnered this year with N.C. Wildlife Resources Commission to replace a section asphalt at the Washington Baum Bridge boat ramp with permeable paving grids that now soak in 79,000 gallons per year.
The town of Pine Knoll Shores worked with our team to complete an innovative stormwater project that enables the town to pump water to lower the groundwater and increase infiltration capacity and reduce flooding and runoff.
Aside from those completed projects, efforts continue at four sites in several other counties where we are working to restore almost 3,000 acres of wetlands in Bladen, Hyde, and Tyrell counties. In 2021, an 840- acre site and stream restoration was completed in Bladen County to restore wetland hydrology to two Carolina Bays, restore two streams, and make the site more resilient to flooding events from the Cape Fear River. In addition, a 488- acre site in Tyrrell County was completed to restore wetland hydrology and retain water on-site with created mudflats and open water habitats.
And finally, nearly 1,400 acres of wetlands at Lux Farms in Hyde County were restored to replicate historic hydrology to enhance forested wetland features. Restoration included installing seven fords, six culverts, several thousand feet of berms, and creating two wetland sloughs (similar to a created creek).
Living Shorelines: This year we constructed a total of 4,554 feet or just under a mile of living shoreline at 30 sites using granite rocks, 36,752 recycled oyster shells, and marl bags, 338 QuickReefTM units, 50 ft. of Biomason units, and oyster castles. A total of 137,692 plugs salt marsh grasses were also planted at 20 sites.
These achievements were made through a culmination of several projects including a 1,250-foot granite sill at Carteret Community College where we planted 25,830 plugs of salt marsh grasses.
We also created a 460-foot living shoreline sill at the Town of Pine Knoll Shores that had 2,800 plugs of salt marsh grasses, 5,095 oyster bags, and 50 ft. of Biomason units.
The 371-foot living shoreline was installed at the future site of the federation's Center for Coastal Restoration and Protection and Carteret County's boat ramp in Ocean. That project featured 4,452 oyster bags, 126 QuickReef units, 2,520 plugs of salt marsh grasses.
1,818 feet of living shorelines were built on 22 private properties in Carteret County. Those projects used 23,092 oyster bags, 26,888 plugs of grasses.
We built a 225-foot living shoreline at the Morris Landing Clean Water Preserve, in that project there were 2,200 plugs of grasses were used, 3,500 oyster shell bags, and marl bags
A 118-foot living shoreline was also installed at Topsail Beach, in that project we used 102 ft. oyster bag and QuickReef sill (613 oyster bags, 212 QuickReef base units, 936 plugs) + 16 ft. vertical sill
A 62-foot oyster castle sill was also placed at the Wanchese Marine Industrial Park
We planted 76,518 marsh grasses to complete the 1,720-foot living shoreline at Atlantic's White Point and the 3,060-foot living shoreline at Oriental's Whittaker Pointe.
Outside of our fieldwork, this year we also held several training classes, including living shoreline technical training for marine contractors, engineers, consultants, and agency staff.
We also presented at two workshops focusing on living shorelines to real estate professionals that were hosted by the North Carolina Coastal Reserve. We also hosted a field training for living shorelines to 25 statewide Soil and Water staff, which was attended by a reporter from the News and Observer who published a series of stories about salt marshes and living shorelines.
The Federation also advocated for and secured language in the 2021 CHPP update to work for the protection of oyster sills from harvest.
The Coastal Federation was featured in a PBS The Science of New State of Change series: can living shorelines protect the coast from sea level rise and bigger storms?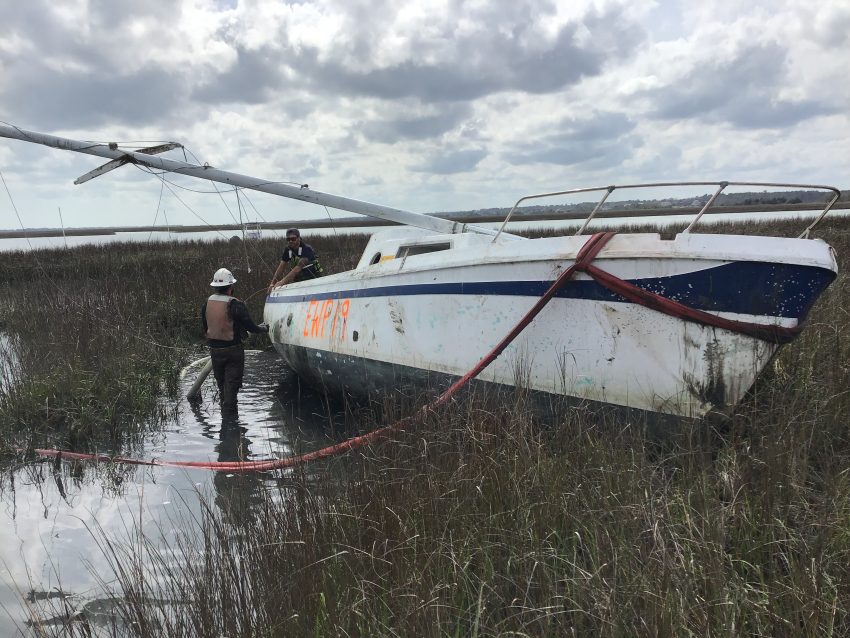 Marine Debris: In 2021 we led the implementation of the N.C. Marine Debris Action Plan that included presenting the federation's debris removal and prevention impacts at the 2021 Marine Debris Symposium.
We also continue to lead the Lost Fishing Gear Recovery Project which is now in its seventh year, this year we worked with 60 commercial watermen and women to remove 3,009 crab pots from coastal waters. We also worked with partners to remove 419.41 tons (838,820 pounds) of large-scale marine debris from coastal waters.
Collaborating with the N.C. Division of Coastal Management and N.C. Wildlife Resources Commission we were able to remove 74 abandoned and derelict vessels from coastal waters and marshes, which equates to 240.09 tons of vessel debris removed.
The Federation hosted a virtual North Carolina Coastal Microplastics Forum that was attended by experts and over 300 participants from around the world to discuss the impact of microplastics on human health and the environment and identify potential technical and policy solutions.
This year the Federation was also able to secure funding to continue our marine debris removal efforts into 2022.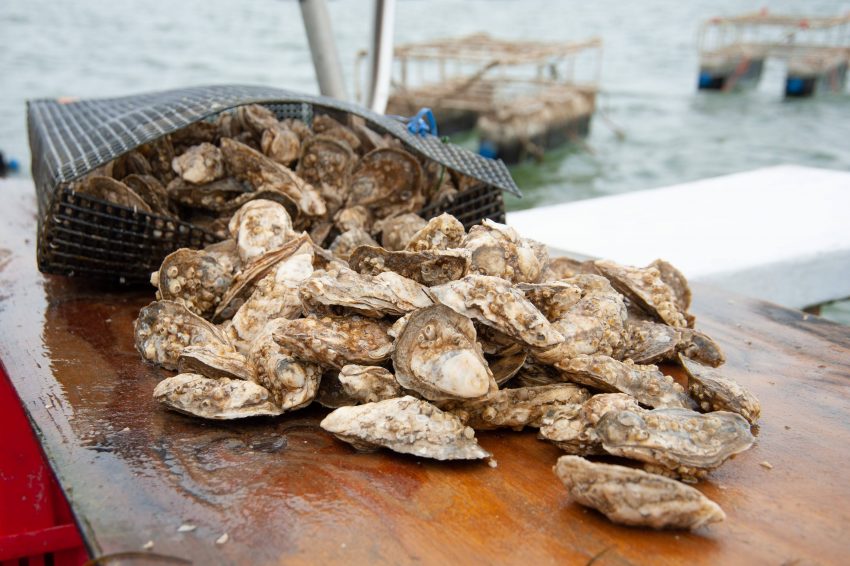 Oysters: The year we completed and publicly released the fourth edition of the Oyster Blueprint.
2021 also saw the creation of five acres of new oyster sanctuaries at the Cedar Island Oyster Sanctuary. Living shorelines added an additional 0.6 acres of oyster habitat.
We spent time over the past 12 months ramping up our efforts to recycle oyster shells as part of our Recycle for Reefs project. During the year more than 4,000 bushels of oyster shells were collected as of November 1st and we expect that number has only grown since.
With the help of volunteers more than 50 businesses were recruited to join the NC Oyster Trail that includes restaurants, seafood markets, oyster farms, educational facilities, art centers, and other destinations that feature N.C. oysters.
The Federation also began planning a 2022 cultch planting workshop to bring together restoration practitioners from across the country to evaluate cultch planting strategies and opportunities for future management.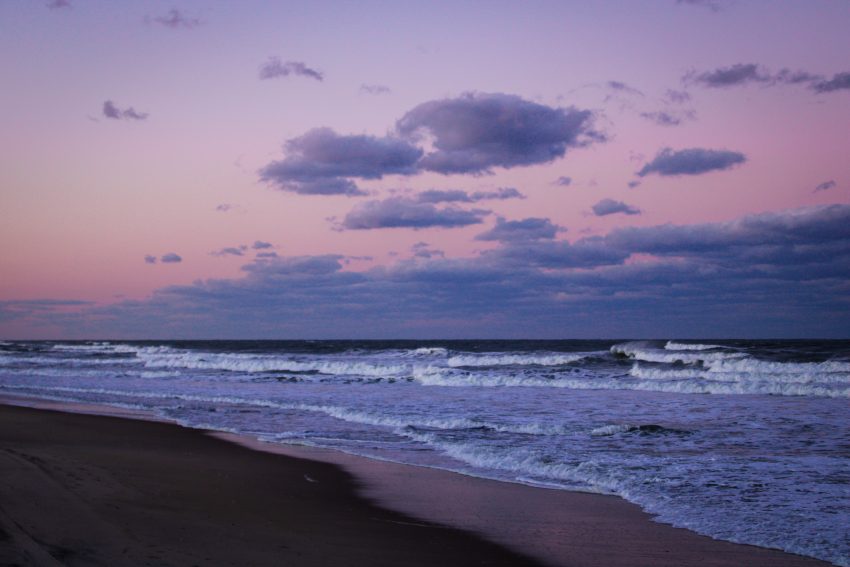 Coastal Management: The Coastal Federation filed a rule-making petition before the Environmental Management Commission to cap and reduce carbon dioxide emissions from the power sector. EMC approved and the rulemaking process has begun. Once complete the rule will allow the state to join the Regional Greenhouse Gas Initiative resulting in a reduction of greenhouse gas emissions over time.
The Federation also joined an Offshore Wind Coalition as a lead partner to foster, review and facilitate the development of offshore wind off of our coast.
We also worked with the legislators to help the state protect public health from a huge number of "forever chemicals" that continue to find their way into our drinking water and seafood supplies.
This year the Federation submitted a number of comment letters, including a scoping comment letter about the proposed terminal groin on North Topsail Beach, a letter on state temporary wetlands rules; the proposed White Oak Basin Plan among others.
As part of the Coastal Federation's work, our Coastal Educators go out into the community to work with various groups, organizations, and schools. In 2021 our educators were able to reach 1,345 from 13 coastal schools and 11 community groups many of which are from underserved communities. Additionally, we shared lesson plans and resources at 3 different teacher institutes to help educate classrooms statewide.
We also reached a total of 3,167 people through presentations, cruises, and outreach efforts. In 20211 our educators also continued to update and utilize our Distance Learning Lab webpage.
We were also able to award 3 graduating seniors with Coastal Stewardship Awards of $1,000 each thanks to several amazing sponsors: Coastal Stormwater Services, Inc., Emerald Isle Realty, Cyndy Holda, and Judy Lotas. This year our education efforts were featured in this North American Association for Environmental Education blog.
Looking back at all of the accomplishments of our hardworking staff and partner agencies and organizations the Coastal Federation is very proud of all of our efforts and we look forward to continuing our work in 2022.