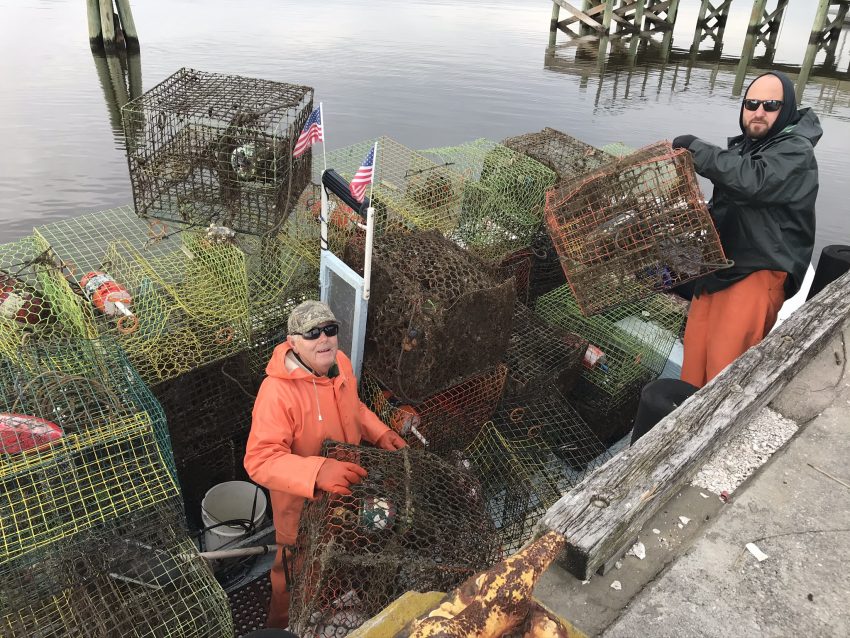 WANCHESE, N.C. – The Lost Fishing Gear Recovery Project led by the North Carolina Coastal Federation in January, involved 60 commercial watermen and women who worked throughout the northeast and central coasts of North Carolina. Their efforts were focused on collecting lost crab pots as part of a marine debris removal effort to improve habitat, water quality and support coastal economies.
The Commercial Fishing Resource Fund Program provided $115,599 for the project. With approval given from both the North Carolina Marine Fisheries Commission Commercial Resource Fund Committee and the Funding Committee for the North Carolina Commercial Resource Fund.
Pots typically end up lost as the result of weather events. Lost pots can become hung in structures such as bridges, or they can drift into channels over time, increasing the likelihood of buoy detachment by vessel traffic.
John Silver, a commercial fisherman docked in Wanchese shared, "Although fishermen spend days or weeks looking for their gear, often it is not found. A new crab pot could cost an average of $50, making it too valuable to lose intentionally."
Mike Mixon, has been fishing for 36 years and now docks in Wanchese, said that: "We all take great pride in our livelihoods and waterways. In my opinion, this project has been unbelievable in helping keep our waterways clean and to make sure that the crab mortality rates continue to remain low, since removing the gear also frees any fish or crabs left behind."
This project began in 2014, with criteria established to partner with commercial fishers for a variety of important reasons. This project created opportunities for work during a slower time of the year due to colder waters and what is now a month-long blue crab fishery closure. A recent update to the Blue Crab Fishery Management Plan implemented to end overfishing and ensure sustainable harvest set the 2021 pot closure period for the entire month of January, which is longer than in years past.
Jody Jarvis, a longtime commercial fisherman from Columbia shared, "I'm grateful to have participated in the fishing gear cleanup project because the adjusted closed season caused a financial setback for me and many others this year."
Having spent so much time on the water, commercial fishers are essential to many parts of this project. These individuals have a natural sense of where lost pots may have ended up based on their knowledge of shifting currents and tides. Their vessels, used to collect and carry fresh seafood, are perfectly equipped to remove and haul lost fishing gear. These individuals also have the perseverance to endure less than ideal weather conditions, during the cleanup timeframe.
"This project has established truly remarkable partnerships among different user groups," said Sara Hallas, coastal education coordinator for the federation and project lead. "I'm proud of the crews that were involved for their diligence and patience to carefully comb our waterways and get them as clean as possible. The combination of knowledge and expertise of these groups working together for a common goal is crucial to the project's success, year after year."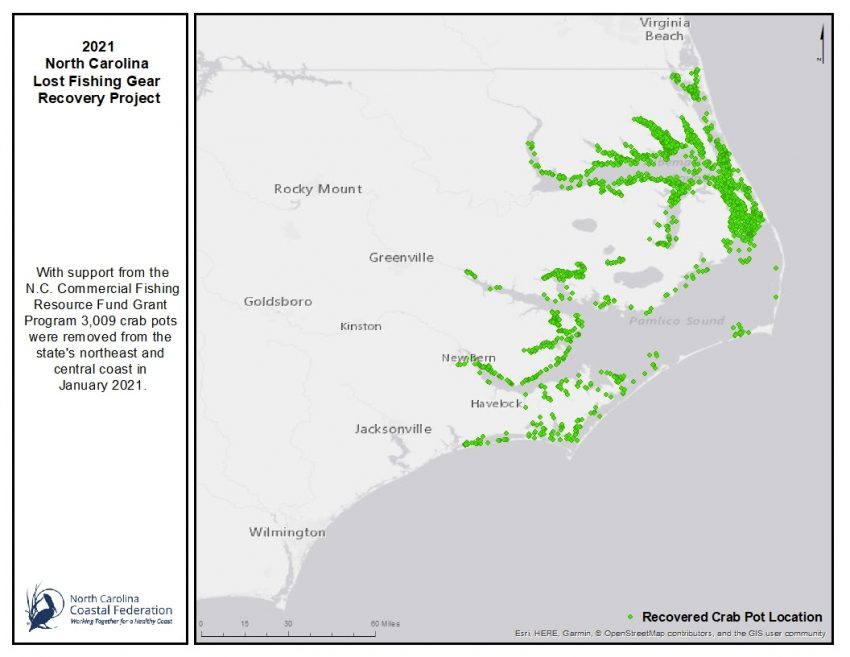 The 2021 cleanup was conducted in Marine Patrol districts 1 and 2 — covering all internal coastal waters north of the Highway 58 bridge to Emerald Isle. Boats worked anywhere from three to seven days, depending on the Marine Patrol district. Separate from the project efforts, the N.C. Marine Patrol conducted a cleanup in District 3, in water south of the Highway 58 bridge.
This year in Marine Patrol District 1 — which covers the northeast region of the North Carolina coast from the Virginia line to Ocracoke — 21 boats made up of 42 commercial fishers picked up 2,243 crab pots. In District 2 – which spans from Ocracoke to Emerald Isle— 9 boats made up of 18 commercial fishers removed 766 crab pots. The N.C. Marine Patrol removed 119 pots in District 3, from Cape Carteret to the South Carolina line.
Keith Bruno, a lifelong commercial fisherman from Oriental shared why it's important for him to participate in this project, "You take care of what feeds you and this [Neuse] river feeds me. It feeds my family, it feeds my spirit, it feeds my wallet, and it feeds my soul."
In Marine Patrol District 1, whole pots, in good condition, recovered from the Albemarle and Pamlico Sound areas, were sorted, stored and made available for the rightful property owners to reclaim. More than 500 crab pots were returned to their rightful owners through this process. This supports the coastal economy, as the value of a used crab pot put back into the industry, is much greater than scrapping the gear for metal at pennies per pound.
The project is part of the federation's effort to ensure a North Carolina coast that is free of marine debris. Establishing an annual paid program for marine debris removal, including crab pots, is a key objective of the North Carolina Marine Debris Action Plan.
The federation also worked with Dare County Public Works and coordinated with the N.C. Division of Marine Fisheries and N.C. Marine Patrol for this project.
For more information about this work, please visit nccoast.org/crabpotproject or contact Sara Hallas at 252-473-1607.