Last week during an unusually warm day in January, 40 volunteers including those from the public, Marines from Camp Lejeune, students from NC State's COPRI chapter and UNCW Master of Coastal and Ocean Policy and missionaries from the church of Jesus Christ LDS gathered at Morris Landing Clean Water Preserve and successfully removed over 500lbs of marine debris mostly comprised of consumer and storm-generated waste.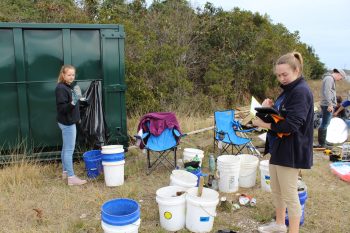 In support of the newly released North Carolina Marine Debris Action Plan, over 750 items were logged into NOAA's marine debris tracker app which allows us to quantitatively assemble and analyze the status and trends of marine debris clean-ups.
"We are beyond grateful for the dedication and determination that these volunteers displayed, many getting wet and dirty to remove marine debris from the marsh, some of which has most likely persisted in the environment for years," said Bonnie Mitchell, southeast coastal education coordinator.
Thank you to all of our member support that helps make these projects possible as well as the support from NOAA's Marine Debris Program and Onslow County Solid Waste Management.
For more information on the federation's work to remove marine debris along the coast and to learn more about the N.C. Marine Debris Action Plan, visit nccoast.org/marinedebris.