The northeast office organized a volunteer event in conjunction with the North Carolina Department Of Transportation's Fall Litter Sweep.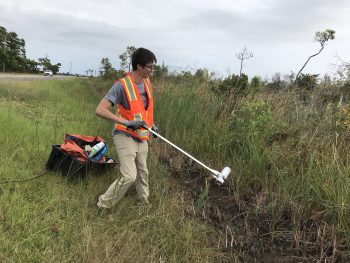 A crew of volunteers pitched in to collect roadside debris along the stretch of highway 345 in Wanchese that the North Carolina Coastal Federation has adopted through NC DOT's Adopt a Highway program. Through this commitment, the federation organizes at least four clean ups along this area each year. The volunteers divided up into small groups in order to cover the entire 2-mile stretch. The federation is so thankful for the local volunteers that participated, including a community partnership with the Town of Manteo, Dare County Soil and Water Partnership.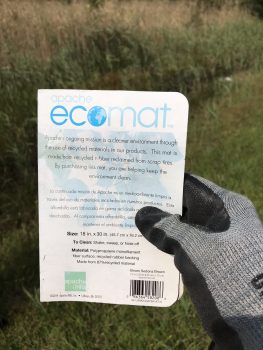 In addition to the typically high quantities of cigarette butts, beverage bottles and aluminum cans, there was another interesting trend in the items found. Several things the volunteers came across were "eco-friendly" items, though this was not the case considering the circumstances of where they were found. There was a large metal coffee tumbler, a fast-food drink with a paper straw and even a grocery tote made out of recycled plastic bottles. A very interesting find was packaging from what was likely an exercise mat, explaining the mat was made from recycled rubber reclaimed from scrap tires. These types of eco-friendly items that are intended to reduce pollution and not harm the environment, left to be roadside litter aren't fulfilling their purpose. Finding these items out of place and contributing to the opposite of green living leaves us feeling perplexed.
The N.C Department of Transportation's Swat-A-Litterbug Program encourages the public to report people who litter in an effort to help make North Carolina roadways cleaner. The public can report those who litter to NCDOT's Litter Management Section by filling out an online form or calling NCDOT Customer Service Office at (877) 368-4968.
The federation is striving to have a coast that is free of marine debris. Learn more about all the projects involved in this work at nccoast.org/marinedebris.