On Oct. 4 our dedicated team of volunteers and the North Carolina Coastal Federation's southeast staff persevered through the blistering hot 90-degree weather to successfully maintain the rain gardens and stormwater wetland located at Bradley Creek Elementary School.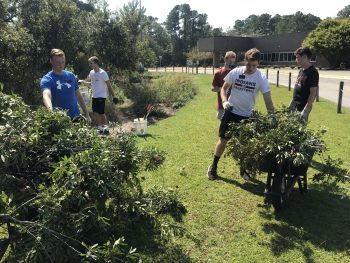 The volunteers split into 2 groups to tackle the weeding, pruning and clearing of debris in the smaller rain gardens while the other group cleared out the shrubbery impeding the rain garden plants in the stormwater wetland. Afterward, we came together as one to work on weeding, pruning, edging and clearing out debris in the largest rain garden on the property.
"I enjoyed being outside helping a community maintain sustainable stormwater management practices that also educating school children and their families on the importance of rain gardens," said Greer Shivers, Southeast Intern with the federation.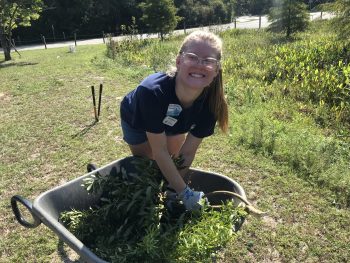 The project is part of the Hewletts and Bradley Creek Watershed Restoration Plan, which aims to reduce the amount of polluted runoff that makes its way into the creeks. Maintenance of these areas are critical as the school does not have enough resources to keep up with it on their own. Not only do these rain gardens serve to reduce stormwater wetlands but they also serve as a great educational tool to the students and their parents.
This project was made possible through contributions from our members, RBC Blue Water Project, Landfall Foundation, and the Cape Fear Garden Club.