On Saturday, Aug. 3, the 2019 Pelican Award recipients were honored at the Crystal Coast Civic Center in Morehead City for their outstanding contributions to protecting the North Carolina coast.
Joe Ramus, president of the federation's board of directors, served as the Master of Ceremonies and welcomed a sold-out crowd of 500 to the awards ceremony. Federation staff presented the 10 awards including seven regional awards and three coastwide awards.
Additionally, Todd Miller, federation executive director, presented a special dedication to the family of Richard "Dick" Bierly. Bierly, who passed away earlier in the year, was a long-time member of the federation and former board president. The federation's lobby is now named in honor of him.
Before the award ceremony ended, a surprise award was given by Dr. Andrew Read, director of the Duke Marine Lab in Beaufort. Read presented Joe Ramus with the prestigious Order of the Long Leaf Pine award, the highest award for state service granted by the Office of the Governor.
Following the awards and special dedication, the Taste of the Coast celebration commenced. The celebration featured fresh oysters from growers up and down the North Carolina coast as well as seafood and small plates from local seafood restaurants, a silent auction and live music by Wild Honey.
A special thank you to the event sponsors including lead sponsor Wells Fargo for their support.
Below are brief bios about each of the recipients that appear in the Summer 2019 edition of Our Coast.
---
Coastwide Winners
North Carolina Division of Coastal Management
For Dedicated Leadership Supporting Living Shorelines Along Our Coast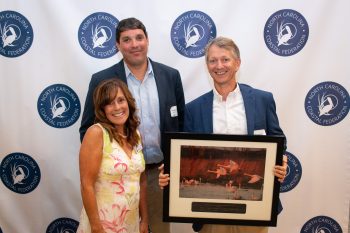 Amazing things continue to happen to North Carolina's estuarine shorelines thanks to the persistent efforts of Daniel Govoni, Dr. Braxton Davis and the North Carolina Division of Coastal Management.
For many years, the permit process for living shorelines was time consuming and required coordination with other state agencies. As a result, this posed a significant impediment for installing these longer-term, less expensive and more environmentally friendly techniques to stabilize eroding shorelines.
In the meantime, permitting for bulkheads and seawalls remained easy, unfortunately resulting in the hardening of many miles of estuarine shoreline and the loss of important salt marsh and oyster habitat. Cognizant of this, the Division initiated an effort to revise and streamline the Coastal Area Management Act's General Permit for marsh sills.
After almost three years of meetings and coordination with the U.S. Army Corps of Engineers, the Coastal Resources Commission adopted a revised General Permit for marsh sills on April 1, 2019. Despite it being approved on April Fool's Day, it is no joke that this will help to increase the use of living shorelines over bulkheads in the state.
Bill Cary
For Leadership and Commitment to Advancing Effective Coastal Policy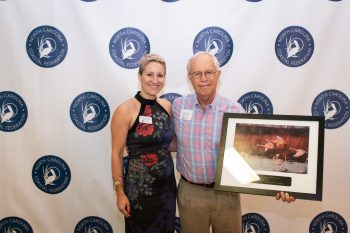 Bill Cary is a tireless advocate for the coast and its natural resources. Since his initial involvement with the Coastal Federation when he led the effort to write a report on reducing impediments to living shorelines, Bill has worked with us on numerous projects. In 2016, he assisted the Coastal Federation in planning and executing the South Atlantic Living Shorelines Summit in Florida. In 2018, his role in the multi-stakeholder Shellfish Mariculture Advisory Committee was pivotal for the development of the state's first Strategic Shellfish Mariculture Plan.
Bill led the subcommittee that revised the existing shellfish leasing siting regulations, making recommendations for a more efficient process. Most recently, Bill helped organize the North Carolina Coastal Resilience Summit held in June, where he advised the content and structure of the event and served as the master of ceremonies for the two-day summit. Lawyer by trade, Bill possesses a breadth of exceptional skills. Among these, critical thinking is perhaps the most prominent one as it is easily evident in all interactions and outcomes that involve Bill. His ability to break down complex issues and analyze them methodically has been a tremendous asset for our coast.
Charismatic, witty and personable and always ready to jump on a four-hour long drive to the Atlantic for a meeting, Bill is a true friend of the coast. Because of Bill's dedicated work and passion, North Carolina has a more robust coastal policy.
Port City Daily
For Diligent, Vigilant Reporting on Coastal Environmental Issues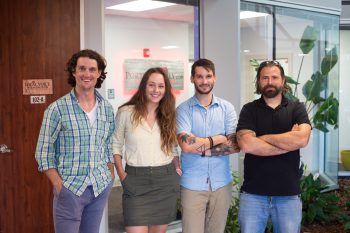 There's no greater goal for a community newspaper than to become indispensable to the community it serves and Port City Daily has done much to reach that objective. From an environmental perspective, this means reporting on issues that matter in terms of public health and natural resources.
Through its reporting on industrial polluters, development, marine debris, offshore oil and gas development, conservation and water quality issues, Port City Daily has demonstrated a commitment to environmental journalism and to its readers. During the past year alone, this online-only newspaper that serves the Cape Fear region has been noteworthy in its coverage of coal ash at Lake Sutton, proposed methyl bromide fumigation, state port expansion plans, per- and polyfluoroalkyl substances (PFAS) in the water supply, residential and business growth and its related challenges including water and sewer infrastructure, habitat loss and affordable housing.
The newspaper features tight, crisp writing that examines the various facets of the issues, with relevant headlines, background information and context that serve the reader well. The staff covers important meetings, great and small, to be the public's eyes and ears. Port City Daily has the feel of a small-town paper while spanning a coverage area with a handful of reporters that would be daunting for a much larger staff.
---
Northeast Region Winners
Bill Trimyer
For Outstanding Volunteer Contributions to Our Coast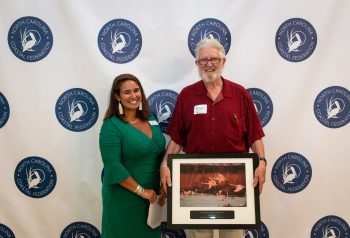 With the pitch, "What do you do with your shells? Why don't you send them my way?" volunteer extraordinaire Bill Trimyer takes it upon himself to ensure we have a successful volunteer oyster shell recycling program on the northeast coast. The Coastal Federation's new Restaurant to Reef shell recycling program collects shells from area restaurants to be used for restoration projects. The volunteer-based program depends on committed people like Bill, who recognizes the value of returning oyster shells to the water.
Bill spreads awareness at every restaurant he visits. He even has recruited two additional restaurants since the start of our pilot recycling program in 2017.
The bins of shell can weigh over 100 pounds and it's hot and smelly work, but Bill remains unfazed. He is always the first volunteer to cover others' pickup dates and was still picking up shells days before he had to take a break to handle some medical needs.
Bill takes volunteering a step beyond just completing a task. He truly supports the Coastal Federation's mission by spreading awareness and fostering a sense of community with every shell pickup and we are so grateful for his efforts.
Hyde County, United States Fish and Wildlife Service and North Carolina Wildlife Resources Commission
For Fostering Successful Partnerships that Protect and Restore the Coast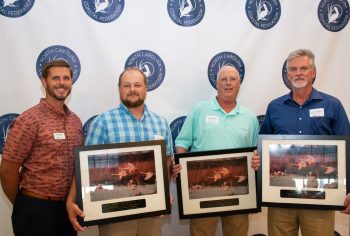 Recognizing Lake Matttamuskeet was in need of rescue, Hyde County, the U.S. Fish and Wildlife Service and N.C. Wildlife Resources Commission joined forces with the Coastal Federation to create a strategy to reverse its degradation and set a course for its future. Lake Mattamuskeet, the largest naturally formed lake in North Carolina, is a vital part of Hyde County's amazing natural and cultural heritage and the centerpiece of the Mattamuskeet National Wildlife Refuge.
The 40,000-acre lake serves as a premier overwintering site for over 300,000 migratory waterfowl. The lake hosts a rich biodiversity that attracts nearly 60,000 visitors annually for educational and recreational activities such as hunting, fishing and wildlife observation. County residents depend on a healthy lake to support their livelihoods tied to farming, recreation and hospitality.
Declining water quality and elevated water levels are threatening the future of the lake and lands within the watershed. In order to address these issues, project partners spent the past year developing a watershed restoration plan to reverse the trend of degradation. They first convened a diverse group of stakeholders and worked with the community on ideas for how to manage the lake and ensure its sound future. The plan now serves as the foundation for actions that will be taken over the course of the next several years.
---
Central Region Winners
Big Rock Sports, LLC
For Outstanding Community Leadership and Collaboration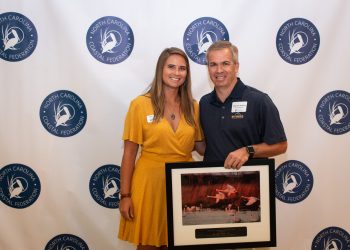 Since 2016, Big Rock Sports of Morehead City has given it their all to help with the Coastal Federation's restoration efforts in the central region. Their employees have helped build living shorelines from start to finish, from bagging shells in the dead of winter to installing those same bags in the heat of summer. They most recently helped to build a 500-foot living shoreline at the Trinity Center in Pine Knoll Shores. In addition to slinging oyster shell bags, the group consistently sends volunteers for shoreline cleanups and marsh grass plantings as well.
Over the past three years, Big Rock Sports employees have contributed almost 300 hours of service to the Coastal Federation. The organization has even taken steps to institutionalize community service by allowing staff to take time off work to volunteer and promotes environmental stewardship in its workplaces. Community partnerships like this one are vital to our restoration success. We couldn't accomplish all we do without supportive groups like Big Rock Sports.
Ed Phillips
For Exceptional Volunteer Contributions to Our Coast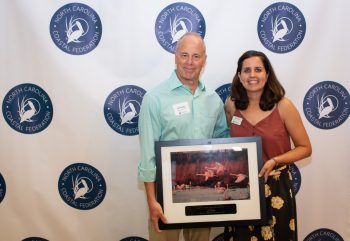 For the past three years, Ed Phillips has consistently and enthusiastically volunteered with our central region office. During this time, he has contributed nearly 100 hours of service and we always look forward to working alongside him. Ed keeps us smiling with his great sense of humor and kindness. In anticipation of his move to North Carolina, Ed signed up to be a volunteer even before leaving his home in Virginia. He is passionate about protecting coastal habitats and wildlife and brings a wealth of knowledge with him to our restoration workdays.
Ed has worked to support a healthy coast by building living shorelines, educating the community at local festivals and participating in numerous shoreline cleanups.
He also serves as our trail steward for Hoop Pole Creek and Patsy Pond nature trails, which involves routine monitoring, cleanup and maintenance. When he has a few minutes to spare, he coordinates area Boy Scouts to complete service hours with the Coastal Federation. Ed is always willing to lend a hand whenever it's needed.
Town of Cedar Point
For Leadership and Dedication to Keep Our Coast Accessible and Public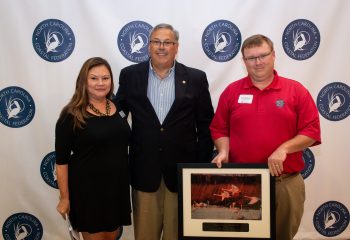 The Town of Cedar Point is a small, lovely and forward-thinking coastal town whose leadership and residents value their place and its quality of life. To ensure that people can reach the water, both now and in the future, the Town Board in 2018 voted unanimously to hold a voter referendum on a tax increase to purchase the 56-acre Masonic property on the White Oak River for public access and to protect and preserve green space.
It was Cedar Point voters who approved the $2.5 million measure by a large margin. This commitment and dedication has helped leverage additional state and federal money making acquisition of the special waterfront site a reality. It will now be turned into a beautiful public resource for generations to come, thanks to the help of the Town of Cedar Point.
---
Southeast Region Winners
Veronica Carter
For Inspiring Leadership and Commitment to the North Carolina Coast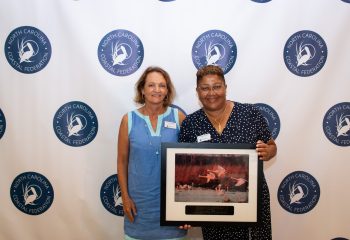 As a Coastal Federation board member, Veronica Carter has provided her time, energy and considerable expertise on countless advocacy campaigns to protect our coast.
She represents the Coastal Federation on the North Carolina Environmental Justice Network (NCEJN). At the NCEJN, she works tirelessly on behalf of under-represented communities. Advocating for them on issues such as the Duke Energy coal ash spills of Lake Sutton, hurricane recovery efforts, and the Kerr-McGee Chemical Corp. contamination site in the Town of Navassa, just across the Cape Fear River from downtown Wilmington.
In addition, Veronica has served on the North Carolina Coastal Resources Commission, is on the Board of Directors for the Brunswick County Habitat for Humanity and is past president of Cape Fear Citizens for a Safe Environment.
A retired Army officer who has worked as both a federal and international civil servant at the United Nations Headquarters, Veronica is currently a private consultant with expertise in the areas of operations, management, leadership and logistics/supply-chain management. Veronica is just as dedicated to the coast she calls home as she is to the country, it is an honor to work with her.
Plastic Ocean Project, Inc.
For Advocacy, Engagement and Outreach to Keep Our Coast Clean of Debris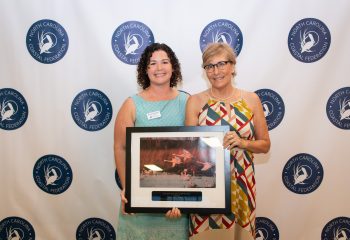 Bonnie Monteleone is the executive director and co-founder of Plastic Ocean Project. Her passionate mission to remove plastics from our oceans began in 2009. During her research as a graduate student at University of North Carolina Wilmington, Bonnie saw firsthand the devastation of plastic on the marine environment. Her research led her to work with Capt. Charles Moore, sailing 3,400 nautical miles across the North Pacific "Garbage Patch."
In 2012, she collected samples from the South Pacific as part of the film project, "A Plastic Ocean," a film described by David Attenborough as "one of the most important films of our time." After discovering that every single one of these samples contained plastics, Bonnie was compelled to take action. She decided to continue her research, educate the public and find real solutions to the epidemic. In 2012, Plastic Ocean Project was founded to do just that.
Bonnie continues to inspire our community to reduce single-use plastics and clean up plastic littering our coast. Her impact can easily be felt through programs such as Ocean Friendly Establishments, Renewlogy and UNCW Plastic Ocean Project. Bonnie is also an accomplished artist, turning some of the plastic collected on voyages into modern artistic masterpieces. This work not only storyboards her research, but also has become an award-winning traveling art exhibit.
---
Click to enlarge photos below
Photos courtesy of Prochaska Photography and Autumn River Media.