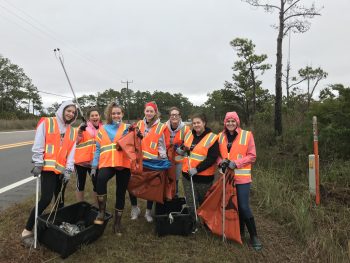 The staff in the northeast office teamed up with a couple of local community groups for a litter pickup on the federation's stretch of adopted highway in Wanchese. It was a chilly, breezy Saturday morning as a northeaster passed through the area. Coincidentally, the event took place on National Make A Difference Day, an annual community service event which is held on the fourth Saturday in October. Some of the volunteers that participated were from Outer Banks Dare Challenge, a non-profit that is located along the adopted highway area, and other volunteers that came out in full force were part of the youth group from Wanchese Assembly of God.
"I'm glad to volunteer and help make our community look nice and know this also helps the environment. I'm thankful for the motivation from the Coastal Federation to get involved," shared Micah Daniels, co-owner of Fresh Catch Seafood in Wanchese.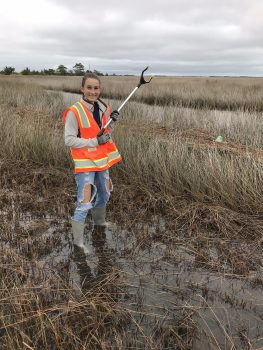 It took the crew of 23 people nearly three hours to cover both sides of the two-mile stretch of the road. Filling 12 bags of trash and six fish totes of recyclables, along with several larger items of debris including hubcaps, plastic pipe, and metal scraps.
"We didn't find as much trash as I was expecting," said Kat Iwashschenko, a First Flight High School student who is interning with the federation.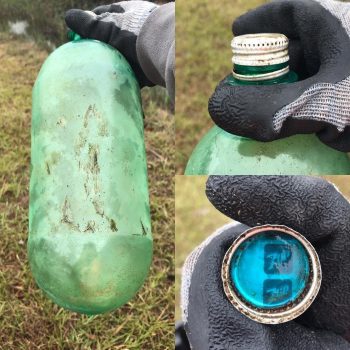 The crew even came across a few "antique" items which included a two-liter plastic 7-Up bottle, with a round bottom and metal cap. Staff did a little research to date this item back to the 1980s. They also came across an older glass Pepsi bottle.
The volunteers were delighted to see wildlife during the cleanup, including a snake, fish and blue crabs enjoying their cleaner habitat.
For more information on how you can help keep our coast clean, please visit nccoast.org/marinedebris