On Friday, Nov. 2, the Wrightsville Beach office hosted a group from N2 Publishing for a volunteer workday. The group worked on the stormwater reduction projects around the office. They also pulled weeds and added mulch to the office's rain garden, improving the function of the project and making it nicer to look at it.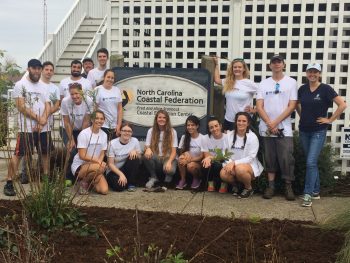 Rain gardens use native plants and filter out pollutants by allowing for rain water to soak into the ground rather than running off into a nearby waterway. N2 volunteers also helped the federation maintain and enhance the rain gardens and stormwater wetlands at Bradley Creek Elementary School last April as part of the School Yard Rain Garden Program and Hewletts/Bradley Creek Watershed Restoration Plan.
The November volunteer workday was part of N2 Publishing's company-wide event — N2 Serves Day. This was the first time N2 has hosted an event like this. Employees were able to skip work in order to volunteer with nonprofits in the area as a way of giving back. In addition to working with the federation, other N2 groups visited soup kitchens and the Boys and Girls Club, worked to pick up trash and collected donations for those in need.
"Businesses, like N2 Publishing that support employee volunteerism, provide us with incredibly valuable donated and in-kind labor and opportunities for outreach for our habitat and water quality restoration projects," said Ted Wilgis, coastal education coordinator at the Wrightsville Beach office. "N2 Serves Day is a wonderful model for connecting with and serving the community and we greatly appreciate their continued support."
If you're interested in volunteering with the federation, please visit nccoast.org/volunteer or check out our upcoming events at nccoast.org/events.To read more about N2 Serves Day, visit n2pub.com/blog.