Six volunteers from RBC Wealth Management helped in the rain gardens at the Fred and Alice Stanback Coastal Education Center and on Town of Wrightsville Beach property for this year's RBC Blue Water Day on June 7.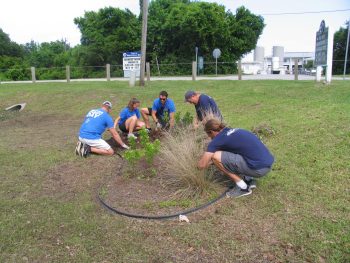 The RBC Wealth Management volunteers and the coastal federation staff worked to maintain the rain gardens on the property. Rain gardens are used as a low-impact development tool as they allow stormwater runoff to soak into the ground rather than have pollutants flow into creeks, rivers, and sounds. After the work was completed, the coastal federation was presented with a $2,000 check.
RBC Wealth Management started its Blue Water Project in 2007 with the goal of improving access to water that is safe for drinking, fishing and swimming. The company pledged $50 million over a 10-year period.
Since 2015, the RBC Blue Water Project has provided more than $10,000 in grants to the federation's clean water initiatives in the Wilmington area. Company employees have also volunteered their time each year to do hands-on work on the projects the grants have funded.