Last week, 47 middle school students from the Brad Sneeden Marine Science Academy received a lesson on estuaries and quadrant studies from the North Carolina Coastal Federation. The students went to Bogue Sound where they learned a bit more about how marine scientists evaluate living shorelines and marine life.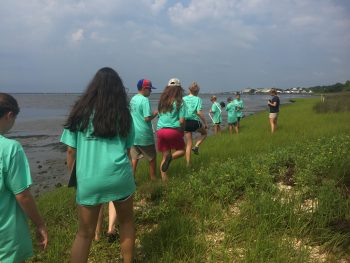 The Brad Sneeden Marine Science Academy is a week-long summer camp for middle school students from Craven and Carteret counties. It allows students the opportunity to receive hands-on experience in marine science and learn more about the coastal area that they live in.
"I am thankful that Brad Sneeden's family had the foresight to use memorial funds to establish this academy for middle grade students interested in marine science," said Sheila Moore, an earth and environmental science teacher at Croatan High School.
The summer program has been running for 11 years now and involves students in a number of activities with various organizations in the Crystal Coast area to learn about marine science and what each organization does for the community.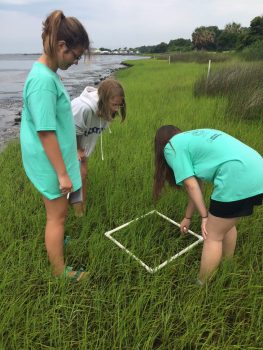 "We live in a county ripe with scientific opportunity for our children and it's just awesome that through the academy we can share experiences with different organizations. We have forged partnerships with the Coastal Federation, UNCW, NCSU, Duke, UNC, Carteret Community College, Rachel Carson Reserve, Cape Lookout National Seashore, Island Express Ferry Service, with all our sponsors and business partners," Moore said.
On June 18 the federation took the students to Bogue Sound where they used quadrants to study the growth of marine life and marsh grasses. This field day was just one of many projects that the students were able to enjoy during their week with the academy.
Julie Perry, career and college promise coordinator for Carteret County Schools was thankful for the federation's help with the program.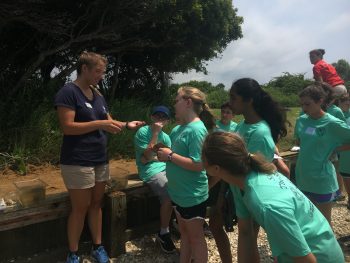 "We just really appreciate the help of the Coastal Federation in providing an engaging and educational experience for our students," Perry said. "The coastal education coordinator, Rachel and AmeriCorps community engagement specialist Kristin Gibson did an amazing job of presenting the information so that it was meaningful and effective at promoting the mission of the camp –– a combination of marine science and environmental awareness."
This day was just one of the many field trips that the federation's education specialists are involved in this summer. More updates on these trips will be forthcoming.