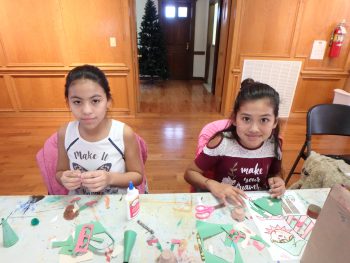 Students from the Dare County-based nonprofit Mano al Hermano enjoyed a day of winter crafts with North Carolina Coastal Federation staff earlier this week.
The annual Winter Break Activity Day took place at the Dare County Arts Council on Dec. 18. This is the second year that the federation has collaborated with Mano al Hermano to make this day possible. With help from federation staff and volunteers, Dare County Arts Council volunteers and Mano al Hermano tutors, the day was a success.
Mano al Hermano works to support Latino families in Dare County. Its Family Literacy Program has volunteers who provide the families with home-based, after school tutoring. Now that school is out for the holidays, the Winter Break Activity Day was a great opportunity to get the tutors and families back working together for a fun, creative time spent together.
For the activities, the children created and decorated elves, Christmas trees and reindeer. Each craft included an item that is frequently found in homes that was reused or items that were found in nature.
"When the children see these items used in a new way, I think it can help spark their own creativity and mindfulness of what they could reuse for fun activities on their own," said Reilly Kelly, AmeriCorps member for the Wanchese office.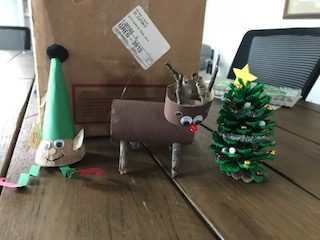 The elves were constructed out of egg carton cups; the Christmas trees were pine cones; and the reindeer were made out of toilet paper rolls and twigs. Each of the children added their own personalities to the crafts, making them unique and special.
The federation also partners with Mano al Hermano for a summer field trip filled with science to keep the children actively learning and having fun all year long.