This fall, volunteers joined the North Carolina Coastal Federation at Oak Island Waterway Park, Carolina Beach State Park and Morris Landing for living shoreline monitoring events, where they measured marsh coverage and looked for new oyster growth.
Living shorelines, or erosion control techniques that reduce the impact of waves through the use of more natural approaches such as restoring salt marsh and oysters, offer an effective and environmentally friendly solution to shoreline erosion. They are also cheaper to build and maintain.
"Maintenance costs over time are cheaper and more efficient for living shorelines, so this is an added benefit," said Genevieve Guerry, federation intern. "Living shorelines are great because they present an opportunity to be economic over a long period of time, as well as environmentally friendly."
Guerry said she first found out about living shorelines in graduate school and, since working for the federation, has since seen an increase in the amount of people who want to learn about them.
"The ecosystem services of wetlands are becoming more valuable overtime, and green infrastructure is becoming more popular as people realize that wetlands are being destroyed," Guerry said. "Living shorelines demonstrate our capacity to work with the environment instead of fight with it."
After they're built, the federation continues to monitor certain shorelines to check that the shorelines are growing and working properly.
"Monitoring is important because it helps us measure the growth of oysters and marsh grass, which in turn tells us how effective the shoreline is at providing habitat and preventing erosion," said Jessica Gray, coastal outreach associate for the federation.
Learn more about our fall 2017 monitoring work below.
Oak Island
The first monitoring event was on Oct. 31 at Oak Island Waterway Park. Thirteen volunteers helped to look at the profile of the salt marsh and measured oyster growth as well as other biological activity.
The Waterway Park living shoreline is located on the Intracoastal Waterway and features 200 linear feet of oyster sill and marsh grass. The video below from Brandon Shope of Spectrum News talks more about the monitoring event.
"We haven't seen any loss of shoreline, but we're also seeing good habitat restoration with lots of oysters, fish, crabs, as well as a healthy salt marsh," said Ted Wilgis, coastal education coordinator for the federation.
Carolina Beach State Park
The second monitoring event was on Nov. 17 at Carolina Beach State Park with 21 volunteers.
Analysis of the living shoreline shows that marsh coverage has increased over the last three years. The graph below shows the marsh coverage of 2015, 2016 and 2017.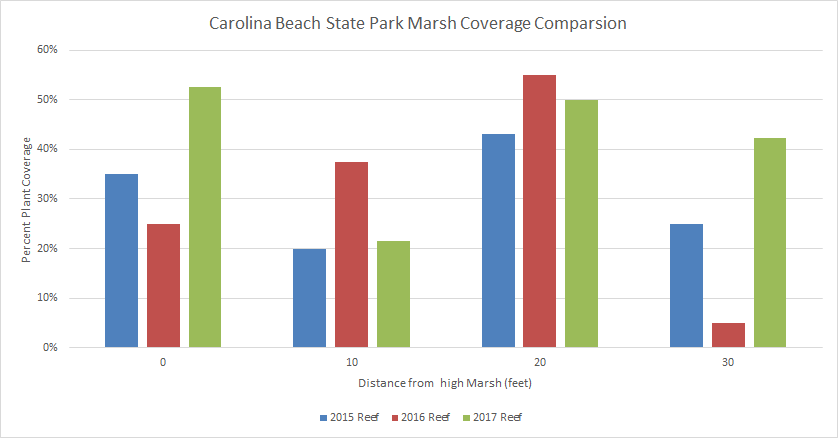 Mackenzie Todd, federation intern, said she first monitored the Carolina Beach State Park shoreline as an undergraduate at the University of North Carolina Wilmington.
"Learning field techniques to measure vegetation growth on the shoreline was very valuable and helped me visualize how much had grown since it was first planted," Todd said. "I believe living shorelines are beneficial to our coasts and measuring them to show success is valuable to policymakers in order to see how they work and how cost-efficient they are over hardened structures."
Morris Landing
On Nov. 28, the Southeast Coastal Ambassadors monitored the living shoreline at Morris Landing Clean Water Preserve. The ambassadors monitored the Phase V section that was constructed in 2016. Phase V is a 310-foot shoreline that consists of loose oyster shell sills and salt marsh vegetation.
Coastal Ambassadors are a special group of volunteers that serve as representatives of the federation at festivals, programs and other outreach events. Each month, the federation holds a Coastal Ambassador training meeting that alternates between a field day and an evening program.
For the Morris Landing field training, the ambassadors learned about living shorelines, their importance in creating and maintaining habitat, and how they protect against erosion. They also learned about the federation's oyster restoration efforts in the state.
The results from the ambassadors' monitoring show that the plant coverage in Phase V is also increasing. The graph below shows the marsh coverage of 2015, 2016 and 2017. Because 2015 was pre-project, there is limited data for marsh coverage.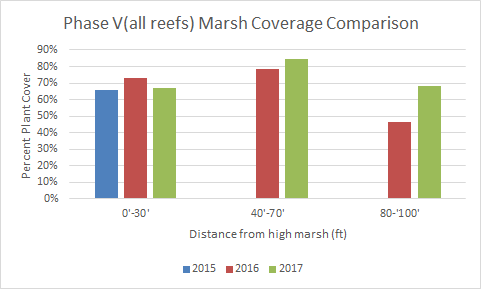 "This is a sign of a productive living shoreline because increased plant coverage increases retained soil, and more plants will lead to a decrease in erosion," Todd said.
Gray emphasized the importance of volunteers that help with ongoing monitoring.
"We always get a lot of volunteers who want to help us plant marsh grass and actually build the living shorelines, but the work continues once the shoreline is completed," Gray said. "We're thankful for the many students and volunteers who invest their time in creating a healthier, more resilience coast."