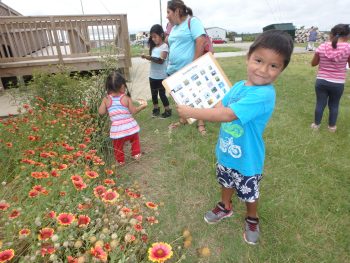 In early August the North Carolina Coastal Federation hosted a field trip for students, families and volunteer tutors from Mano al Hermano's Family Literacy Program.
Sixty-two students and adults from Mano al Hermano joined 16 federation volunteers and four staff members at the Wanchese office, which is located on Broad Creek near the Roanoke Sound. Staff and volunteers set up various stations for the students to explore, with each one covering a different environmental topic.
"It was a fun-filled day, and it was so enjoyable for us to plan these activities to correspond with their summer reading," said Sara Hallas, coastal education coordinator at the Wanchese office. "I could tell this trip was very meaningful for everyone who attended."
Mano al Hermano is a Dare County-based group that aims to empower Latino families in the Outer Banks. They work with public schools, offer English language classes and provide information about immigration issues. Its summer reading program is geared toward students in kindergarten to fifth-grade and lasts eight weeks.
The federation has helped with Mano al Hermano's Family Literacy Program for three years now. In addition to setting up field trips, it has also integrated books about science and the coastal environment into students' summer reading. Each week, AmeriCorps members Madison Douthitt and Erica Connery have helped families with tutoring during the school year. In the summertime, they visit a few homes for activities and reading.
"Many of our children do not get to experience the local environment as their parents either are working a lot, or do not understand the area themselves. Environmental issues are rarely discussed at home, so having the federation experts on hand to share their knowledge and answer questions is perfect," said Kay Minis, family literacy program coordinator for Mano al Hermano. "Appreciating the local creatures and wanting to preserve our coast is all new to them and something I hope they will remember as they grow."
This summer, students read Sharks and Dolphins: A Compare and Contrast Book by Kevin Kurtz and They Just Know: Animal Instincts by Robin Yardi. These books were purchased through support from the Albemarle-Pamlico National Estuary Partnership. Students also expressed their creative sides through nature journaling.
The end of the summer program culminates with a field trip. The past two years, students and volunteers have gone out to Jockeys Ridge State Park. This year students got to explore the Wanchese office, which the federation moved into last September. Minis said the students really enjoyed the field trip.
"One child told me it was the 'coolest field trip ever' and another when asked what his favorite part was replied, 'Everything! All of it!'" she said.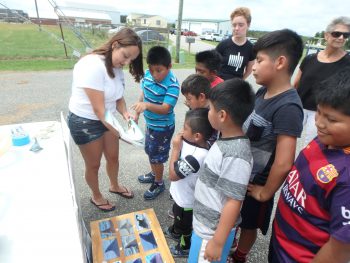 Throughout the office were six different activity stations for students, including ones on stormwater runoff and marine debris.
The Outer Banks Center for Dolphin Research set up a station through which students learned more about local dolphin populations and how they differ from sharks.
Douthitt ran the station on stormwater runoff. Students pretended to be raindrops and plants and learned about protecting water quality through a tag game.
Students also got to participate in a marsh scavenger hunt, challenging them to observe plants and wildlife around the office. For another station, staff had collected marsh wildlife so students and their families could observe fish, crabs and jellyfish and learn more about estuaries.
Marine debris was also covered, and students got to show off their creative sides by decorating plastic bottles that had be made into flowers and fish. They learned more about why it's important to reduce marine debris and what they can do to help.
The final station allowed students to spend some time outside. They could select from various activities, including a fishing game, bubbles, cornhole, sidewalk chalk and catch.
"I think their favorites were the dolphin and shark station as we read about them this summer and they could contribute facts they knew; the station with the small collection of sea creatures as they always enjoy live animals; the game of tag at the water station and of course, the crafts! Children love to create things they can take home," Minis said.
Overall, students had a fun day experiencing first-hand what they had been reading about. This field trip is one of staff members' favorites every year.
It was made possible through support from the Manteo Kiwanis Club, which donated funds to cover bus transportation and through an anonymous donation that provided sandwiches for lunch.
More information about Mano al Hermano is available at its website. More information about the federation's partnership with Mano al Hermano can be found here.