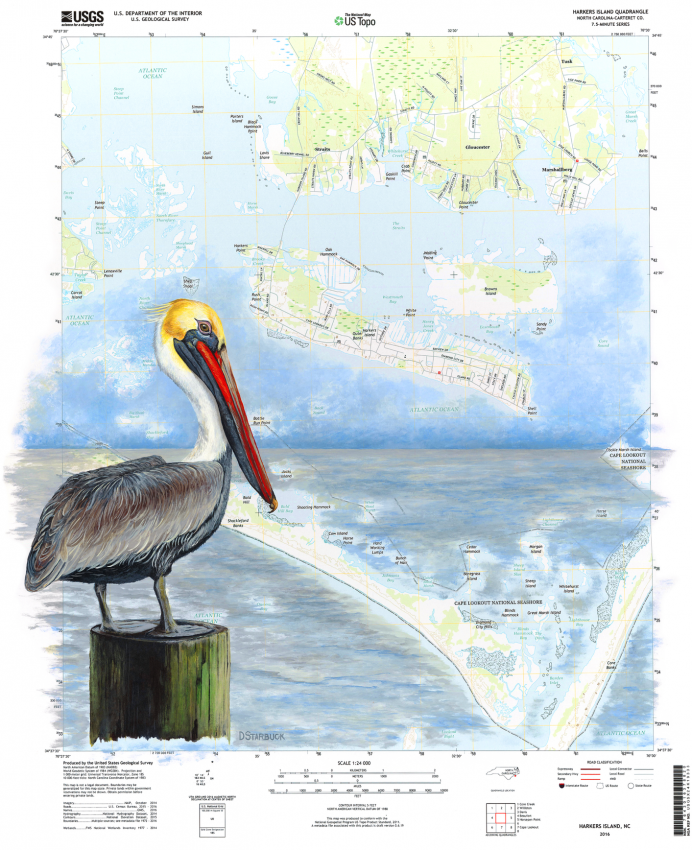 Wilmington artist David Starbuck of DStarbuck Gallery has teamed up with the North Carolina Coastal Federation to produce "Harkers Island Orientation," the federation's special 35th anniversary print.
This bright, colorful print depicts a pelican painted over a U.S. Geological Survey map of the Harkers Island are of the North Carolina coast. Prints are available for purchase online at dstarbuck.com for $100.
Prints can also be purchased at the federation's Low Country Boil & Brew on Sept. 24 at Wrightsville Beach Brewery. The event will feature fresh local seafood, craft beer, live music, yard games and a paddleboard raffle. Attendees may purchase prints at the event and also check out the framed original, which will be on display.
"Harkers Island Orientation" is part of the Orientation Series, which includes various U.S. Geological Survey maps of popular North Carolina destinations overlain with iconic North Carolina images such as sea turtles and lifeguard stands. Through this series, Starbuck strives to capture a slice of nature that reminds people of where they've experienced a special moment or an outdoor encounter that is yet to come.
"Orientation Series works have been published and featured through philanthropic efforts with nonprofit organizations, and I'm excited to team up with the North Carolina Coastal Federation to support the work they do to protect the coast," Starbuck said.
Twenty percent of the proceeds from the federation's 35th anniversary print, as well as any print in the Orientation Series, will be donated to the federation. The donations help protect the coast by supporting the federation's restoration, advocacy and education work.
Starbuck is a full-time, award-winning and published artist who lives in Wilmington. Starbuck is passionate about the outdoors, which he shows through his paintings. He has painted everything from the beauty of the Blue Ridge High Country to the splendor of the coast and the detail North Carolina's native birds.
To purchase a print online from the Orientation Series, including the federation's 35th anniversary print, please visit dstarbuck.com. Tickets for the Low Country Boil & Brew can be purchased at nccoast.org/brew.