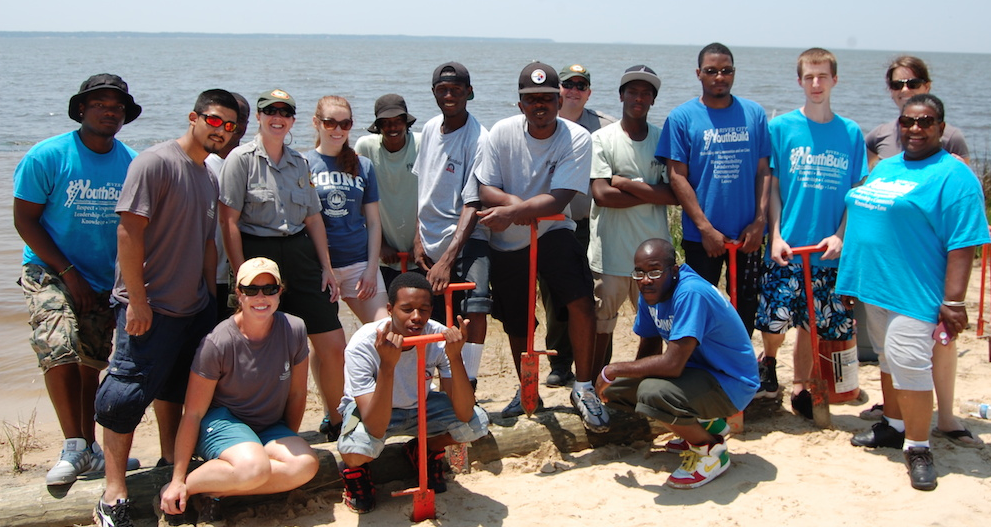 The Coastal Federation works to provide learning opportunities for a variety of populations, with the understanding that not everyone has the exact same privileges. Here are some ongoing connections we have established:
River City YouthBuild
River City Community Development Corporation in Elizabeth City works to improve the quality of life for people in Pasquotank County. Through its program, YouthBuild provides economically disadvantaged young adults between the ages of 16 and 24 with education and employment skills through opportunities for meaningful work in their communities.
The Federation strives to work with YouthBuild on a year-round basis to break this barrier by engaging these at-risk youth in classroom lessons focused on environmental learning and organizing off-site field trips and outdoor restoration experiences. Working together, the goals of both organizations are met: The Federation inspires future environmental stewards by getting them outside and involved while restoring the coast and the YouthBuild students gain knowledge, community service experience, and training on valuable job skills. In past years, this partnership was enhanced through support from the North Carolina Community Foundation's Northeast NC Coastal Research and Environmental Education Fund. The funding allowed the Federation to provide a wide array of experiences for the YouthBuild students, that increased student understanding and awareness of coastal issues. This partnership is critical as the unique opportunities help prepare the students to continue to higher education or to enter the workforce well-prepared.
Boys & Girls Club

The mission of the Boys & Girls Club is:
To enable all young people, especially those who need us most, to reach their full potential as productive, caring, responsible citizens.
In our central region, we partner with the Boys & Girls Club of the Coastal Plains. Students from Beaufort, Havelock, Morehead City, and New Bern Clubs have been involved in Coastal Discovery Field Trips, oyster dissections, and even created a marine debris Public Service Announcement. We love teaching about and exploring coastal North Carolina with these students!
EnviroKIDs
During the summer the EnviroKIDs partner with the Federation and join us for a Coastal Discovery Field Trip. The EnviroKIDs Summer Camp is an urban forestry/environmental design-based program in Raleigh, NC that works with youth between the ages of 13-18 years. All field trips through the Federation focus on allowing students to explore coastal environments while learning about coastal ecology and water quality. Students discuss stormwater runoff and ways humans can influence the health of coastal habitats.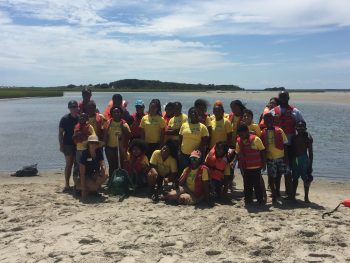 "The Institute of Landscape, Art and Sustainable Spaces (ILASS) would like to thank you and the North Carolina Coastal Federation for your support of our enviroKIDs Summer Camp over the past four years. Your educational session about the coastal estuaries and the exposure you provided to the Campers at Hammocks Beach State Park were invaluable. Studying Hammocks Beach State Park was not only very informative about the coastal environment but also an unforgettable experience that the Campers will cherish for the rest of their lives. The Campers totally enjoyed their boat ride to both Jones Island and Bear Island and seeing all the species that live in those environments. Again we appreciated your outstanding presentations and all your effort to help our Campers understand the North Carolina coastal environments. We look forward to visiting 
with you again next summer."
-Yasmin M. Fozard, ILASS Executive Director, EnviroKIDs program- 2019