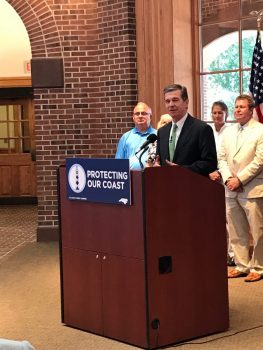 Today Gov. Roy Cooper announced his opposition to offshore oil drilling and seismic blasting. At an event at Fort Macon State Park in Atlantic Beach, he said he was proud to stand with organizations, local governments and individuals that galvanized public opposition to offshore oil drilling.
During his statement, the governor spoke about North Carolina's strong coastal economy and beautiful beaches. He noted the risks oil spills pose to the coast, and he said that the North Carolina Department of Environmental Quality will be submitting its comments against seismic blasting on Friday, which is the National Marine Fisheries Service's deadline.
Cooper also pointed out that there are ample renewable energy sources available that are safer and cleaner than drilling for offshore oil.
"I can sum it up in four words — not off our coast," he said.
We thank Gov. Cooper for standing with the people of North Carolina. We are grateful for leaders who recognize how special our coast is and are willing take a strong stand to protect it.
Thank you to all who wrote letters, sent emails or called the governor's office. Your voice made a difference, and the governor's opposition is an important step in protecting our coast's economy, resources and natural beauty.
We are asking that our supports please thanks to Gov. Cooper. You can send him thanks online. You can also call his office at 919-814-2000 or send a letter to: North Carolina Office of the Governor, 20301 Mail Service Center, Raleigh, NC 27699-0301.
The governor's support will be critical moving forward, but the fight is not yet over. There are still actions you can take to prevent offshore oil drilling and seismic blasting from occurring off our coast.
Click here to send your comment to the federal government on why seismic blasting is harmful to marine mammals. These comments are due to the National Marine Fisheries Service by tomorrow, July 21.
Learn more about how to submit a comment to the federal Bureau of Ocean Energy Management. BOEM is collecting public input on a new drilling plan. Comments are due Thursday, Aug. 17.
Pick up a Don't Drill NC sign at any of our three offices in Wanchese, Ocean and Wrightsville Beach.
You can help educate people about these issues. Use the hashtags #DontDrillNC and #ProtectOurCoast to spread the word on social media. Post a photo of your sign and tell people why you're opposed to offshore oil drilling and seismic blasting.
Stay updated on these issues at nccoast.org/oil and nccoast.org/seismic. More resources and information are available at dontdrillnc.org.