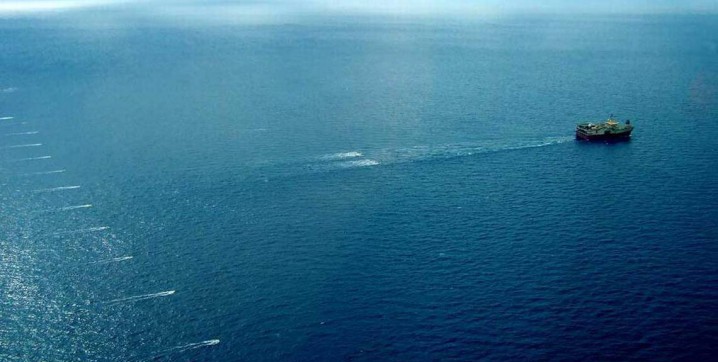 Speaking Out Against Seismic Blasting
The North Carolina Coastal Federation opposes seismic blasting because of its negative effects on fish and marine mammals and the potential barriers they pose to ocean access for recreational and commercial fisheries.
Oct. 2, 2020
Legal Challenge of Proposed Seismic Surveys Dismissed After IHAs Expire
The recently announced offshore drilling ban did not include a ban on proposed seismic surveys as the activity is authorized under different sections of the Outer Continental Shelf Lands Act. However, the Incidental Harassment Authorizations (IHAs) that were issued by the National Marine Fisheries Service in November 2018 as a pre-qualification before BOEM can consider the permit applications are set to expire on November 30, 2020 and there are no statutory or regulatory mechanisms for extending the specific IHAs nor a basis for re-issuing or renewing them. Therefore, the legal challenge the federation was party to, along with other leading environmental groups, has been dismissed by the U.S. District Court. A welcome outcome, as the intent of the lawsuit was to prevent the negative effects of continuous and cumulative airgun blasting from impacting our coastal environment and economy.
Aug. 26, 2020
Governor Roy Cooper announced that North Carolina will continue to fight against seismic testing along the state's coast. The State of North Carolina has filed an appeal of the decision by the U.S. Secretary of Commerce to override the state's objection to WesternGeco's plan for offshore seismic testing.
"North Carolina has been clear, we do not want seismic testing in our coastal waters, or the damage from offshore drilling that could follow," said Governor Cooper. "The studies of our waters show little prospect for drilling, and the environmental damage to our coast could be irreparable if seismic testing goes forward."
The complaint was filed in the United States District Court for the Eastern District of North Carolina, Northern Division to appeal the National Oceanic and Atmospheric Administration's (NOAA) June 2020 decision to override North Carolina's objection to the consistency certification under the Coastal Zone Management Act. In June of 2019, the Department of Environmental Quality's Division of Coastal Management objected to WesternGeco's proposal to conduct a Geological and Geophysical (Seismic) survey off the North Carolina coast.
July 24, 2020
House restricts funding to current OCS program
The U.S. House of Representatives passed the FY2021 Interior, Environment, and Related Agencies base bill. This bill included a provision to restrict the Secretary of the Interior or the Bureau of Ocean Energy Management to conduct or authorize oil and gas pre-leasing, leasing, or related activities, including but not limited to the issuance of permits for geological and geophysical exploration, in any planning area where the 2017-2022 Outer Continental Shelf Oil and Gas Leasing Proposed Final Program (November 2016) did not schedule leases.
June 15, 2020
North Carolina's objection to WesternGeco's proposal to conduct seismic surveys for oil and gas exploration in the Atlantic Outer Continental Shelf has been overridden in a decision by the U.S. Under Secretary of Commerce for Oceans and Atmosphere. The N.C. Department of Environmental Quality voiced its disappointment with the decision to override the state's Coastal Zone Management Act consistency objection to WesternGeco's proposal that included surveys off the North Carolina coast.  WesternGeco appealed the state's finding last year.  North Carolina can appeal the override to the federal courts, and the state is reviewing the next steps.
All five of the companies that proposed to conduct seismic surveys in the Atlantic Ocean are still awaiting a permit from the Bureau of Ocean Energy Management before any activity can proceed, and the legal challenge is still under review in U.S. District Court.
March 11, 2020
100% of oceanfront municipalities in North Carolina have now passed resolutions opposing offshore oil drilling and seismic testing. The Town of Indian Beach in Carteret County adopted such a resolution during the March meeting of the Board of Commissioners, joining a total of 44 other towns, cities, and counties throughout the state. Even inland communities, some located as far west as Asheville, have joined in this fight that affects all North Carolinians.
Feb. 21, 2020
The legal challenge against the National Marine Fisheries Service (NMFS) will continue in U.S. District Court in South Carolina after Judge Gergel denied the Department of Interior's motion to dismiss it. This ruling follows a decision Judge Gergel made at the beginning of the year, directing federal agencies to produce "all memos, emails and attachments containing factual information relied on or considered, directly or indirectly… between agencies or with non-agency third-parties that were considered," for the purpose of deciding to issue incidental harassment authorizations.
Dec. 11, 2018
Leading environmental groups sued the federal government today to prevent seismic airgun blasting in the Atlantic Ocean. This extremely loud and dangerous process, which is used to search for oil and gas deposits deep below the ocean's surface, is the first step toward offshore drilling. If allowed, seismic airgun blasting would harm marine life, including whales, dolphins, fish and zooplankton – the foundation of the ocean food web.
The lawsuit, filed in South Carolina, claims that the National Marine Fisheries Service (NMFS) violated the Marine Mammal Protection Act, the Endangered Species Act and the National Environmental Policy Act when it issued Incidental Harassment Authorizations (IHAs) in late November. Those permits authorize five companies to harm or harass marine mammals while conducting seismic airgun blasting in an area twice the size of California, stretching from Cape May, New Jersey to Cape Canaveral, Florida.
The government has estimated that seismic airgun blasting in the Atlantic could harass or harm marine mammals like dolphins and whales – which depend on sound to feed, mate and communicate – hundreds of thousands of times. Seismic airgun blasting would also jeopardize the iconic North Atlantic right whale, a critically endangered species, according to 28 leading right whale experts.
"Seismic testing and offshore drilling are incompatible with our coast in North Carolina," said Todd Miller, executive director at North Carolina Coastal Federation. "There's never a window that would be a good time for seismic testing to happen. Studies show that seismic affects the behaviors of marine mammals, fish and zooplankton and seismic is harmful for fisheries. And on top of all that, it's a precursor to offshore drilling which is strongly opposed here in North Carolina."
Nov. 30, 2018
The National Marine Fisheries Service (NMFS) granted incidental harassment authorizations (IHAs) to five companies that submitted applications to conduct geophysical surveys along the Atlantic Outer Continental Shelf. The NMFS is required to review the applications in accordance with the Marine Mammal Protection Act (MMPA) and provide companies with a suite of monitoring and mitigation requirements. An IHA essentially grants these companies the ability to unintentionally "harass, hunt, capture, or kill" a small number of marine mammals.
The North Carolina Coastal Federation is concerned that the continuous and cumulative air gun blasting associated with seismic testing surveys will negatively impact marine mammals. Recent studies indicate that marine mammals are likely to suffer from communication disruptions and behavioral disturbance resulting in stranding and even death. Studies have also shown that seismic activity can dramatically decrease the abundance of zooplankton, which is a key organism in the marine food web and a main source of food for fish and baleen whales.
The federation has been consistently concerned with seismic activity along the Atlantic Outer Continental Shelf. Since late 2015, the federation has been submitting its own and signing on to comment letters opposing seismic activity and stating its concern for marine life. Additionally, Gov. Cooper recently declared his opposition to the decision made by NMFS to grant IHAs, reiterating his opposition to offshore drilling.
July 21, 2017
On July 20, 2017, Gov. Roy Cooper announced at Fort Macon State Park in Atlantic Beach that he is strongly opposed to offshore oil drilling and seismic blasting. The next day, his office and the North Carolina Department of Environmental Quality (DEQ) submitted comments to the National Marine Fisheries Service about why they are opposed to seismic blasting because of the harm it would cause to marine mammals. Thank you to everyone who also submitted individual comments.
Read comments submitted by Gov. Cooper and Michael Regan, DEQ secretary.
June 6, 2017
The companies whose permits were denied by the Bureau of Ocean Energy Management (BOEM) successfully challenged the denials in May 2017 now that offshore oil and gas exploration in the Atlantic could be back on the table. The federation and other groups tried to intervene earlier in May; the Southern Environmental Law Center had filed a motion on behalf of the groups to try to prevent the companies from challenging. These permits are now pending. The federation continues to advocate against seismic blasting and offshore oil and gas exploration.
On Jan. 6, 2017, BOEM had formally denied the six pending permits for conducting seismic surveys off the Atlantic coast. The bureau cited the potential harm that these surveys might cause to marine life as one of their reasons for denying the permits. It also said the ban on offshore drilling in the Atlantic that the Obama administration announced in December influenced its decision.
As a result of this successful challenge, the National Marine Fisheries Service released a public notice (PN) for comment on seismic surveys on June 6, 2017. The PN describes the process, the potential impacts to marine mammals and provides information on each of the five companies who have applied for permits and potential mitigation of the expected impacts. The North Carolina Coastal Federation is working with a coalition of environmental groups to inform the public of this ill advised action and will continue to oppose oil and gas development off of North Carolina's coast. Read the PN.
Read a fact sheet on seismic blasting's effects on marine mammals.
What is a seismic survey?
Seismic surveys, commonly referred to as seismic testing, are the first step in planning for offshore drilling. They involve the use of air guns to send sonic waves toward the ocean floor to gauge the depth, location and structure of oil and gas beneath the surface. Because sound travels faster through water than it does through air, the sound waves would travel thousands of miles through the Atlantic. These surveys are known to disrupt behavior patterns for marine mammals, sea turtles and fish.
Background
In March 2016, after the Bureau of Ocean Energy Management (BOEM) removed the Atlantic from consideration for offshore drilling for the 2017-2022 planning period, seismic surveys were still on the table. Several different companies had applied for permits to perform these surveys off the Atlantic coast.
The federation and other opponents of seismic surveys were waiting to see if BOEM would issue final permits. It denied the permits, but the companies successfully challenged that denial following the 2017 executive order that put offshore oil and gas exploration back into consideration. The National Marine Fisheries Service (NMFS) had been considering whether or not to issue authorization for seismic survey ships to harm or harass federally protected marine mammals.
The BOEM's 2014 Environmental Impact Statement (EIS) on seismic surveys noted the negative effects the noise has on marine animals. Some highlights include:
Seismic surveys could affect communication and hunting behaviors of more than one million dolphins.
An estimated 138,000 protected marine mammals could be harmed because of seismic surveys, including nine of the remaining 500 North Atlantic right whales.
According to various scientific research studies, catch rates for several fish species declined in the immediate days following a seismic survey. One study on rockfish showed that hook-and-line catch rates decreased by 52 percent in areas where seismic surveys were occurring.
Despite acknowledging the negative effects of seismic surveys on marine animals, BOEM's EIS laid out a path for moving forward with the surveys and attempting to mitigate their effects on marine animals. The federation requested in June 2016 that BOEM consider additional scientific evidence that demonstrates the harm noise from seismic surveys causes to fish, scallops and other marine life.