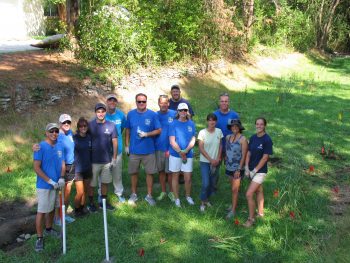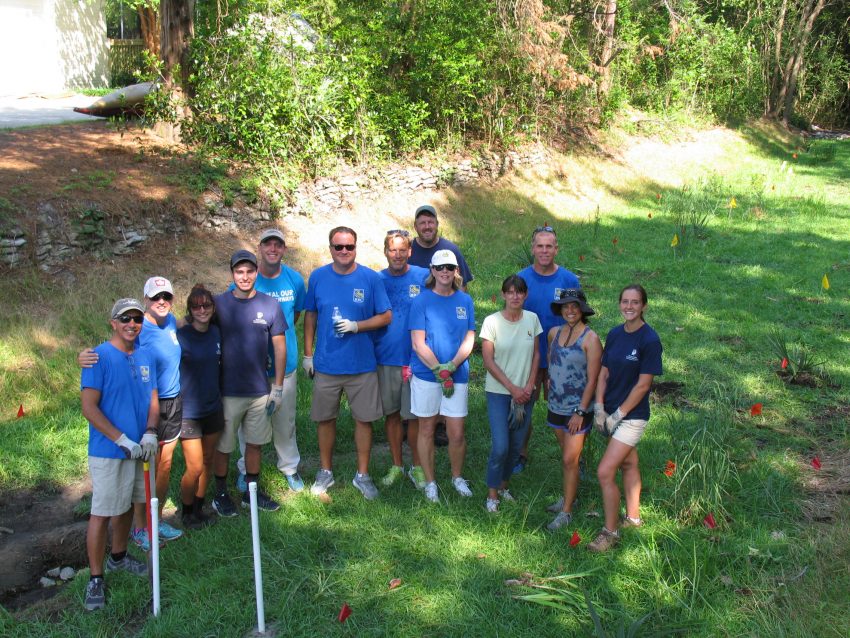 Five employees from RBC Wealth Management helped plant 200 native wetland plants at the Glen Meade subdivision in Wilmington last week on RBC Blue Water Day.
Along with staff from the North Carolina Coastal Federation and the City of Wilmington, these RBC employees and one other volunteer helped install native plants in a bioretention site in the Glen Meade subdivision, which is located in the Hewletts Creek watershed.
Derek Pielech, stormwater services manager at City of Wilmington, said the RBC volunteers were a huge help at the planting.
"With over 200 plants that needed to be planted, their efforts cut the time it would have taken us in half," he said. "Plus it gave us an opportunity to discuss the project with them and educate them on why we were doing the project to begin with. For us, education about our watersheds is everything."
The 0.26-acre bioretention site collects stormwater runoff from 33 acres of homes and yards in Glen Meade. A bioretention site is a basin covered with native plants, which allows stormwater runoff to soak into the ground rather than flow straight into local waterways. Stormwater runoff is the greatest polluter of coastal waterways.
Volunteers and staff planted several wetland plants, including swamp sunflower, arrow arum, lizard tail and softstem bulrush which can all tolerate periods of wet or dry conditions at the site. The project is part of the Bradley and Hewletts Creek Watershed Restoration Plan and Heal Our Waterways.
"We are grateful for our partnership with RBC Blue Water Project," said Tracy Skrabal, coastal scientist and regional manager at the federation's Wrightsville Beach office. "The financial and volunteer support has helped us implement important stormwater runoff reduction measures that make our local waters and community healthier."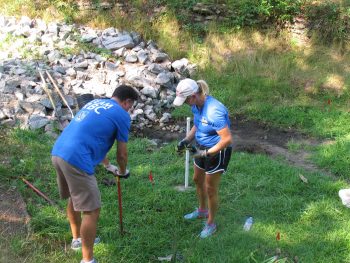 RBC Wealth Management started its Blue Water Project in 2007 with the goal of improving access to water that is safe for drinking, fishing and swimming. The company pledged $50 million over a 10-year period.
Since 2015, the RBC Blue Water Project has provided more than $10,000 in grants to the federation's clean water initiatives in the Wilmington area. Company employees have also volunteered their time each year to do hands-on work on the projects the grants have funded.
"We were thrilled to contribute to the efforts of the federation, as its mission coincides with our RBC Blue Water Project," said Susan Sandstrum, a branch service manager at RBC.
Sandstrum said since the launch of the Blue Water Project, RBC has pledged more than $47 million to more than 760 charitable organizations worldwide. It has also pledged $8.8 million to universities supporting water programs.
Since 2013, the Blue Water Project has focused more on initiatives that protect water quality in urban areas, closer to where the majority of RBC employees and clients live.
For more information, please go to www.rbcwealthmanagement.com.
More information about the RBC Blue Water Project is also available at rbc.com/bluewater. To learn more about the Hewletts Creek Watershed Restoration Plan and the partnerships that are making it happen, go to nccoast.org/stormwater.