This June, the North Carolina Coastal Federation and North Carolina Coastal Land Trust staff, as well as volunteers from Ocracoke, planted Spartina alterniflora marsh grasses to create additional marsh at Springer's Point Nature Preserve. In total the 14 volunteers planted 1,000 marsh grass plugs in an area of the preserve that has been stabilized with a living shoreline.
Preserve manager, nature enthusiast and wood carver Len Skinner met volunteers at the site with a wheelbarrow and a smile. After transporting plants, dibblers and buckets along the scenic trail, volunteers started their work. All volunteers were happy to dive into planting despite the heat and humidity.
The federation has been working at Springer's Point for several years. In 2012, it partnered with the N.C. Coastal Land Trust and local fishermen, James Barrie Gaskill and Gene Ballance, to restore a portion of the shoreline at Springer's Point along the beloved nature trail and rumored site of Blackbeard's lair.
The restoration included enhancing an existing sill with bags of oyster shell along portions where the sill and shoreline had eroded away, as well as by planting marsh grasses. The federation and land trust continue to maintain the project and plant additional marsh grasses when they are needed. This past year, Hurricane Matthew added sediment to an area of the shoreline, making it available to plant these additional grasses.
Before the planting: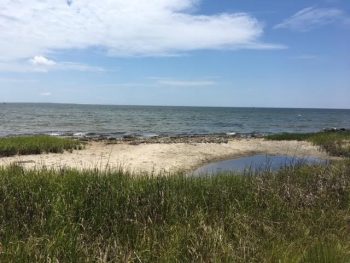 After the planting: