Soundside Park
The North Carolina Coastal Federation partnered with Town of Surf City to install a 215 ft living shoreline designed and fabricated by Sandbar Oyster Company. This living shoreline is made from interlocking frames, together called the Oyster Catcher Substrate TM system, providing tidal reef structure to optimize oyster growth.
In June 2022, ten Coastal Federation volunteers and town staff assisted with the installation. The Oyster Catcher Substrate TM system's modular frames were strategically placed by hand to form the living shoreline shape. To anchor the structure in place, crews used a jetted water pump to scour holes for the frame legs. The final structure has an open framework, allowing for essential water flow and more surface area for spat to attached. Over time, the biodegradable plant-based fabric will fade away, leaving behind a robust oyster reef.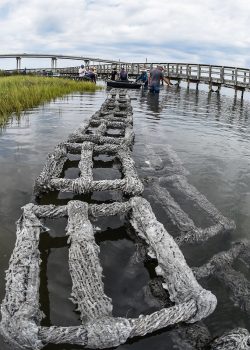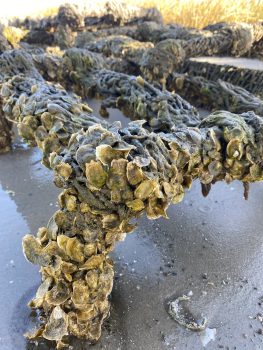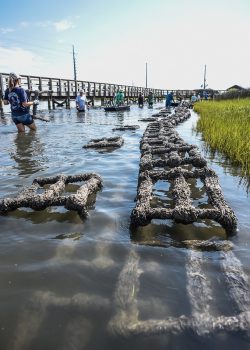 Surf City's Soundside Park provides an excellent site for a demonstration living shoreline due to high visibility from park visitors, anglers, residents, and vacationers. The living shoreline will enhance protection for the park's marsh system which is consistently struck by boat wake from the nearby launch access. The structure will also provide reef habitat for fish and wading birds and improve water quality with oysters' filtration. At low tide, the living shoreline is visible from the surrounding pier walkways.