In 2012, the Coastal Federation partnered with the North Carolina Coastal Land Trust to restore a portion of the shoreline at Springer's Point Nature Preserve on Ocracoke Island. We designed and built a new sill of bagged oyster shells along the eroding edge of the shoreline, maintained the existing rip-rap structure, and added more native marsh grass to help stabilize the shoreline.
The Federation and the Land Trust hired contractors and local fishermen and volunteers from the local school and other community groups pitched in to get the job done. The partnership will continue to monitor the project and take adaptive management steps if warranted. Funding for this project was provided by the U.S. Fish and Wildlife Service's Coastal Program, NOAA's community-based restoration partnership with Restore America's Estuaries, and private donations.
The Federation continues to monitor the shoreline and fine-tune the sill design as necessary.
Before and after photographs of the shoreline: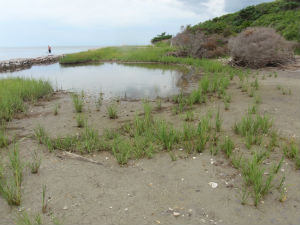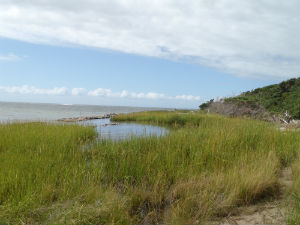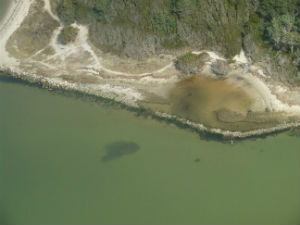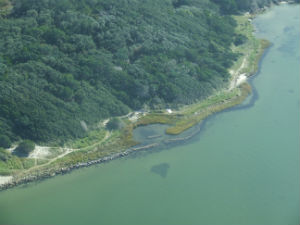 Aerial photographs of the site (above) courtesy of N.C. Division of Coastal Management.