Richard Peters Park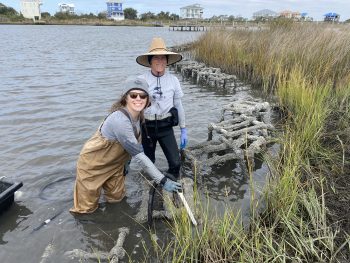 In 2022, the Coastal Federation partnered with North Topsail Beach to install a 175-foot living shoreline designed and fabricated by Sandbar Oyster Company. This living shoreline is made from interlocking frames, together called the Oyster Catcher Substrate TM system, providing a tidal reef structure to optimize oyster growth.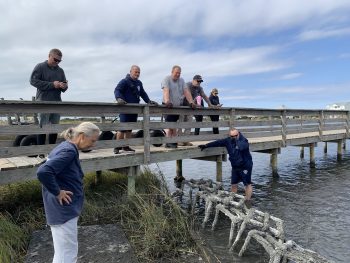 Federation volunteers, the North Topsail Beach Fire Department crew members, town staff, and Sandbar Oyster Co. staff assisted with the installation. The Oyster Catcher Substrate TM system's modular frames were strategically placed by hand to form the living shoreline shape. To anchor the structure in place, crews used a jetted water pump to scour holes for the frame legs. The final structure has an open framework, allowing for essential water flow and more surface area for spat to attach. Over time, the biodegradable plant-based fabric will degrade, leaving behind a robust oyster reef. 
The shoreline at Richard Peters Park faces a small peninsula with a few homes on North Topsail Beach's Osprey Drive. While the area does not experience much high-speed boating traffic, the calm and shallow waters are excellent conditions for oyster spat to colonize the reef structure. The structure will also provide a reef habitat for fish and wading birds and improve water quality with oyster filtration. The living shoreline is visible from the park's southern pier and gazebo at low tide.