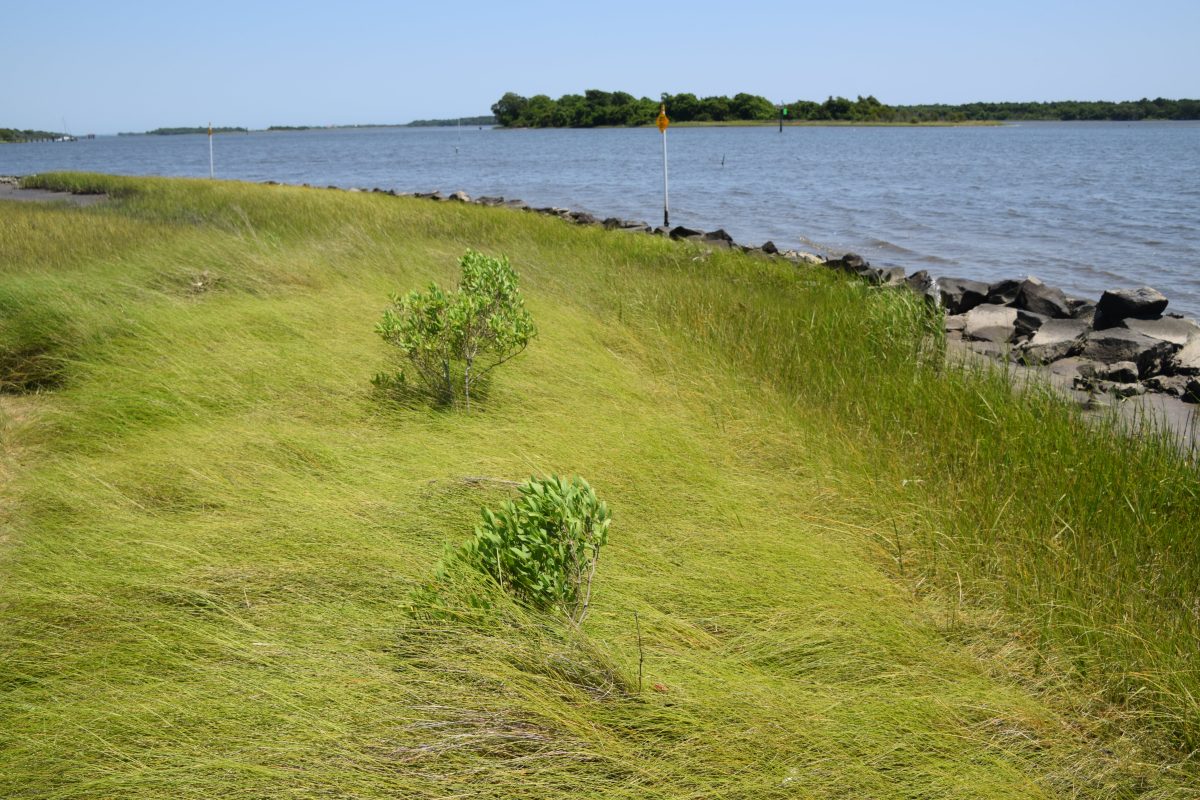 The North Carolina Coastal Federation is focused on providing waterfront property owners with better, more environmentally beneficial alternatives for dealing with problem estuarine shoreline erosion. Our efforts are aimed at:
Demonstrating the usefulness and effectiveness of living shoreline methods,
Reforming counterproductive regulations that discourage property owners from selecting the most practical and cost-effective erosion control options, and
Providing training and education to all shoreline stakeholders.
In a 2015 report entitled "Engineering away our natural defenses: an analysis of shoreline hardening in the U.S.," Dr. R.K. Gittmann reports that 14 percent of the estuarine shorelines in the U.S. are hardened by bulkheads and other hard erosions control stabilization measures. She estimates that 64 percent of armoring has occurred along Atlantic and Pacific sheltered shorelines, and that most of the remaining natural shorelines most vulnerable to future hardening are along the Gulf of Mexico and South Atlantic coasts.
Hard stabilization of shorelines along our nation's coastal bays, rivers and creeks causes the loss of marsh and other vegetated intertidal habitats due to sea level rise, storms, and other natural erosion processes. This results in the loss of critical coastal ecosystem services such as nursery habitat for fish and crustaceans; filtration and regulation of runoff to remove nutrients, bacteria and sediment; carbon burial; and erosion protection.
The federation is in favor of streamlining the permitting process for living shorelines. Learn more about that progress below.
2019: Temporary rule 15A NCAC 7H .2700 general permit
The Coastal Resources Commission approved Feb. 27 during its quarterly meeting the final adoption of temporary rule 15A NCAC 7H .2700 general permit for construction of riprap sills for wetland enhancement in estuarine and public trust waters. Learn more about this temporary rule in this article from the Coastal Review Online.
2017: NWP 54
On January 27, the U.S. Army Corps of Engineers authorized its first permit for living shorelines. NWP 54 addresses the construction and maintenance of living shorelines. Learn more about the new permit in this article from Coastal Review Online.
2016: NWP Public Comments
In 2016, the federation submitted comments to the Army Corps on the proposed regional general permit for bank stabilization. The federation's letter was joined by comment letters submitted by the Southern Environmental Law Center, Restore America's Estuaries and scientists. Here are the letters that were submitted as public comments:
The federation and Restore America's Estuaries released a report in 2015 entitled "Living Shorelines: From Barriers to Opportunities." This is the first national assessment of institutional barriers preventing broader use of living shorelines. The report provides clear recommendations and strategies. Todd Miller, executive director of the federation, chaired the group that developed the report.
Living Shorelines Academy
Also in partnership with Restore America's Estuaries and with grant support from U.S. Environmental Protection Agency, the federation has developed a national Living Shorelines Academy that consists of an interactive web portal, regional training workshops and a national meeting.
The Academy advances the policy, science, and practice of living shorelines to fulfill key national priorities identified in EPA's strategic plan. This initiative is designed to provide targeted outreach and training to homeowners, contractors, design professional and regulators advance the appropriate use of living shorelines and it will enhance collaboration among all shoreline stakeholders.