Shoreline Cleanup at Hoop Pole Creek
January 12 @ 10:00 am

-

12:00 pm
Help us protect coastal wildlife and habitats at Hope Pole Creek Nature Trail during our 2019 Coastal Cleanup Kickoff!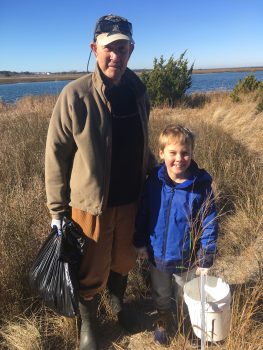 One of the federation's primary initiatives is to reduce the amount of marine debris littering coastal shorelines and waterways. Since 2014, the federation has led the Lost Fishing Gear Recovery Project in an effort to remove lost crab pots from North Carolina sounds. The North Carolina General Assembly appropriated funding to this project to facilitate and continue this statewide project. The cleanup continues in January 2019 with both commercial fishers and community volunteers — we need your help!
Hoop Pole Creek is a coastal creek, salt marsh and maritime forest preserve that continues to be rich with oysters, fish and other wildlife. Volunteers will help to pick up assorted trash and debris items, as well as trim trees and bushes along the trail and clean off the boardwalk.
This entire event will take place outdoors, so dress accordingly. Closed-toed shoes are required, and sturdy shoes for walking in wet areas are also recommended. Boots are appropriate if you choose to walk along the water's edge. Trash bags, gloves and other cleanup materials will be provided. Anyone under 16 must be accompanied by an adult. Lunch and refreshments will be provided for all volunteers after the cleanup.
For more information on the progress of this project over the past four years visit www.nccoast.org/crabpotproject.
Related Events
The North Carolina Coastal Federation, Inc. does not discriminate on the basis of race, color, national origin, sex, age or disability in its programs or activities.