Restoring Lake Mattamuskeet

Earlier this month the Coastal Federation and Hyde County held a public meeting to brief participants on recent actions to restore Lake Mattamuskeet. The meeting included briefs from the U.S. Fish and Wildlife Service, UNC's School of Government, engineers from GPI, Greenman-Pedersen, Inc., consultants from Geosyntec, and representatives from the Federation.
Each group provided an update on the work they've been doing over the past year to implement the Lake Mattamuskeet Watershed Restoration Plan. We appreciate everyone who joined us at the meeting, and for those who couldn't attend, each presenter's recorded updates can be viewed on our website.
Just after our public meeting, the Federation received notice from the USDA's Regional Conservation Partnership Program that $16.86 million in funding was awarded to support continued restoration efforts at the Lake over the next five years.

Construction Begins at Sugarloaf Island

After a year of planning and permitting efforts, construction is set to begin to help restore the eroding shoreline along Sugarloaf Island in Morehead City. This tiny island sits just in front of downtown Morehead City and offers protection to the homes, and businesses there, but for years the small island has experienced chronic erosion. In an effort to protect and restore this island, the Federation, the Town of Morehead City, Quible and Associates, and aquatic restoration firm, Sea and Shoreline have joined forces to develop a plan to protect the island.
Restoration methods for this project include reducing wave energy with an offshore living breakwater, planting seagrass behind the living breakwater, and planting a living shoreline on Sugarloaf Island. The living breakwater will not impede normal vessel traffic because it will be installed in areas too shallow for vessels to navigate safely at high speeds.
The breakwater will also be staggered so that fishers can fish around it or pass through sections of the wave attenuators. Construction on the wave attenuators has already begun and contractors are expected to begin installing them in early January.
A press conference was held on Nov. 15th to mark the beginning of the construction, partner organizations joined the Federation and State Senator Norm Sanderson, and Representative Celeste Cairns.

NC Central Students Visit the Coast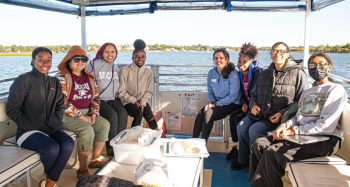 Recently we had the chance to take a group of students out exploring and it was such a great day! These students are part of an environmental education class at North Carolina Central University. Their visit included a trip to Hammocks Beach State Park where we got to spend time exploring the coastal estuaries. The students also joined us at Dodea Johnson Primary School at Marine Corps Air Station New River, where they led a lesson on living shorelines and oysters to the entire second grade!

We had so much fun with this group and we'd like to thank our project supporters from the National Fish and Wildlife Foundation, NOAA, Lady Swan Boat Tours, and Hammocks Beach State Park.
Frank Stick Series

This month we'd like to take a moment to highlight a special series by Coastal Review.Org. Frank Stick helped to shape the Outer Banks, in this series written by Two-time Pulitzer Prize winner Gil Gaul, you'll get a deep dive into newspaper clippings, archives, and other sources that uncover the complex story of the New Jersey artist, outdoorsman, developer, and speculator. We have thoroughly enjoyed reading this series and we know you will too!
Also, be sure to subscribe to Coastal Review for all of your daily news and features about our coast.

Planning Your Charitable Giving

We've got some exciting news to share with you all. If you're aged 70 1⁄2 or older and have been looking for ways to give back to the community, then you're in luck! You can now complete charitable distributions from your individual retirement account (IRA) and support the Federation. And here's the best part – your donation can count toward your required minimum distribution.
But wait, there's more! You can also show your love for the coast by donating stock to the Federation. These giving options are super easy to do and will help you cross off one more item from your to-do list. So, what are you waiting for? Let's make a difference together!
Please contact Sarah King via email or at 252-393-8185 for more information so we can be on the lookout for your gift!

A Gift from the Coast
Have you heard about our updated gift memberships? This holiday season, your gift recipient will receive a brand new concept item: two felt oyster coasters. You won't find table decor like this anywhere else! (gift memberships ordered before Dec. 17 will ship before the holidays)

Not only will your gift recipient receive a set of oyster coasters, but they will also get a full year of membership benefits including event invites, discounts, and a subscription to our Enewsletter. The Federation's Gift Membership is the perfect way to celebrate with those
who love the North Carolina coast.

Holiday Shopping with the Federation

We are so excited to share with you all that we've made your holiday shopping even easier this year with our Holiday Pop-up Shop! Head over to our gift shop to see an exquisite collection of coastal-themed holiday gifts that are sure to wow anyone on your list! The best part is that with each purchase you're also helping to support the Federation's mission to protect and restore our beautiful coast.

Federation In the News
● Sugarloaf Island restoration: Bold steps towards coastal resilience in Morehead City– WCTI
● Lost Fishing Gear Recovery Project needs extra hands – Island Free Press
● North Carolina's effort to turn oysters into a cash crop – Axios
● Why did the National Park Service buy threatened oceanfront homes on the Outer Banks? – Wilmington Star News
● Oyster growers work to expand oyster farm – WRAL
● Grant to support living shoreline, wetland restoration work – Coastal Review