NC Coast Wins Big in State Budget
The newly approved state budget includes significant investments to bolster coastal environmental projects that benefit the region's economy. It allocates funding to the North Carolina Coastal Federation to carry out critical initiatives such as living shorelines, marine debris cleanup, water quality enhancement, and the advancement of North Carolina's oyster industry.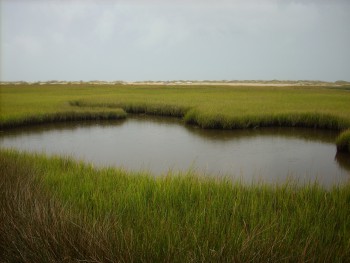 "This year's state budget makes substantial new investments to protect our coastal environment and the jobs that depend on preserving it," Federation Executive Director Todd Miller said. "We are grateful to our partners at the legislature for their leadership."
Miller attributed the success of the coastal budget allocation to the bipartisan backing that coastal protection enjoys among the public, as well as the increasing influence of the coastal legislative delegation. Notable support came from all coastal lawmakers, led by Senators Mike Lee of New Hanover, Norman Sanderson of Carteret, Bobby Hanig of northeast North Carolina, Bill Rabon of Brunswick, as well as Representatives Edward Goodwin of Chowan and Celeste Cairns of Carteret counties.
The budget designates $2 million for living shorelines, responding to the surging demand for natural estuarine shoreline management systems that employ marsh grasses and sills to shield coastal areas from erosion. Dr. Lexia Weaver, the Living Shoreline Program Director for the Federation, emphasized the soaring demand for living shorelines across the coast. She noted that "This funding will help match private and public funds and protect more of our coastline from constant everyday erosion and severe storms."
The Federation will also receive $500,000 to sustain ongoing efforts in marine debris removal. Marine debris stemming from storm-damaged docks, lost fishing gear, poorly managed construction sites, abandoned boats, plastics, and irresponsible littering has been a persistent issue. Since Hurricane Florence in 2018, the Federation has collaborated with state and local agencies and communities to hire fishers and contractors to remove over 400 tons of debris, recover thousands of lost crab pots, and clean up nearly 400 abandoned and derelict vessels. This initiative not only contributes to the cleanliness of the coast but also injects funds back into the communities where this work is done.
Oyster farmers will also benefit from a $800,000 appropriation to help develop and equip an Aquaculture Hub in Carteret County. The hub will include a dock and utility building with refrigerated storage to provide a place to safely store oysters before they are sold. The General Assembly set a goal of increasing oyster farm production and its economic benefits to the state from $6 million in 2018 to $100 million by 2030. The Hub will help provide critical infrastructure to support oyster growers, and North Carolina's booming aquaculture industry, which needs such facilities to get shellfish from farm to table.
Finally, the legislature appropriated $5 million to develop a pilot Stormwater Retrofit Cost Share Program. The program will provide matching funds and technical assistance to repair and install upgrades to stormwater systems and better track their operation and maintenance to comply with state rules. Since 1988, the State has issued approximately 15,000 coastal stormwater permits to residential, commercial, and institutional development projects, but many of the systems are not operating properly and failing to protect coastal water quality. The failing systems also contribute to local flooding in coastal communities following average rainfalls resulting in costly problems for local communities.
In addition to these investments, the Town of Morehead City will receive $4.6 million to complete the development of a living shoreline around Sugarloaf Island, which is experiencing significant shoreline erosion. The funding supplements a previous appropriation for this project that aims to restore Sugarloaf Island, ensuring its role in providing recreational opportunities, fish habitat, and storm protection for the downtown and adjacent State Port. The budget also includes $10 million to support grants to local governments awarded by the N.C. Resilient Coastal Communities Program managed by the N.C. Division of Coastal Management.
Shellebrate the Mighty Oyster
This month is NC Oyster Month and the Coastal Federation is in full celebration mode! Oysters are incredibly important to our coastal ecosystems and coastal economies! They filter water, up to 50 gallons per day, provide habitat for valuable fish, crab, and shrimp species, and they are of course delicious to eat! This month also marked the beginning of wild oyster harvest season.
Throughout October we've been lucky enough to have oyster kayak tours, volunteer events, and even oyster dinner events. But the festivities aren't quite over yet. Head over to our calendar to see where we'll be celebrating oysters for the rest of the month. Don't forget that as you enjoy oysters this month or any time of the year you can recycle your oyster shells! We put those shells back to work in restoration projects. Find a shell recycling site near you.
Building Better Docks and Piers
We are pleased to report that the state General Assembly enacted a pioneering ban on Unencapsulated polystyrene that's unparalleled by any other state in the nation. The ban now necessitates the encapsulation of polystyrene within coastal counties. Unencapsulated polystyrene is inherently fragile, rendering it susceptible to damage even during minor storm events. When these materials break apart, they release numerous tiny foam beads into our coastal ecosystems, where their removal becomes a nearly insurmountable challenge.
With the General Assembly's action, our entire coast is now protected from this avoidable marine debris. This move will ban the sale of unencapsulated polystyrene from being used in the construction of floating docks.
The second major achievement was the decision by the state General Assembly to cover residential docks built along our coast under the state's building code. This will help make sure that docks are built in a way that will make them more resilient to damage during extreme storms. Damaged docks littered our coastal shorelines after Hurricane Florence in 2018, and cost property owners and taxpayers millions of dollars to clean up and replace.
Jockey's Ridge State Park Living Shoreline
The Coastal Federation worked with Jockey's Ridge State Park, Quible and Associates, and Total Marine Services to build the granite rock sill, and numerous volunteers joined us at several plantings to add marsh grasses to the living shoreline at Jockey's Ridge State Park.
The ramped-up living shoreline will better stabilize the area and protect the habitat and natural resources of this historic site. Now nearly an acre and a half of restored coastal marsh will help reduce the impact of wind and waves on the once eroding shoreline.
This project was supported by the Camp-Younts Foundation, Dare County Tourism Impact Grant, Fish America Foundation, Grady-White Boats, North Carolina Land and Water Fund, the Webster-Lyerly Endowment for Coastal Resource Protection, and private donations.
Volunteers are set to head back out to Jockey's Ridge State Park to add additional marsh plants to the shoreline in the spring of 2024.
Supporting the Coastal Federation
Thank you to everyone who has inquired recently about completing charitable distributions from an individual retirement account (IRA). For those of us aged 70 1⁄2 and older, giving to the Coastal Federation through your IRA is a qualified charitable distribution that, in most cases, can count toward your required minimum distribution. You can also support the coast by donating stock to the Federation.
Both of these giving options are easy to do and now is a great time to cross this off your list! Please contact Sarah King via email or at 252-393-8185 for more information so we can be on the lookout for your gift!
Another way you can support us this holiday season is by giving the gift of a Coastal Federation membership. Not only will your dollars get put to use protecting and restoring the coast, but you'll also be able to give that special someone on your list something meaningful to unwrap.
Thank you for supporting the donor marsh!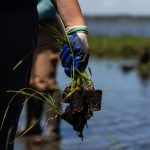 Last December, we asked for your help in establishing our state's first donor marsh, which will provide a cost-effective supply of healthy salt marsh plants that can be harvested and replanted in restoration projects up and down the coast. We are on track to finish the hydrologic design this year and build this new marsh in 2024.
Thank you for your support that made this new idea a reality!
Coastal Federation In the News
Here is a look at some of the press the Federation was featured in this month.
● North Carolina coastal group invites public to help protect 'nursery of the sea' – WHQR
● Coastal Federation teams working to save tiny spoil islands in Bogue Sound – WRAL
● NC Coastal Federation and volunteers help clean up living shoreline in Oak Island – WWAY
● Budget strips certain powers from local governments – Coastal Review
● A balancing act along the oceanfront – OuterBanks Voice