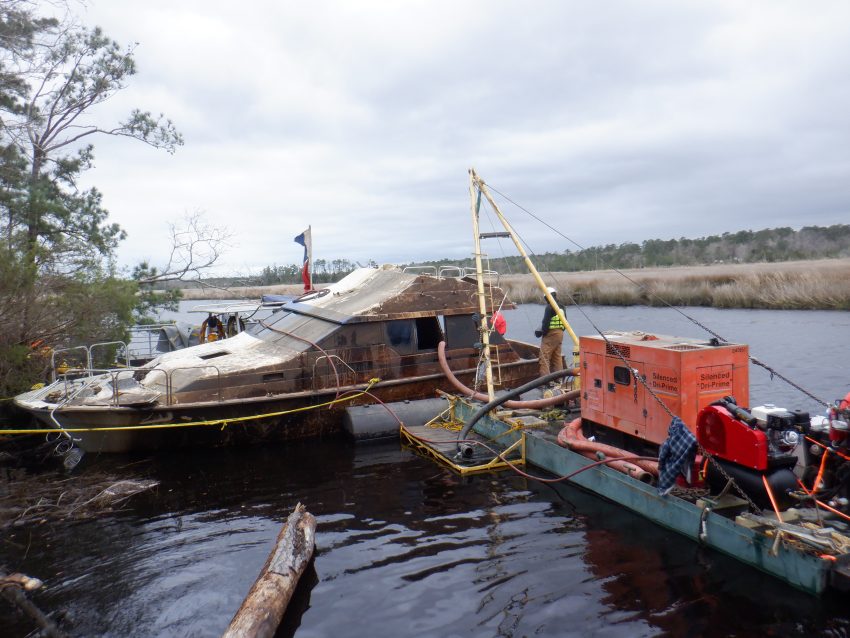 Brunswick County, N.C. – Working with Brunswick County and state partners, the North Carolina Coastal Federation has been focusing its efforts to tackle large-scale marine debris in the county since mid-February. The project includes crews of commercial fishermen removing debris by hand, and the removal of abandoned and derelict vessels that were damaged and linger in the marshes and creeks following recent hurricanes Florence and Matthew.
Crews of local fishermen, using small skiffs, have been combing through public trust shorelines and into hidden marsh areas of dredge spoil islands from the lower Cape Fear River to Holden Beach to remove large deposits of pressure treated wood, plastic and polystyrene floats, and other debris from docks and waterfront structures damaged by Hurricane Florence. The debris contains harmful chemicals that may affect estuarine habitats and animals, including fish and shellfish consumed by humans. Large deposits of debris pose hazards to navigation, fishers, and marsh vegetation. Field crews have collected over 85 tons (170,00 lbs.) of debris from Brunswick County between February and July of 2021.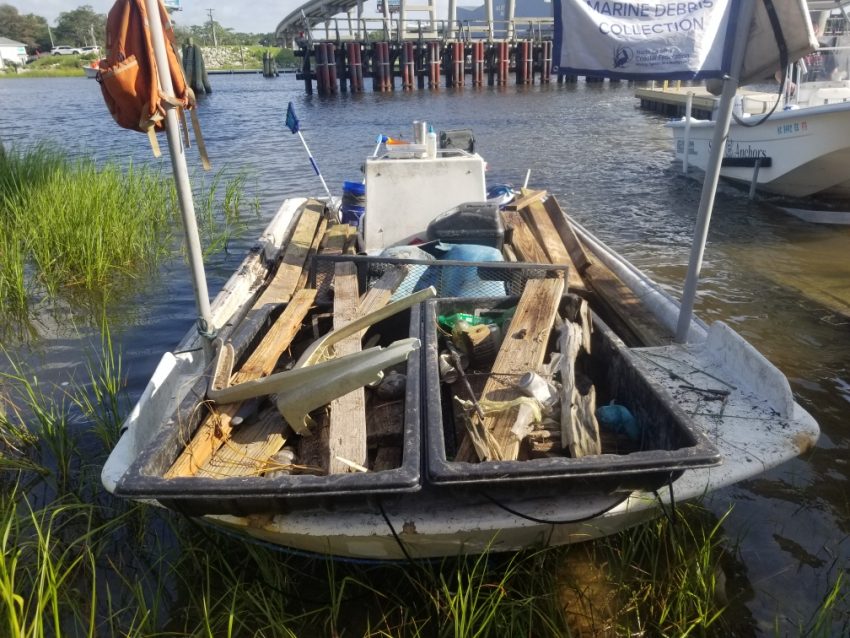 The work in Brunswick County is part of a project started in 2020 when the federation in partnership with the N. C. Division of Coastal Management (DCM) received funding through the Natural Resources Conservation Service's (NRCS) Emergency Watershed Program to clean up marine debris from Hurricane Florence that still litters North Carolina coastal habitats. This funding also addresses abandoned and derelict vessels littering the coast. The project focuses on cleaning up debris from Coastal Reserves, State Parks, public waters and lands and dredge spoil islands extending up to Carteret County. Since debris collection started in July, 2020 over 600 tons (1.2 million lbs.) of marine debris has been removed from coastal waters.
The federation and its contractors are also working with N.C. Wildlife Resources Commission and the DCM to remove over 80 damaged or sunk recreational and commercial boats between Manteo and Sunset Beach. Beginning in March, the federation worked with the Brunswick County Sheriff's Office to remove two vessels from Brunswick County, a large motor yacht on the Lockwood Folly River and a small sailboat on Calabash Creek. At least two additional vessels will be removed from other areas in the county. These boats are among the 38 that have been removed so far by the federation along with its partners.
Thestate first granted Brunswick County the authority in 2013 to address abandoned vessels. The county put in place an ordinance in 2017 to manage abandoned and derelict vessels. The Brunswick County Sheriff's Office marine patrol monitors boats that are discovered at anchor to avoid further abandoned boats.
There are 26 vessels slated for removal in Pamlico, Carteret, Craven, Onslow, Pender, New Hanover and Brunswick counties with funding from the Natural Resources Conservation Service's Emergency Watershed Protection Program awarded to the DCM in partnership with the federation and N.C Wildlife Resource Commission.
The federation will remove an additional 20 vessels in Currituck and Dare counties supported by a grant from the National Oceanic and Atmospherics' Marine Debris Program in partnership with Dare County, the DCM and the N.C. Wildlife Resources Commission.
The National Fish and Wildlife Foundation and National Oceanic and Atmospherics' Marine Debris Program have also awarded the federation funding to remove an additional 35 vessels in Pamlico, Carteret, Craven, Onslow, Brunswick and New Hanover counties.
These grant projects are all part of a collaboration that was further enhanced with a 2019 N.C. General Assembly appropriation of $1 million to the Wildlife Commission for vessel removal.
In July of last year, Gov. Cooper approved final legislation that updated authorizing language to allow the Wildlife Resources Commission to remove these storm-related vessels littering the coast. The legislation helped speed up the removal of abandoned boats while also protecting boat owners' private property rights. (North Carolina Session Laws 2020-74 and 2019-224).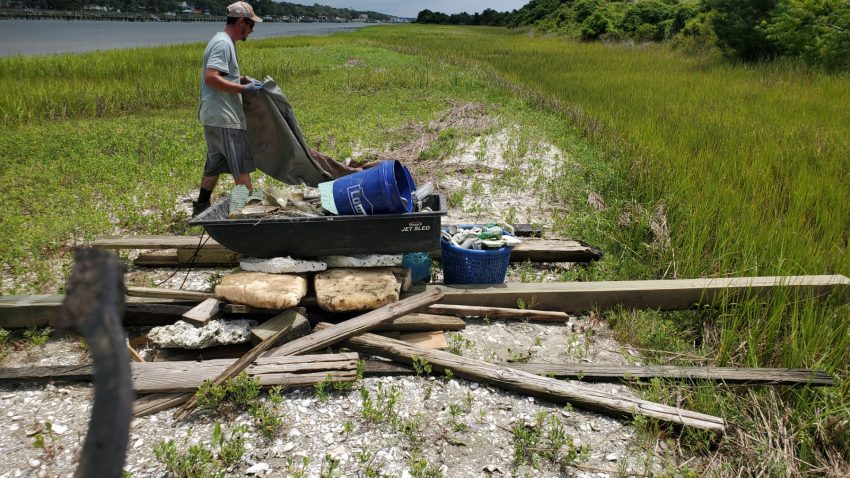 The DCM, the Wildlife Resources Commission and the federation have assessed, documented and prioritized the abandoned vessels for removal. The Wildlife Resources Commission has tagged the vessels, the last step in clearing the way for removal to begin once contractors are secured. Once the removals are complete, broader interagency coordination among the Wildlife Resources Commission, Department of Environmental Quality agencies, the U.S. Coast Guard and others will continue to strengthen pre-storm planning and post-storm response to displaced vessels.
These efforts build on large-scale marine debris removal led by the federation, which have resulted in the removal of over 1,000 tons (2 million pounds) of pressure treated wood, floats and other trash and debris from coastal waters since Hurricane Florence. To learn about the progress of this work and the federation's efforts to create a coast that is free of marine debris, visit: nccoast.org/marinedebris.