The Leadership Carteret class of 2020 learned about stormwater runoff at this year's visit to the North Carolina Coastal Federation's Ocean office.
Leadership Carteret is an annual program that brings together some of Carteret County's top decision-makers and business leaders. During the 10-week program, members attend Wednesday presentations at organizations throughout the county. This year's class included people from the towns of Emerald Isle, Atlantic Beach and Cape Carteret, the Pine Knoll Shores Aquarium, Carteret County and other local businesses. During the program, participants split into small groups to team up with local nonprofits and assist with service projects. The federation's group recently bagged recycled oyster shells for a local living shoreline, which they will later help to build. Additionally, the group is scheduled to participate in a shoreline cleanup, do maintenance at a school rain garden and create a public service announcement to benefit the federation.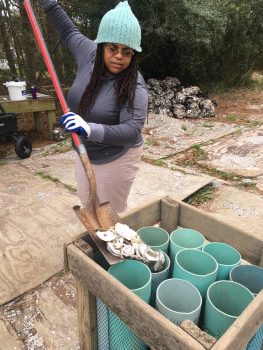 Rachel Bisesi, coastal education coordinator at the federation's Ocean office, gave a brief overview of the organization's mission and followed up with an explanation of watersheds and stormwater solutions.
Bisesi used interactive displays to educate the group on smart ways to reduce polluted stormwater runoff. Following the watershed activity, a representative from the Outer Banks Wildlife Shelter (OWLS) gave a presentation on their work.
Steamed oysters and barbecue followed the presentations, and Leadership Carteret members lent a hand by recycling the oyster shells on-site. Bobby's BBQ of Emerald Isle made the BBQ lunch.
Leadership Carteret has been visiting the federation's office for more than 10 years. The federation is proud to have a relationship with the Carteret County business community and is always looking for ways to expand business relationships along the coast. Learn more.